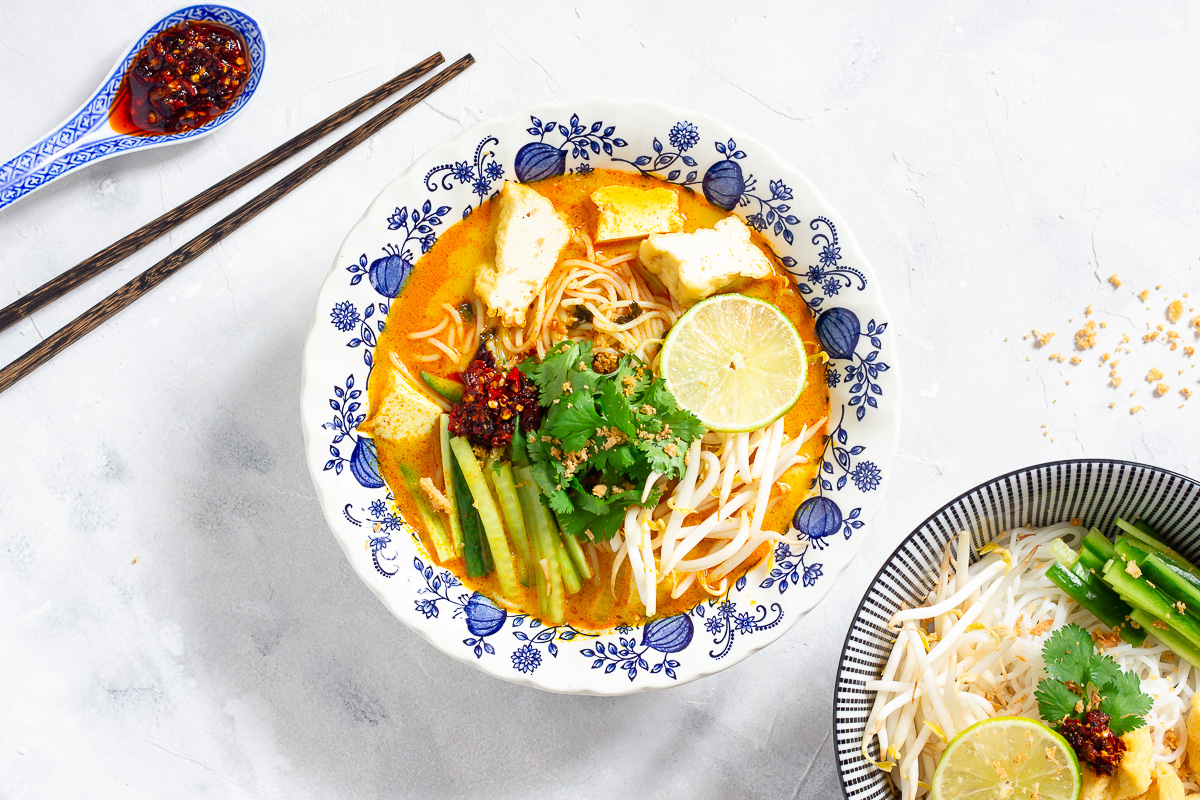 Laksa is a noodle soup that is particularly popular in Malaysia and Singapore and comes in different versions. For the curry laksa (also known as nyonya laksa or laksa lemak) a creamy broth is made with coconut milk. In addition to the noodles, fried tofu, bean sprouts and cucumber are traditionally added to the soup. It is an early form of crossover cuisine as it combines the influences of Chinese immigrants with those of the local Malays.
Andi fell in love with this dish in Malaysia in 2014 and has not eaten it since then. How crazy! But that stops now. Because since today we have our own Curry Laksa recipe. It brings real Southeast Asian flair to your home and is also extremely quick to prepare. And what could be nicer than sipping a hot Asian noodle soup after a long day of work? We can't think of much, to be honest.
The ingredients of the laksa curry paste are not that different from the red curry paste from Thailand. The main ingredients are chilli, lemongrass, garlic, onion and galangal. Since the Thai curry paste can be bought almost everywhere, we use it as a base. Turmeric powder and nut butter turn it into a laksa paste in no time at all. Incidentally, the original uses candle nut. We haven't seen candle nut here yet. However, cashew, peanut, or hazelnut work just as well. It's all about the creaminess, not the taste.
Since the traditional preparation almost always contains fishy components such as shrimp paste, prawns or fish (balls), we also add some nori seaweed to the broth. The soup is then served with rice noodles, cucumber, bean sprouts, fried tofu, fresh cilantro, fried onions and lime. If you are particularly brave, you can also add a chilli sauce like sambal. The curry paste gives the soup a slight spiciness, but the coconut milk absorbs it well. If you are particularly sensitive to heat, you can of course start with a little less curry paste first. You can take some of the heat later on by adding more coconut milk, nut butter and / or sugar.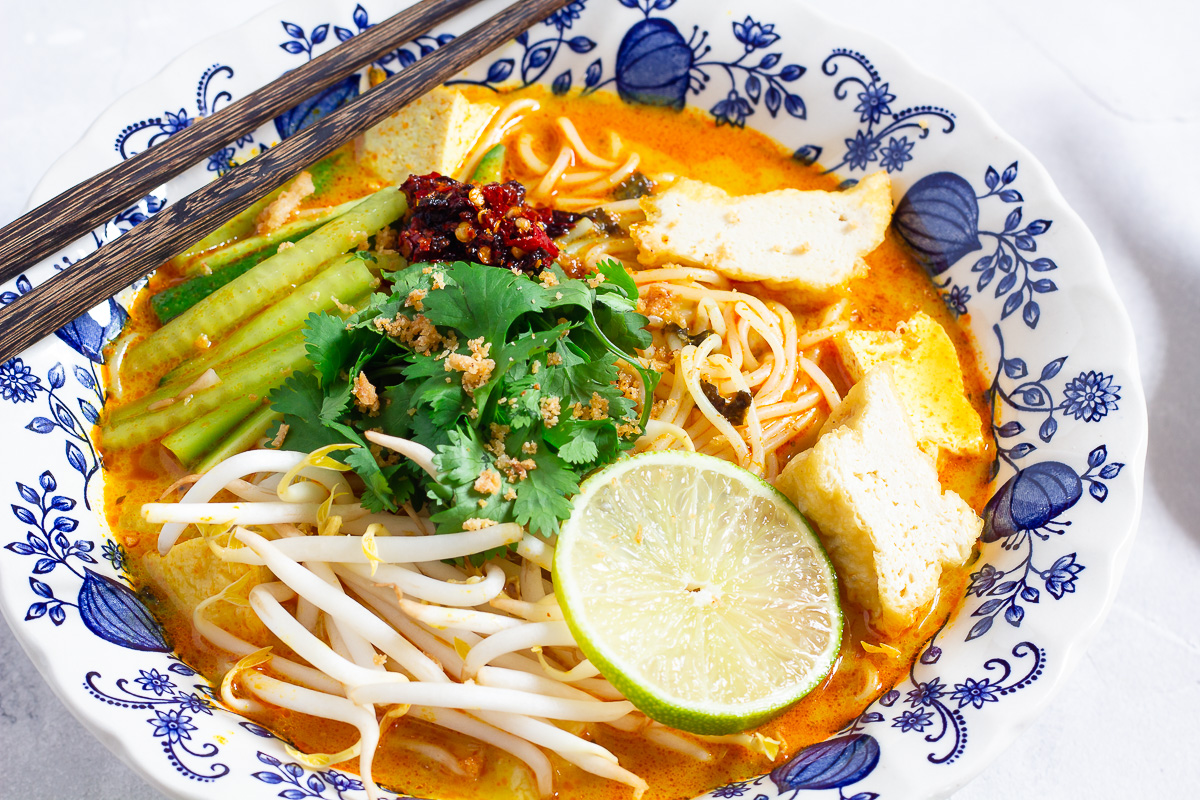 Vegan Curry Laksa - Malaysian Noodle Soup
Ingredients
250

g

rice vermicelli

200

g

tofu

,

deep-fried

1/3

cucumber

80

g

bean sprouts

1/2

bunch

cilantro

1

lime

2

tsp

fried onions
Broth
1

tbsp

red curry paste

2

tsp

turmeric powder

300

ml

coconut milk

600

ml

vegetable stock

1/2

sheet

nori seaweed

2

tbsp

soy sauce

1

tbsp

sugar

2

tsp

nut butter

,

e.g. cashew or peanut

1

tbsp

vegetable oil

2

kaffir lime leaves

,

optional
Preparation
Cook the noodles according to the instructions on the packet, rinse in cold water and distribute directly onto the bowls.

In a saucepan, sauté the curry paste with the vegetable oil at medium temperature. Add the turmeric powder and also sweat briefly. Deglaze with vegetable stock and coconut milk. Add sugar, soy sauce, nut butter and kaffir lime leaves. Cut the nori into small pieces and add as well. Bring everything to the boil and simmer for a few minutes.

In the meantime, slice or cut the cucumber into fine strips. Wash the bean sprouts well. Place everything with the noodles in the bowls.

Cut the fried tofu cubes into bite-sized pieces and briefly heat them in the broth. Then pour the hot broth with the tofu over the noodles into the bowls. Serve with cilantro, fried onions and lime. Season with chili sauce if you like.
Song of the recipe:

Andi was playing this song over and over in 2014. In his DJ sets especially in this house edit by FlicFlac. A feel-good song that is still very popular today.
(Would you like to listen to all the songs for the recipe? Find them collected in one playlist here)