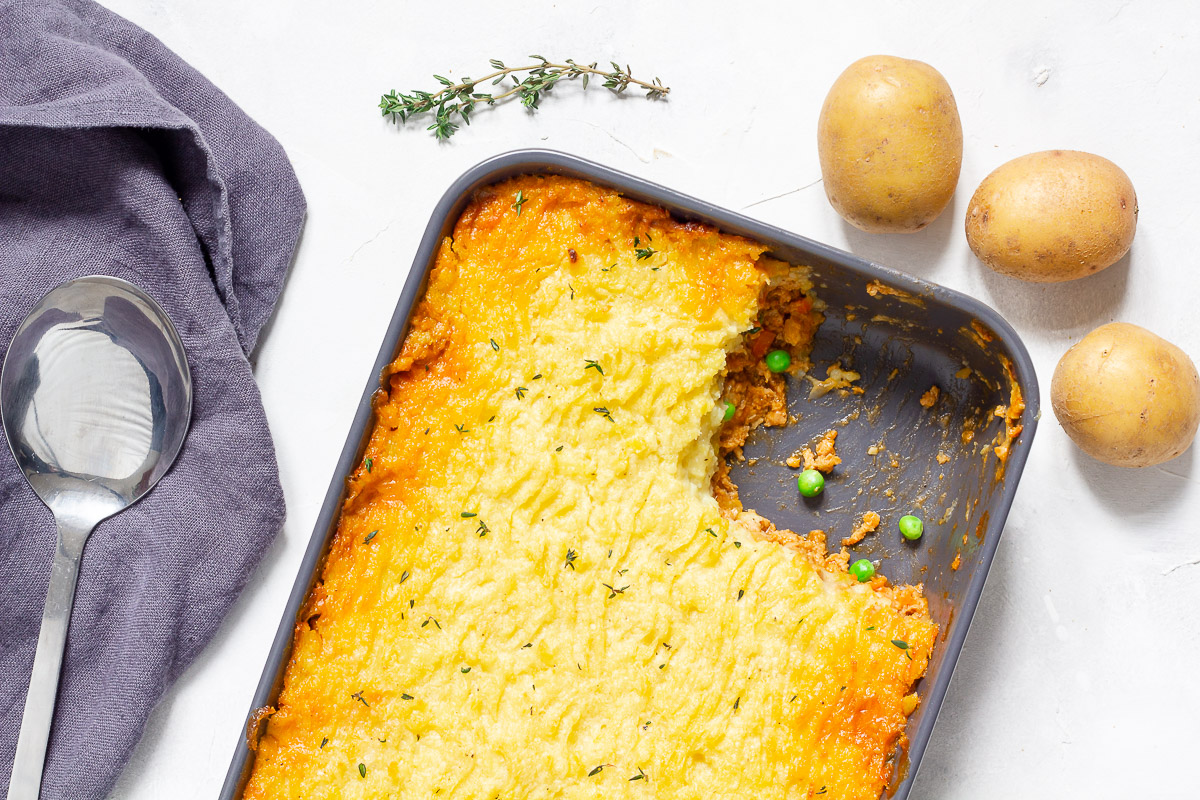 Shepherd's Pie or Cottage Pie is a traditional dish from Great Britain and Ireland. It consists of a layer of minced meat covered by a layer of mashed potatoes. The dish then goes into the oven and is baked like a casserole until the top layer is brown and crispy. Simple, but also really delicious cooking.
Like the original, our vegan Shepherd's Pie is also made with mince and therefore contains a lot of protein. We made the vegan minced meat from textured soy granules, which is definitely the cheapest option. Of course, you can also use any pre-packaged vegan mince. The different quantities for the two versions are noted in the recipe. Sauté the mince with onion, carrot and garlic, season with rosemary, thyme and Worcester sauce and add red wine and vegetable stock. A few peas are also added at the end. So there's plenty of flavour. Try it out!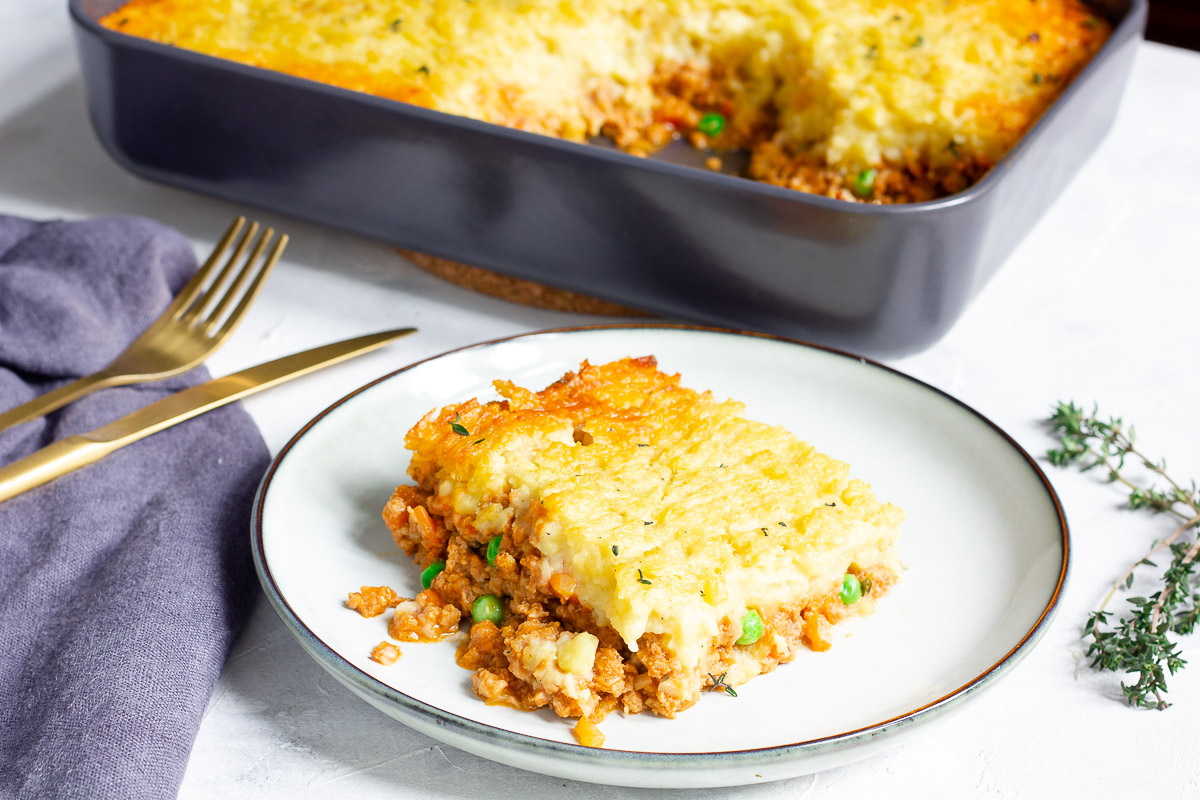 Vegan Shepherd's Pie
Ingredients
Minced Meat Layer
250

g

soy granules

,

or approx. 550 g vegan mince

1

carrot

2

onions

2

cloves

garlic

2

tbsp

tomato purée

1

heaped tbsp

flour

1

tsp

rosemary

,

chopped

1

tsp

thyme

,

chopped

100

ml

red wine

300

ml

vegetable stock

2

tbsp

Worcester sauce

100

g

frozen peas

Salt + pepper

Vegetable oil
Mashed Potato Layer
1

kg

potatoes

,

starchy cooking

75

g

vegan butter

75

ml

plant milk

2

tbsp

yeast flakes

Salt + pepper
Preparation
Put the potatoes in a pot of salted water, bring to the boil and simmer at a low to medium temperature for 30-40 minutes (depending on the size of the potatoes) until soft.

Meanwhile, pour boiling water over the soy granules in a saucepan and leave to infuse for 5-10 minutes. Drain, rinse with cold water and squeeze out excess liquid in a sieve.

Drain the potatoes as soon as they are soft. Then leave to cool briefly and press through a potato ricer or peel and mash. Stir in the plant milk and butter. Season the mashed potatoes well with salt, pepper and the yeast flakes.

Finely dice the carrot and onion. Finely chop the garlic. Fry the soy granules or vegan mince in a large saucepan or frying pan with vegetable oil (if using soy granules, don't be stingy with the oil!) over a medium-high heat. As soon as it starts to colour a little, add the onion, garlic and carrot. Stir-fry for another 1 to 2 minutes. Add the tomato purée and flour, sauté briefly and deglaze with red wine. Let it boil down briefly, then pour in vegetable stock. Add the thyme and rosemary. Now let everything simmer gently for 5 minutes at a low to medium temperature. Season to taste with salt, pepper and Worcester sauce.

Put the mince mixture into a large casserole dish and mix with the frozen peas. Spread the mashed potato on top and make a grooved pattern in it with a fork. Then bake in the oven at 180 degrees for approx. 40 minutes until crispy.
Song of the recipe:

A great song from the 2012 debut album of the English female experimental pop band Stealing Sheep. And of course the band name fits wonderfully to Shepherd's Pie.
(Would you like to listen to all the songs for the recipe? Find them collected in one playlist here)