Vegan Mett is one of the dishes that we have never really tried in its original form. So the interest developed with us only for the vegan version and at a time when we were not yet vegan. Kind of funny. We quickly took the vegan alternative to Mett to our hearts. It is quickly prepared with this recipe and can be kept in the fridge for a few days. Basically, it tastes better if it is left to sit for a couple of hours. So it's best to prepare the Mett the day before and let it sit in the fridge overnight. Therefore it's perfectly suited for every party buffet. Since you hardly need any fresh ingredients for vegan Mett, it is a proper meal in every season. And if you think vegan Mett, what nonsense. Please give it a chance. At some of our parties, omnis as well as vegetarians almost fought for it.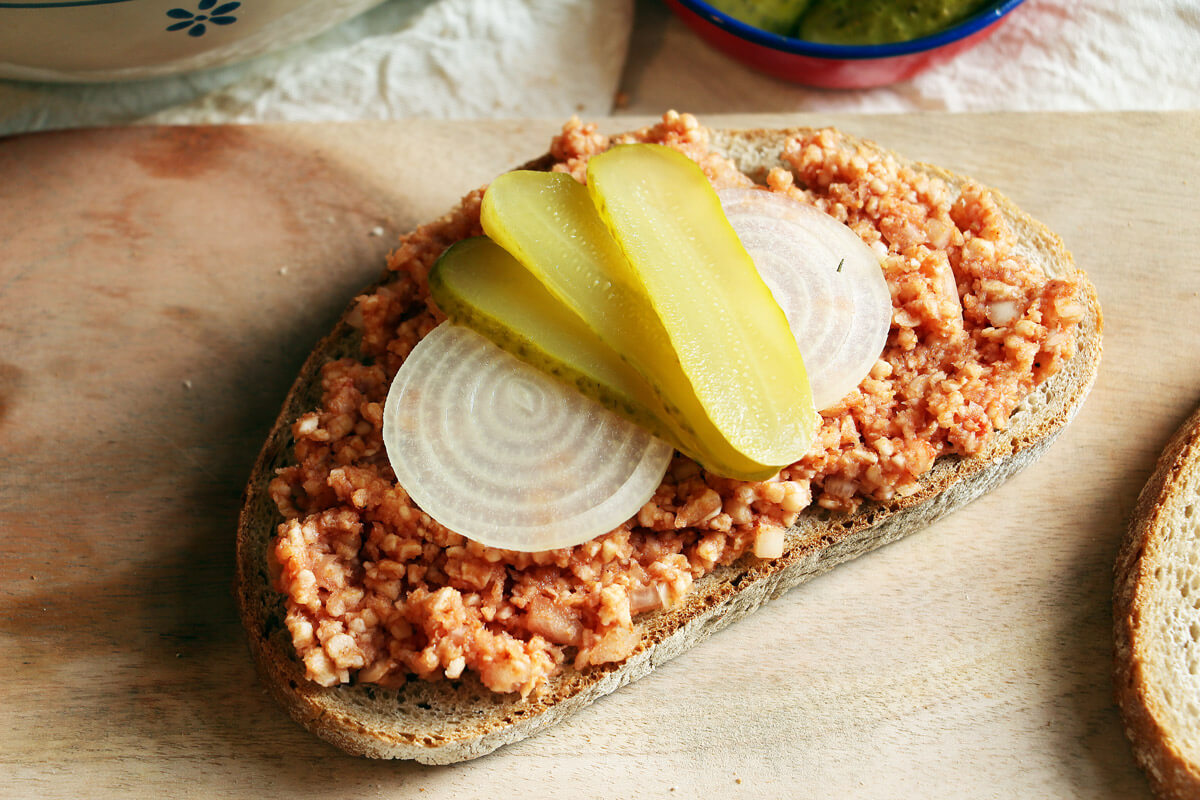 Vegan Mett (German minced pork meat)
Cost per Serving:
1,50 Euros
Ingredients
100

g

rice waffles (dry rice cakes)

400

ml

water

,

lukewarm

1

onion

2

tbsp

tomato paste

1

tbsp

salt

1

pinch

marjoram
OPTIONAL SIDES
1

onion

6

pickles

50

g

vegan butter

6

buns or 12 slices of bread
OPTIONAL FOR METT HEDGEHOG
salted pretzel sticks or onion

3

black olives
Preparation
Put the rice cakes in a large bowl and pour the lukewarm water over them. The rice waffles soak up immediately and can be mashed with your hands and kneaded into a mushy mixture.

Finely dice the onion and add to the mixture. Mix the tomato puree and spices into the mixture and mix everything with your hands. Now just let it sit, preferably overnight in the fridge.

Optional: The Mett can be served as a bread topping with vegan butter underneath and wafer-thin onion slices and pickles on top. For the Mett hedgehog you press the mass into a bowl, put it on a plate and use your hands to form a hedgehog, which is pricked with onions or pretzel sticks. Black olives can be used as eyes and nose.