In 2020 we both want to further reduce our packaging waste. So we finally tried our luck with the production of plant milk. Oats are the most environmentally friendly and most regional basic ingredient for vegan milk. Therefore, today we will show you how to make homemade oat milk. It's pretty quick and easy if you keep a few things in mind. The homemade oat milk costs significantly less than the purchased alternatives and you have less packaging waste. So you save a lot of waste and money. You will probably even get the few ingredients you need in the zero waste store.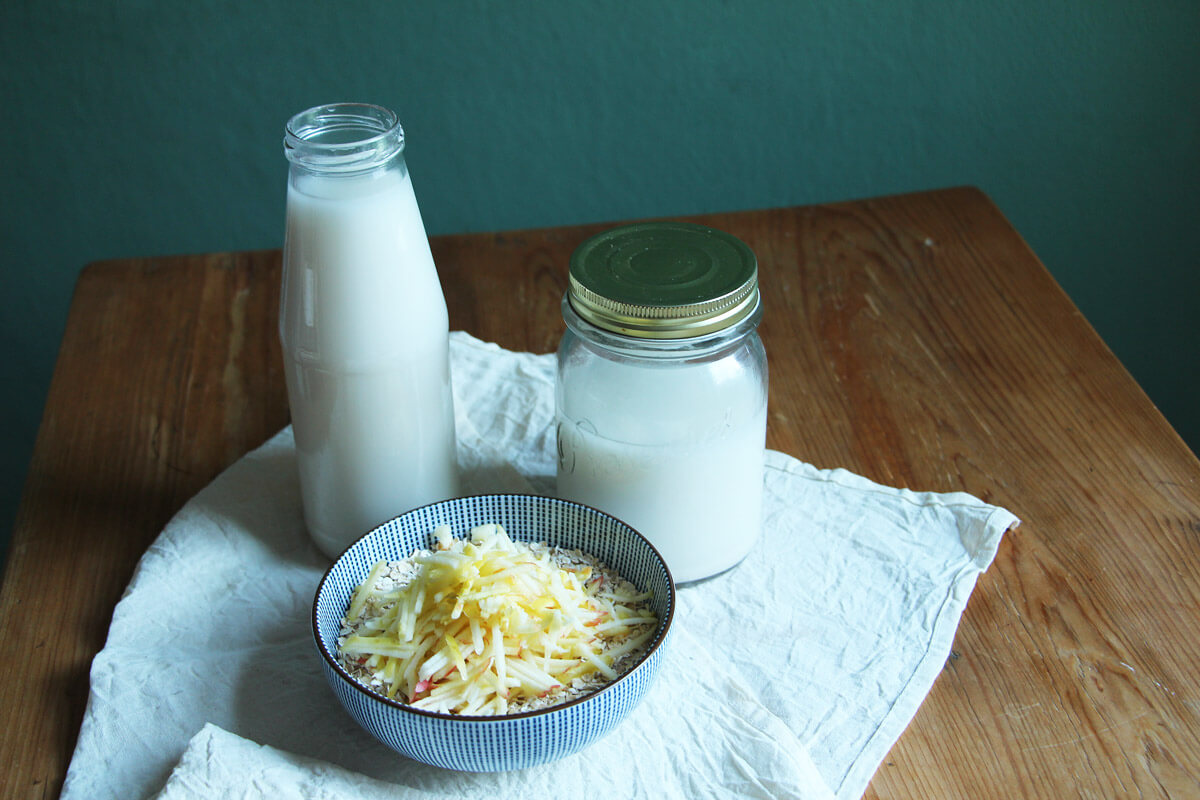 To be perfectly honest, it took a few tries to get a presentable result. Too slimy, too watery, too much oat taste. Now we have a good basic recipe, which you can easily modify according to your own preferences. It is very important that the oat water mixture is not heated during preparation (some for example boil the mixture before blending) and also not blended for too long. Otherwise it will become slimy. And that's not so yummy. In case of doubt, it is better to take a little more oats and blend it shorter.
The homemade oat milk will never taste exactly like the one in the supermarket. In industrial production, the oat water mixture is provided with enzymes so that fermentation takes place. This also creates the sweet taste of store-bought oat milk. That is why a phrase like "no added sugar" is also on the package for unsweetened vegan milk. Basically there is sugar in it, it just does not have to be specified in the ingredients because it is not added, but emerges during the fermentation process. We therefore usually add a little sweetness to the homemade milk, for example by adding dates or maple syrup.
Homemade Oat Milk
Ingredients
75

g

oats

,

preferably quick oats

1

l

water

1

pinch

salt

optional: natural sweetener

,

e.g. some maple syrup or 1 date
Preparation
Put all the ingredients together in a food processor and let them soak for at least 15 minutes.

Blend for about 30 seconds. Do not blend much longer, otherwise the oat milk can become slimy.

Pass the oat milk through a very fine sieve or a nut milk bag and fill into a clean bottle. Experience has shown that the milk can be kept like this in the refrigerator for about 5-7 days. Do not throw away the leftovers from the sieve or cloth, but enjoy them the next day in your porridge or muesli.

Shake the oat milk well before use. It is perfectly normal for the water and solid components to separate over time.