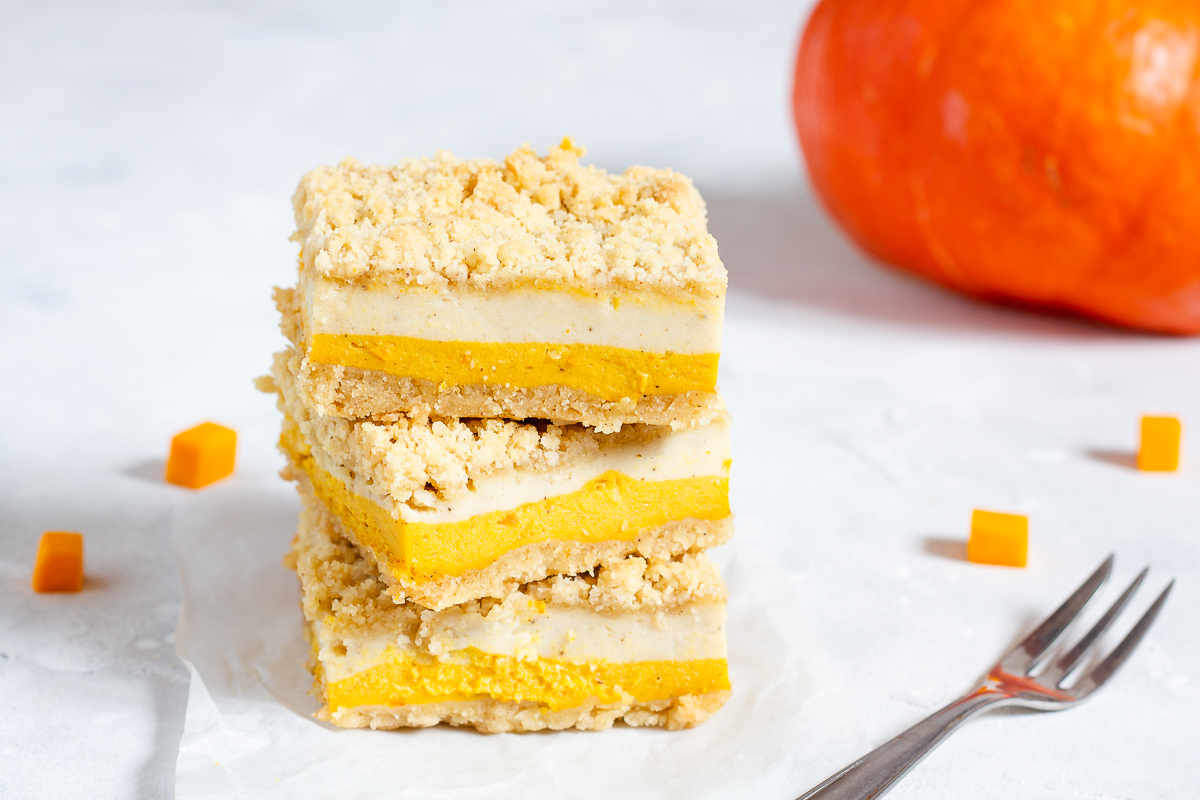 Pumpkin is and will remain the number 1 autumn vegetable. Very special about pumpkin is the fact, that it not only works wonderfully as a soup, oven baked vegetable or in other hearty dishes, but it can also be used in sweet dishes. So today we combine it with cheesecake. The result are these vegan pumpkin cheesecake bars that you can't keep your fingers off. Promised!
The vegan cheesecake mixture is based on vegan quark. It can now be found in almost every major supermarket. Alternatively, soy yoghurt in skyr style is also possible. Sugar and lemon bring the perfect balance of sweetness and fresh acidity. A little bit of cornstarch creates the binding. And because a light vanilla aroma is always good, we use vanilla pudding powder directly instead of plain cornstarch. It is basically starch with flavour. 😉 We then mix seasoned pumpkin puree under half of the cheesecake mixture. This gives us two layers of cheesecake that are different in colour and taste.
All of this can be placed on a cake dough. And because on the one hand we want to have crumbles on top as well, but on the other hand we also want to avoid unnecessary work, we have come up with a very simple solution. The crumble mixture is simply used as a base too. So you only have to knead the flour, butter and sugar once to prepare both the cake base and the crumble topping. Mega!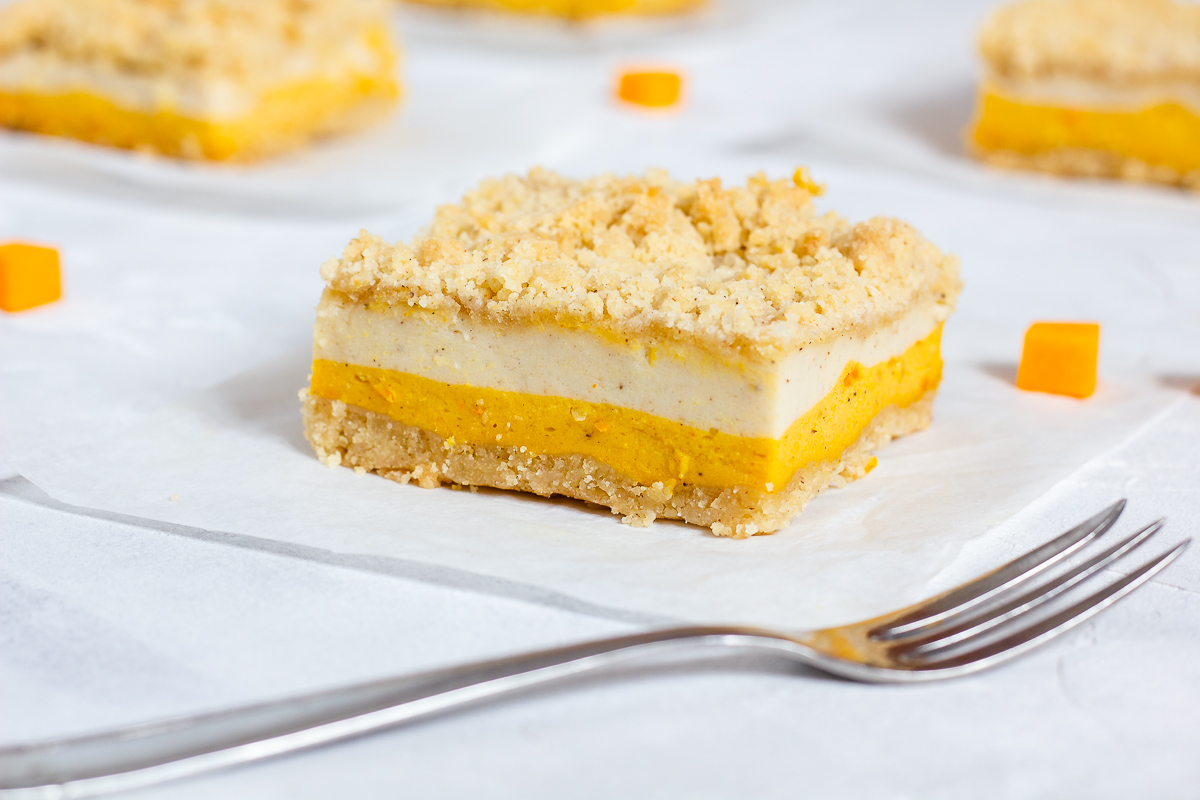 Vegan Pumpkin Cheesecake Bars
Ingredients
Dough + Crumble
300

g

spelt flour

,

alternatively wheat flour

150

g

vegan butter

,

cold

150

g

sugar

1/2

tsp

cinnamon powder
Cheesecake
800

g

vegan quark

,

alternatively vegan yogurt skyr style

100

g

sugar

150

g

vegan butter

,

melted

2

sachets

vanilla custard powder

1/2

lemon
Pumpkin Puree
250

g

pumpkin

1/2

tsp

cinnamon powder

1

pinch

nutmeg

1

pinch

ginger powder
Preparation
Cut the pumpkin into cubes. Boil the cubes in a saucepan with water until soft, drain the water and blend the pumpkin. Season with cinnamon, nutmeg and ginger.

Put the flour, sugar, cinnamon and butter in small pieces in a bowl. Knead everything together for no too long, so that small crumbles are formed. Let it rest covered.

First grate the zest of the lemon, then squeeze the lemon. Mix all ingredients for the cheesecake filling to a smooth mixture. Mix half of the mixture with the pumpkin puree in a separate bowl.

Put a little more than half of the dough in a greased, ovenproof dish (we use a baking or casserole dish of approx. 30 x 21 cm size) and press it firmly to the bottom. Pre-bake the dough in the oven at 180 degrees Celsius for about 10 minutes.

Place the pumpkin cheesecake mixture on the dough and smooth it out. Put the rest of the cheesecake mixture on top and spread carefully. Finally, crumble the remaining dough over it.

Now bake everything in the oven for about 60 minutes. Let cool completely before serving.