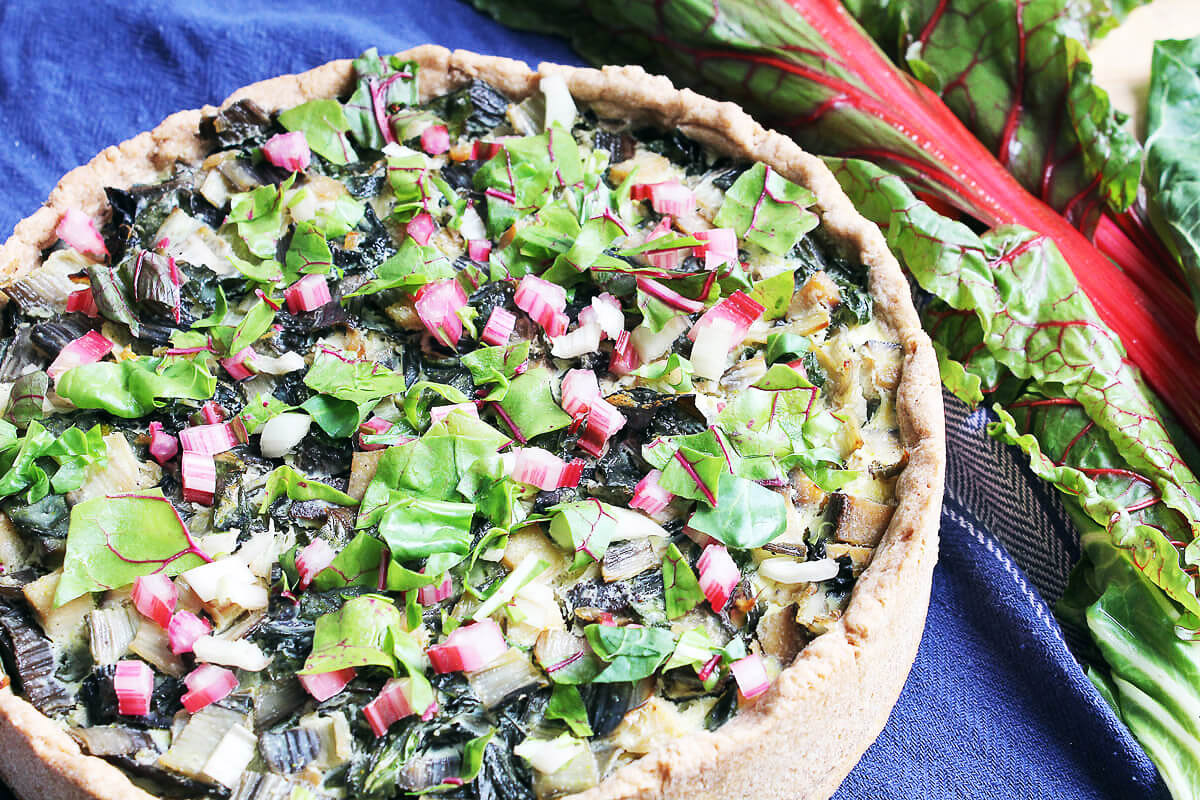 Swiss chard is not only beautiful to look at, it also tastes delicious. For a long time, Swiss chard was probably a pretty popular vegetable in Germany, until the milder spinach outstripped it. But I think that the aromatic chard is now available more often again. My organic vegan vegetable crate currently contains chard every week. So I just made a vegan swiss chard quiche with it.
Making quiche is actually quite easy without egg. Even without tofu and soybeans, if you don't use the smoked tofu. The filling consists mainly of vegan cream, which is bound with some chickpea flour and starch.
Of course, a few spices should not be missing for taste and colour. Kala Namak, the black sulfur salt, provides egg flavour. Yeast flakes bring a full-bodied cheese note. And a little turmeric provides a nice yellowish color. However, none of these spices is essential for the consistency of the quiche. You can simply let your creativity or spice rack flow.
The quiche was also served last weekend at the opening of the Café Fincan in Neukölln and was definitely a big hit there. Some guests did not want to believe that the quiche is vegan. That is usually one of the greatest compliments from omnivores. So try yourself!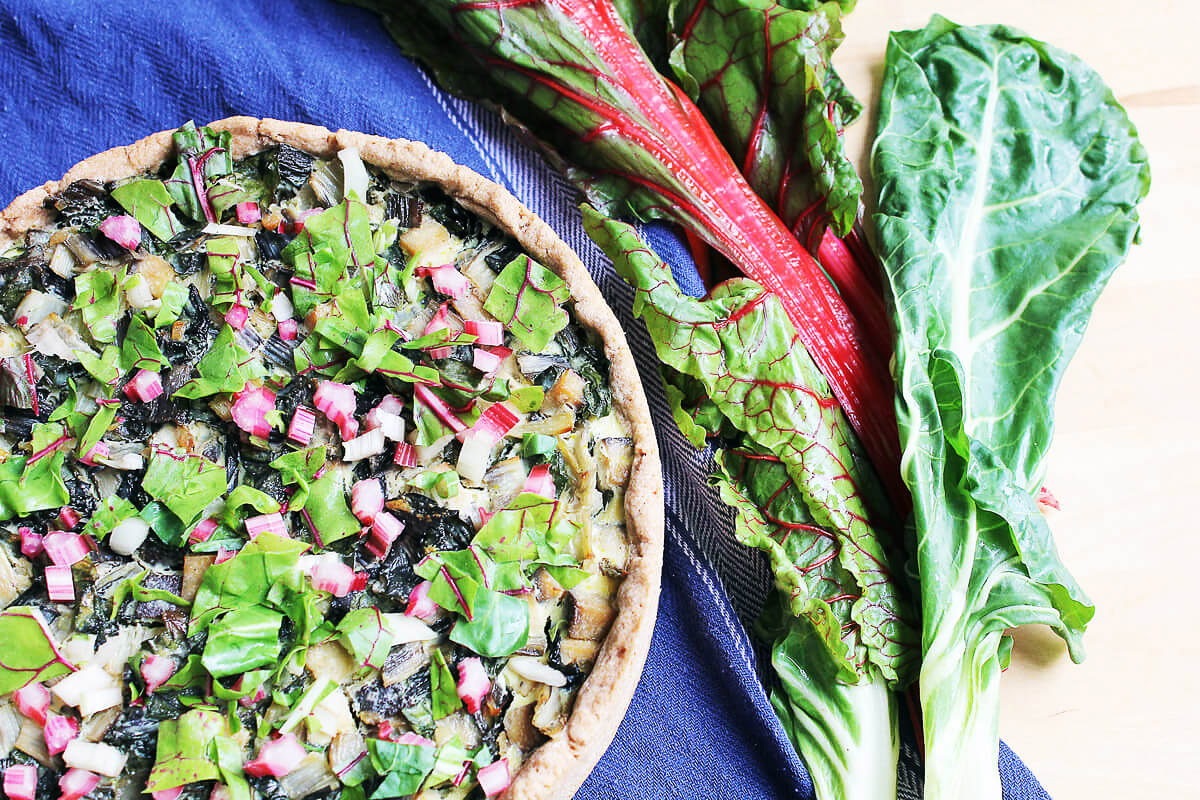 Vegan Swiss Chard Quiche
Ingredients
Pastry
250

g

whole wheat flour

150

g

vegan butter

,

cold + some extra for the pan

60

ml

water

,

cold

1/2

tsp

salt
Filling
600

g

swiss chard

100

g

smoked tofu

1/2

onion

1

clove

garlic

3

tbsp

olive oil

350

ml

vegan cream

3

tbsp

chickpea flour

2

tbsp

cornstarch

2

tbsp

nutritional yeast flakes

1/2

tsp

marjoram

1/2

tsp

turmeric powder

1/4

tsp

kala namak

1/2

tsp

salt

1/4

tsp

pepper
Preparation
Mix flour and salt in a large bowl. Add small cubes or flakes of cold vegan butter. Knead everything until you have a mixture that resembles coarse breadcrumbs, but don't work the dough too long. Now add the cold water and quickly knead until you have a smooth dough. Form a ball, cover it and leave to rest in the fridge for about 30-60 minutes.

Meanwhile, finely dice the onion and garlic. Cut the smoked tofu into 0.5 cm cubes. Chop the chard stalks and leaves separately. Sauté the stems with onion, garlic and smoked tofu in a pan with the olive oil for about 5 minutes at medium to high temperature. Then add the leaves, mix everything and remove from the heat.

Mix cornstarch, chickpea flour and yeast flakes with a dash of vegan cream. Then slowly stir in the remaining vegan cream and season with turmeric, kala namak, marjoram, salt and pepper.

Grease a spring form pan (we use one with a diameter of 21 cm) with a little vegan butter or oil. Get the pastry out of the fridge and press it into the tin (bottom and sides). First add the chard, then fill up with the liquid.

Bake the quiche in the oven at 180 degrees for about 45 minutes. Remove from the oven and let rest for at least 5 minutes before cutting. If wanted, finely chop some raw swiss chard and sprinkle on top.