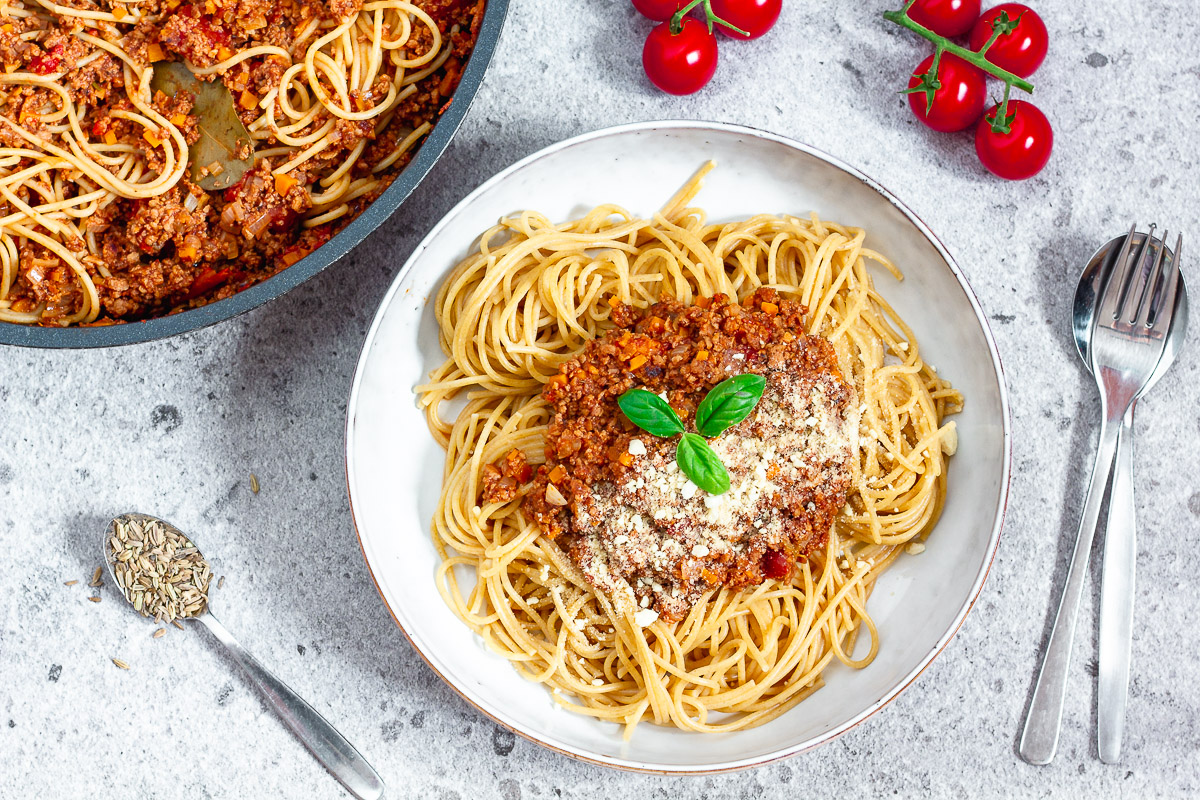 Spaghetti with Ragù di Salsiccia used to be part of every vacation in Italy. So the recipe has emotional, if not sentimental, value. Of course, the salsiccia sausages are not part of our diet anymore for a long time. That's why today we present a recipe for a vegan version.
But first things first: Ragù di Salsiccia is a tomato and minced meat sauce that is prepared with salsiccia sausages instead of conventional minced meat. Salsiccia is a coarse Italian sausage that gets its distinctive taste mainly from fennel. It often has a spicy note due to the intensive use of pepper and chilli. For a minced sauce, you cut the sausages open, press the sausage meat out and use it to cook a tomato sauce.
Instead of salsiccia, we use vegan minced meat made from dried soy mince, which we season with fennel and chilli. The rest of the preparation is reminiscent of cooking a regular Bolognese sauce and should therefore not be difficult for you. In addition to the soy mince, onion, garlic and carrot are cooked. Everything is filled up with red wine, deliciously seasoned and topped with tomatoes and liquid. Then let the sauce simmer a little, prepare pasta and that's it.
Instead of the dried soya mince, you can also use vegan minced meat or crumbled tofu, for example. But for this you need about 3 times the amount (around 450 – 500 g). You can then of course save yourself the first step of preparation. The rest of the procedure stays the same. The cheapest option is and remains the one with dried soy mince.
Finally, an insider tip. Ok, it's actually not an insider anymore. But feel free to cook the sauce 1 or 2 days in advance and let it sit in the fridge. The taste continues to intensify. The vegan salsiccia sauce is delicious fresh, but it has a lot of power after left sitting. Of course, you can also freeze the sauce in portions.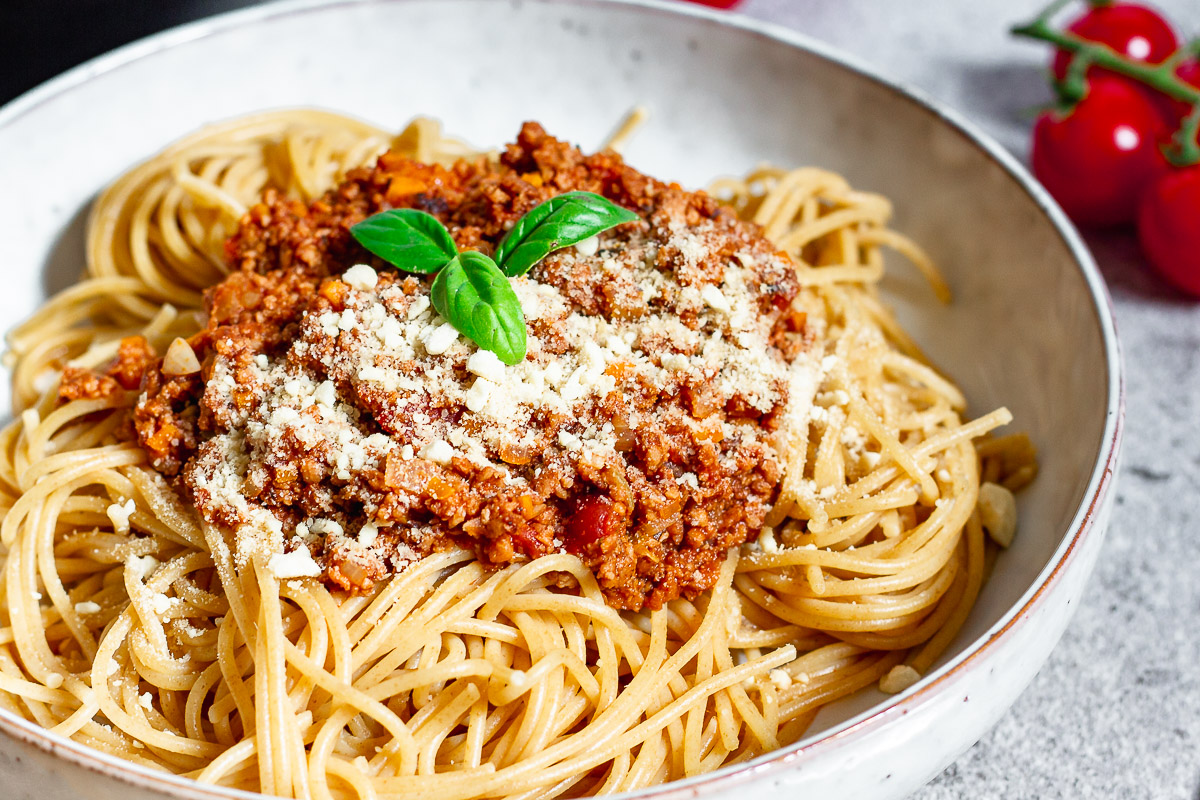 Vegan Spaghetti with Ragù di Salsiccia
Ingredients
400

g

whole-grain spaghetti

1

onion

2

cloves

garlic

1

carrot

,

small

250

ml

red wine

250

ml

water or vegetable broth

2

heaped tbsp

tomato paste

1

tsp

sugar

1

can

chopped tomatoes

,

400 g

1

twig rosemary

1

bay leaf

1/2

tsp

oregano

olive oil
Vegan Salsiccia Mince
150

g

dried soya mince

2

tsp

fennel seeds

1

tsp

salt

1/2

tsp

pepper

1

tsp

chili powder
Preparation
Pour boiling water over the dried soy mince in a saucepan and let it steep for 5-10 minutes. Drain, rinse with cold water and squeeze out excess liquid. Put in a bowl.

Put the fennel seeds with salt and pepper in a mortar and grind finely. Mix together with the chili powder and the soy mince.

Finely dice the onion, garlic and carrot. Fry the soy mince in a large pan with a good dash of olive oil at a relatively high temperature. As soon as the soy mince has taken some color on all sides, add onion and carrot. Fry for another 1-2 minutes.

Add the garlic and tomato paste and fry briefly while stirring. Pour red wine on top. Let it cook away. Then add canned tomatoes, sugar, oregano, bay leaf, rosemary and water / broth. Reduce the heat and let the sauce simmer for at least 15 minutes. Season to taste with salt and pepper.

Cook the spaghetti in a large pot of salted water according to the package instructions until al dente. Drain the pasta. Make sure to collect some pasta water and stir it into the sauce.

Either mix the pasta directly with the sauce or serve separately. Sprinkle with fresh basil and cashew parmesan if you like.
Song of the recipe:

Pasta with ragù di Salsiccia was the typical meal on vacation together in Italy (Urlaub in Italien means vacation in Italy). And we saw Erobique live together several times, for example at the Melt!, Dockville and Appletree Garden Festival.