We haven't uploaded a new pasta dish for far too long. What's wrong with us? But that will change today. Pasta e fagioli just means noodles with beans. If the dish is still relatively unknown in Germany, almost every region in Italy has its own version. So pasta e fagioli is a real classic. In addition to the combination of beans, pasta and vegetables, bacon (e.g. pancetta) is usually used in the original. Of course, we don't do so. Instead, smoked paprika powder creates a smoky and full-bodied aroma. For the real taste explosion, we sprinkle some cashew parmesan over the stew before serving. Boom!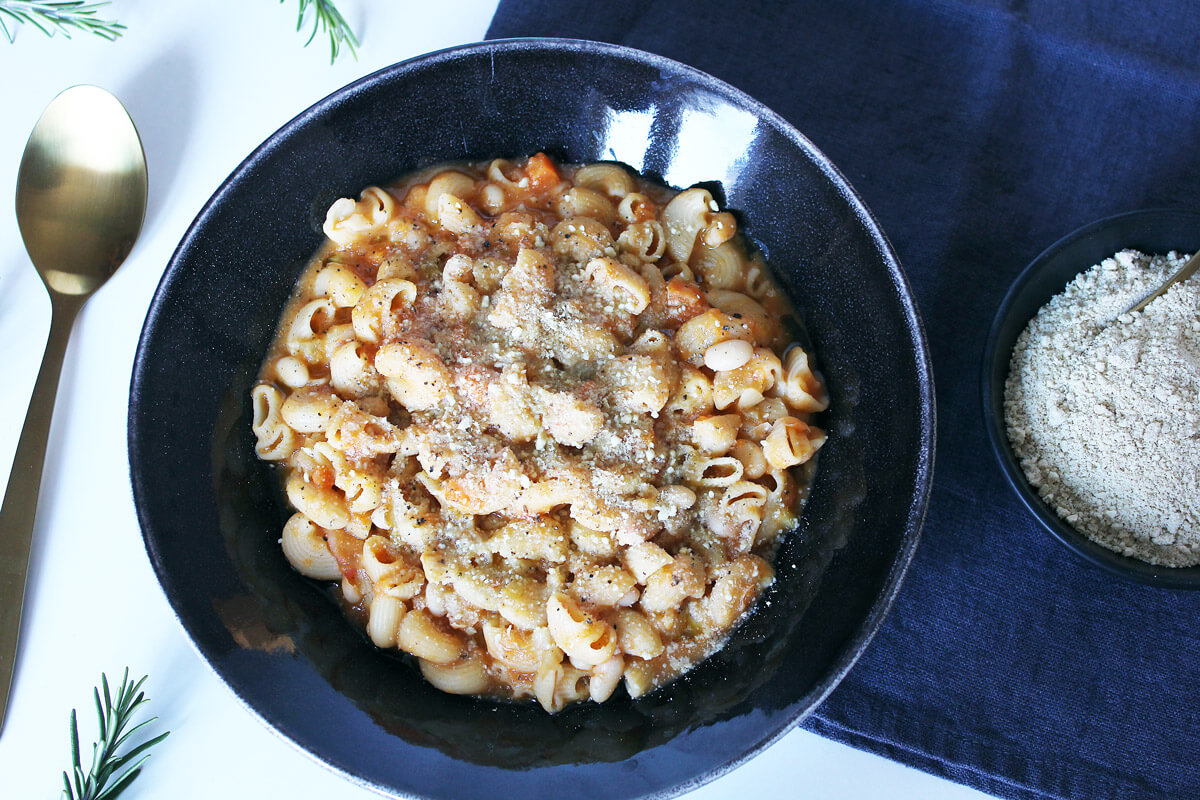 For the sake of simplicity, we use boiled white beans from the glass for the recipe. So the dish is cooked super quickly and is therefore even suitable as a dinner after a long working day. Of course you can also soak and cook dried beans yourself. This is cheaper and usually tastes even better. The white beans can also be replaced by other types of beans. It becomes particularly authentic with borlotti beans.
Pasta E Fagioli – Vegan Noodle & Bean Stew
Ingredients
480

g

white beans

,

cooked

300

g

short noodles

,

e.g. mini pipe rigate or mini penne rigate

2

garlic cloves

1

onion

,

small

1

carrot

2

sticks celery

1

heaped tsp

smoked paprika powder

1

heaped tsp

rosemary

,

dried

1

l

vegetable stock

100

g

chopped tomatoes

salt + pepper

olive oil
Preparation
Finely dice the garlic and onion. Cut the carrot and celery into approx. 1 cm cubes.

In a large saucepan, heat a big dash of olive oil at medium temperature. Sweat onion, carrot and celery for a few minutes. As soon as they take a light color, add the garlic, rosemary and paprika powder. Fry for 1 more minute.

Add the vegetable stock, tomatoes and half of the beans. Puree a little with a hand blender so that the broth becomes slightly viscous. The mixture should not be mashed until completely smooth.

Now add the pasta and the remaining beans together with 1.5 tsp salt and 1/4 tsp pepper and let all simmer gently until the pasta is cooked. This may take about 10 minutes, but it depends on the type of pasta used. Stir occasionally so that nothing burns on the bottom of the saucepan. If the stew becomes too thick or dry, simply add a little more water.

Season again with salt and pepper before serving the pasta e fagioli. Serve drizzled with olive oil and sprinkled with vegan cashew parmesan.