Even if the season is over soon, you can still buy fresh rhubarb right now. We enjoy this to the fullest with a delicious vegan cheesecake with rhubarb topping. It is neither too sweet nor too sour and tastes wonderfully refreshing even when it is 30 degrees outside.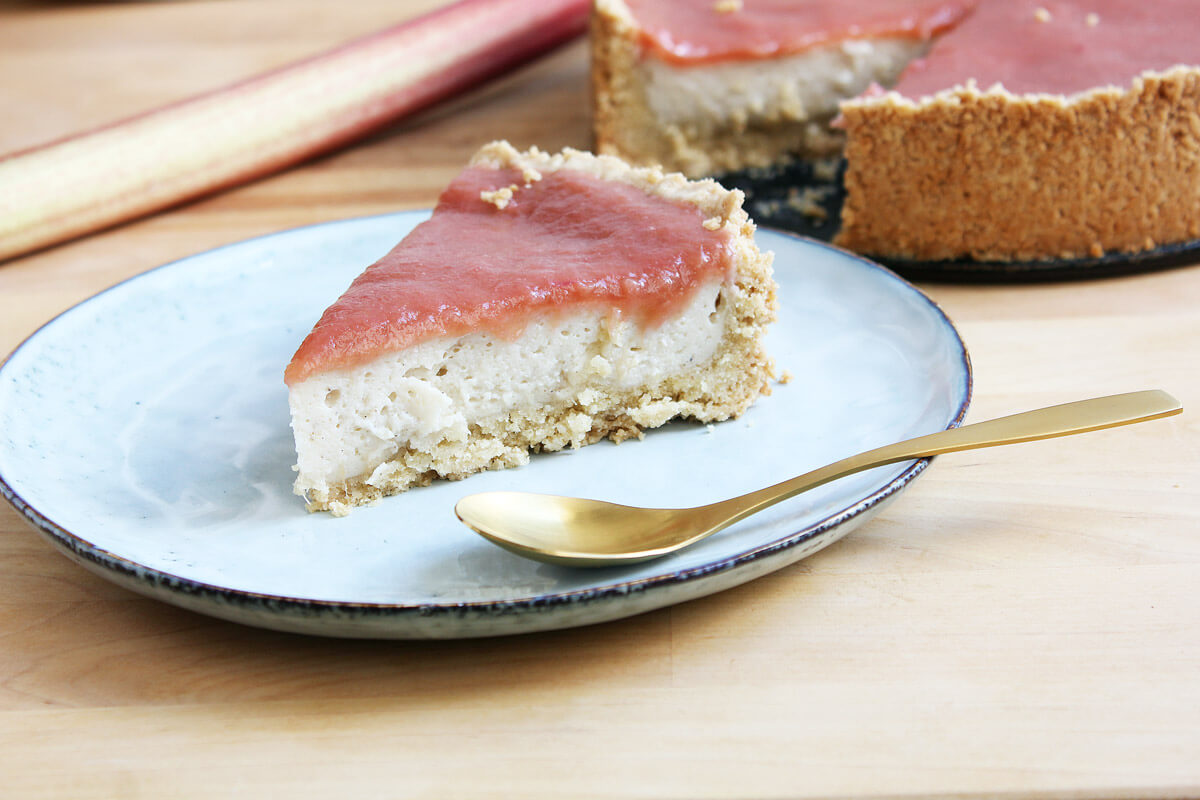 The basis of the cheesecake is a simple short crust pastry. The plant-based filling mainly consists of soy yogurt and silken tofu. It gets its firm texture because of some cornstarch, here in the form of custard powder. Lemon should not be missing for the freshness and acid of course. We use some lemon juice and lots of zest. On top comes a rhubarb compote with some agar agar as a thickening agent.
Believe it or not, this is actually the first cake recipe on Cheap & Cheerful Cooking. Absolutely crazy! Let's see how many years it will take now until the next cake recipe follows. 😉
VEGAN CHEESECAKE WITH RHUBARB TOPPING
Ingredients for 8 servings (about  0,75 Euros each):
CHEESECAKE
250 g soy yogurt
200 g silken tofu
60 g vegan butter, melted
1 package vanilla custard powder (= 38 g)
65 g sugar
1 tbsp lemon juice
Grated peel of an organic lemon
SHORT CRUST PASTRY
250 g wheat flour
150 g vegan butter, cold
80 g sugar
2 tsp baking powder
1 pinch of salt
TOPPING
250 g rhubarb
3 tbsp water
60 g sugar
1/2 tsp agar agar
Preparation
1. Knead the ingredients for the short crust pastry with your hands into a smooth dough. Place in a greased springform pan and press on the ground and on the edges. Refrigerate for at least 15 minutes.
2. Blend the ingredients for the filling until smooth. Pour into the springform pan and place in the oven at 180 degrees. Bake for about 60 minutes. Let it cool down.
3. Cut the rhubarb into pieces about 3 cm long. Put together with water and sugar in a saucepan and simmer gently at low to medium temperature with the lid closed for about 15 minutes. Add agar agar and bring to a boil for 1-2 more minutes while stirring. Allow to cool slightly and pour on the cheesecake. Let everything cool down before cutting.