This recipe for a tasty vegan mushroom risotto is pretty easy to cook and takes less effort than many other dishes. Don't be afraid of this Italian classic, because really everyone can cook a risotto. Plus, it's a great weeknight dinner alternative, if you get sick of cooking pasta all the time. For most of the risottos you don't even have to wash, peel and chop a lot of ingredients. You just cook the risotto rice, add some broth, stir from time to time and add some vegetables of preference at a certain point. In this recipe the roasted mixed mushrooms add some umami, nutty flavour to the rich and creamy risotto rice. Because you fry the mushrooms without any fat, the water in the mushrooms can vaporise. So the mushrooms don't cook but get roasted and after a couple of minutes you will get a nice roasting aroma. As thyme is best mates with mushrooms, it works wonders in this vegan mushroom risotto as well.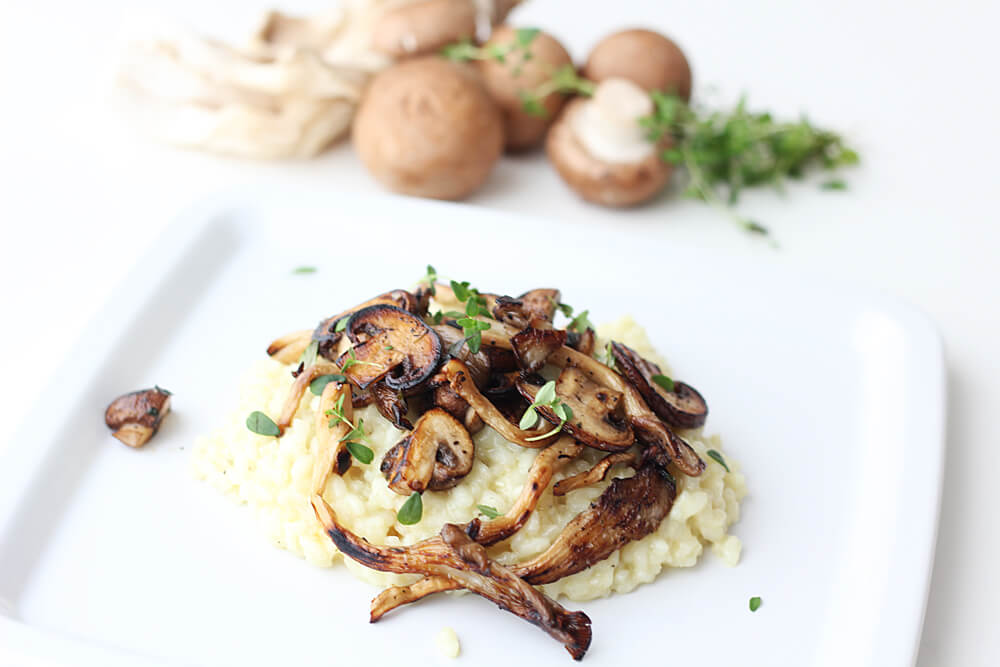 Hint: If you use instant vegetable broth, you can sauté it together with the rice and later on just add warm water from the electric kettle instead of warm broth.
VEGAN MUSHROOM RISOTTO
Ingredients for 2 servings (about 2,00 Euros each):
RISOTTO RICE
175 g risotto rice
1 small onion
1 garlic clove
100 ml dry white wine
500 ml warm vegetable broth
2 tbsp cold vegan butter
2 tbsp cashew parmesan
ROASTED THYME MUSHROOMS
200 g mixed mushrooms (e.g. brown champignons and oyster mushrooms)
a couple of thyme twigs
olive oil
sea salt & freshly ground black pepper
Preparation
1. Heat a good splash of olive oil in a pot over medium high heat. Peel and finely chop the onion and garlic and sweat it in the olive oil. Add the risotto rice and slowly fry for another 1-2 minutes. Stir in the white wine and let it cook away.
2. Now pour a big scoop of vegetable broth in, so the rice is covered. Let it simmer at low to medium heat and keep adding stock from time to time so the rice is covered. Don't forget to stir also from time to time. The risotto should be al dente after 15-30 minutes, depending on the rice used.
3. Clean the mushrooms and cut in bite-sized pieces. It looks particularly nice if some of the chunks are bigger and some are smaller. For example slice a couple of champignons and cut the rest in quarters. Heat a big pan on high temperature and roast the mushrooms without any oil from all sides. Take the pan off the heat, add 1-2 tbsp olive oil, season with salt and pepper and mix it all up. Finally sprinkle with thyme leaves.
4. Take the risotto off the heat and stir in cold vegan butter and cashew parmesan. Season with salt and pepper. Serve the risotto on two plates and put the thyme mushrooms on top.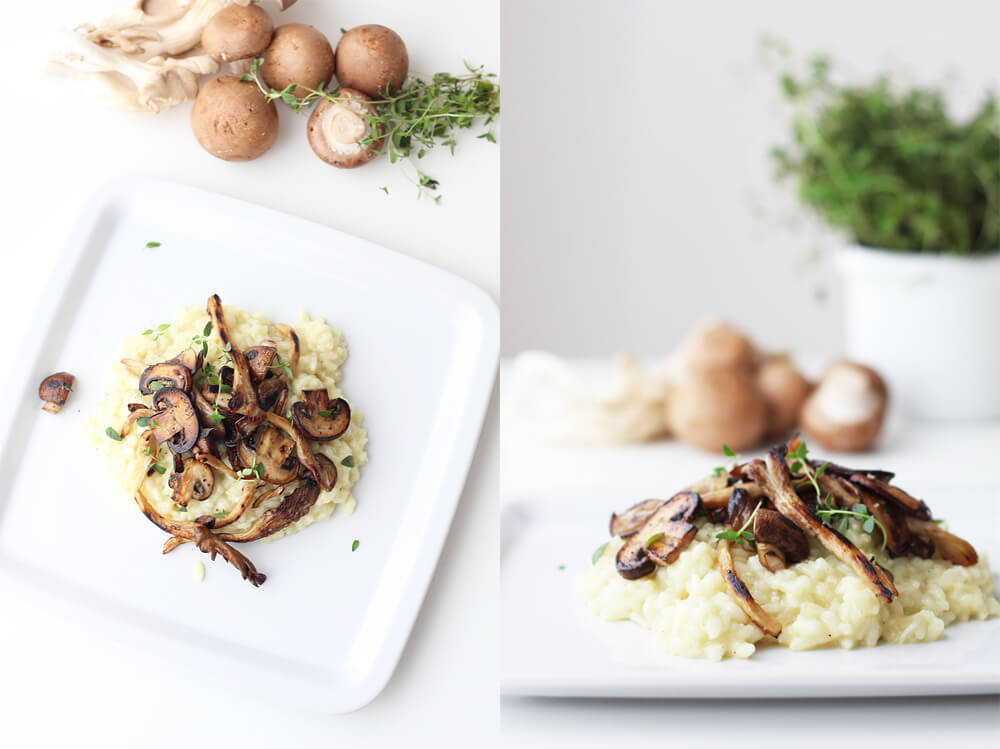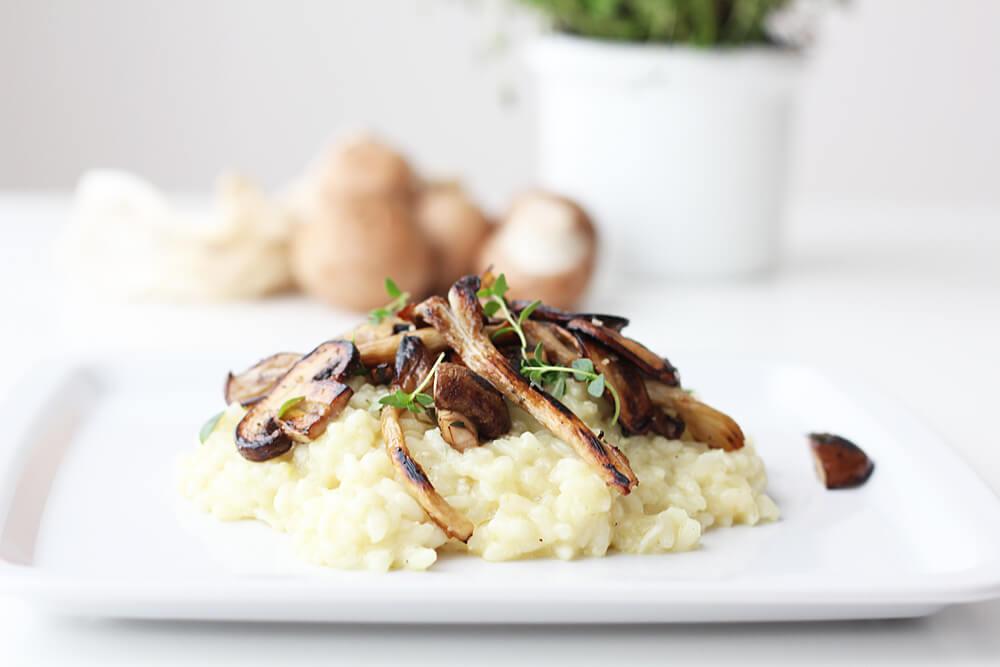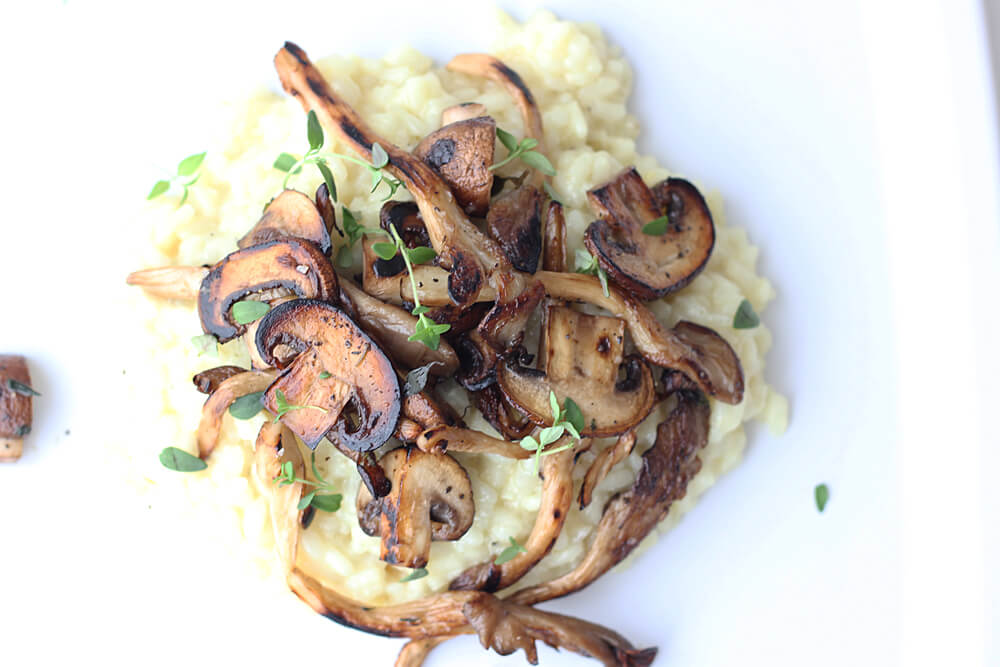 MerkenMerken
MerkenMerken
MerkenMerken