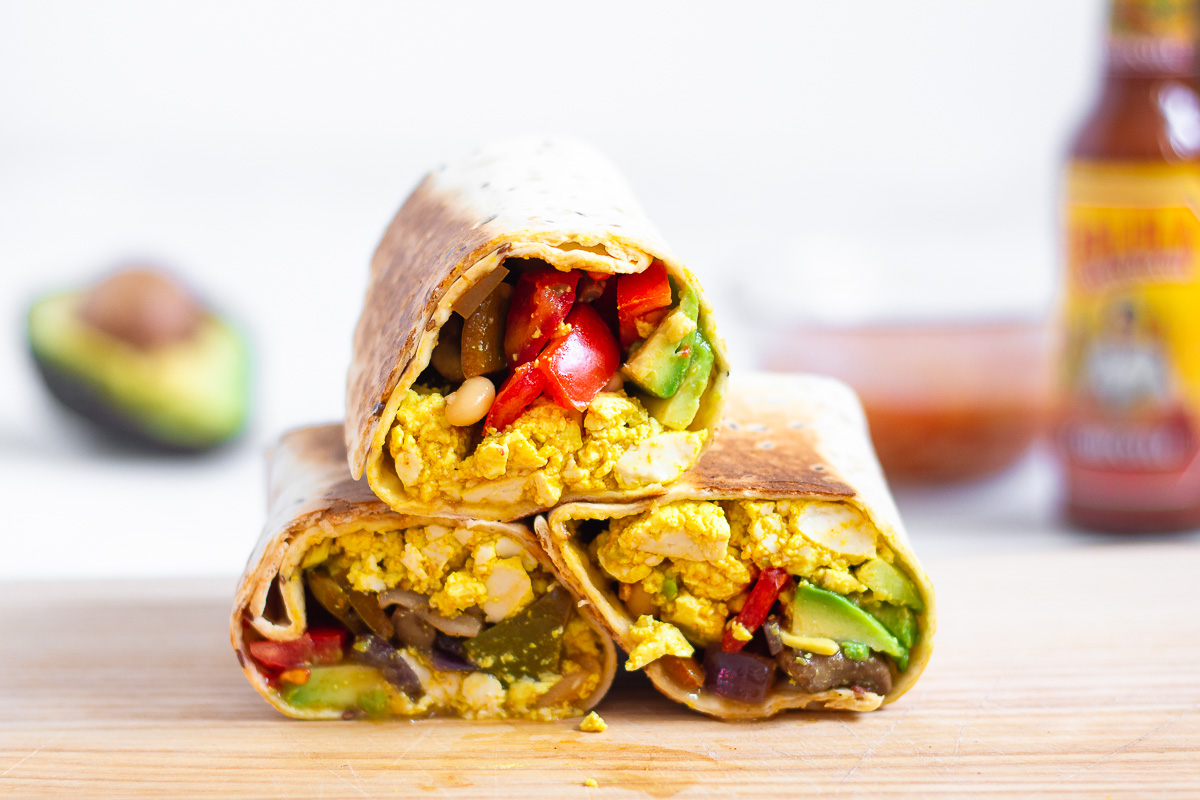 Are you lacking breakfast ideas? Are you now fed up with eating your usual porridge or the same old bread roll breakfast at the weekend? Then we have something for you today, because we are having vegan breakfast burritos. Thanks to the scrambled tofu and baked beans, they are really rich in protein. Avocado, tomato, mushroom and paprika provide other important vitamins and nutrients for the day. Oh and of course they are delicious too.
The breakfast burritos are prepared super quickly. With a few spices, the tofu turns into vegan scrambled eggs in no time. For the baked beans we exceptionally use a store-bought product, which we refine with a dash of Mexican chili sauce. And besides that only a few vegetables have to be cut. All right, and the burritos need to be rolled.
For some people the words burrito and roll will cause cold sweat on their foreheads. But we promise it's not that bad if you take a few things into account:
heat the tortilla slightly so that it becomes more flexible
do not place the filling all the way in the middle, but slightly offset towards the lower third of the tortilla
don't use too much filling
fold the tortillas in a little from the left and right and then roll them up away from you
to do so, first fold the tortilla over the filling, compress it a little and roll up the rest
For a more vivid guide, we recommend this short video.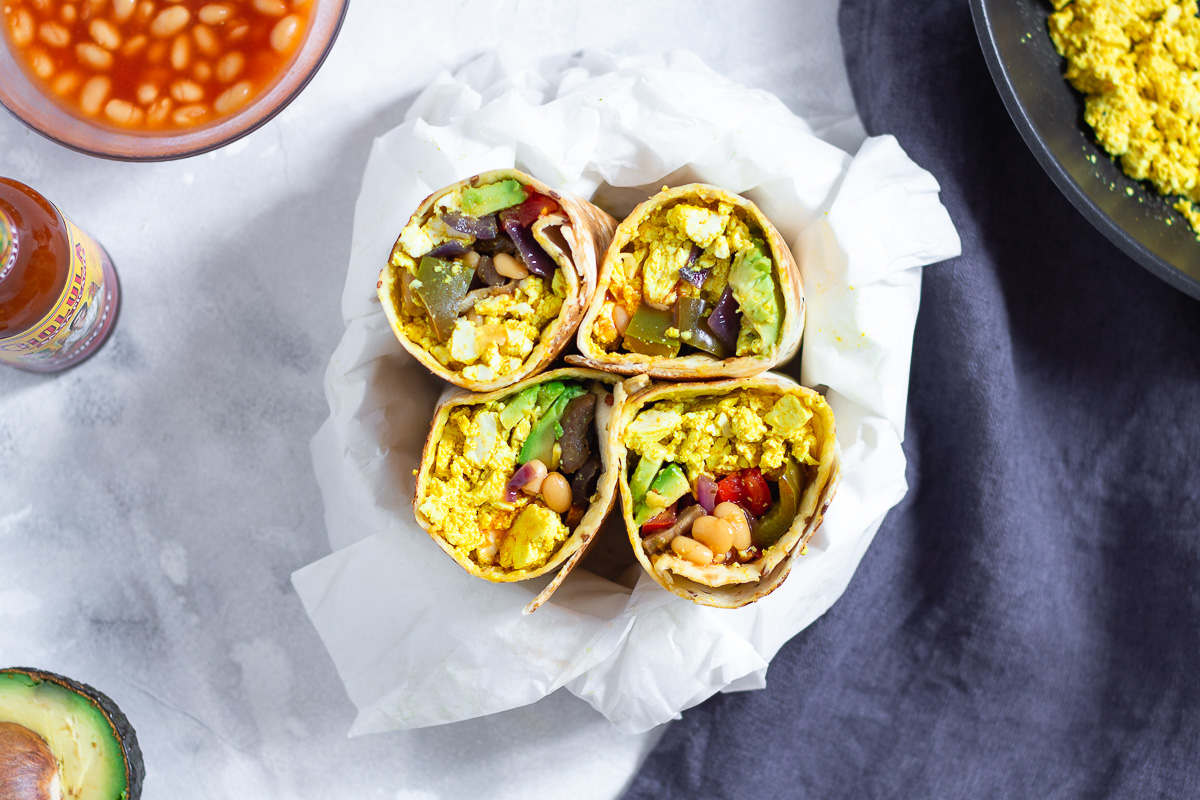 Vegan Breakfast Burrito
Ingredients
4

wheat tortillas

,

large

2

tomatoes

1

avocado

1/2

can

baked beans

,

equals about 200 g

1

tsp

Mexican hot sauce

olive oil
Tofu Scramble
300

g

tofu

,

preferably a softer tofu

1

tsp

kala namak

1/2

tsp

turmeric powder

1/4

tsp

paprika powder

1/4

tsp

pepper

50

ml

plant milk
Fried vegetables
4

mushrooms

1

green bell pepper

1

red onion

1/2

tsp

oregano

1/2

tsp

cumin powder

salt + pepper
Preparation
Roughly crumble the tofu and place in a pan with the remaining ingredients of the scrambled tofu. Heat at medium temperature, stirring occasionally. Possibly season with more salt and pepper.

Slightly heat the baked beans in a saucepan and season with the hot sauce.

Roughly dice the mushrooms, bell pepper and red onion. Fry in a pan with a dash of olive oil over medium to high temperature for about 2-3 minutes. Add oregano and cumin and season well with salt and pepper.

Halve the avocado, core it, remove the pulp from the skin and cut into slices. Dice the tomatoes.

Briefly heat the wheat tortillas in a pan from both sides until they are soft and flexible. Top with scrambled tofu, baked beans, roasted vegetables, avocado and tomato, roll up and, if desired, roast in a pan without adding any fat until crispy.