This dish is pure childhood memory for me. My grandma was not only passionate about cooking rice pudding, but also used the cooled down rice pudding every now and then to make a sweet baked rice pudding. Those have always been the best days for me. Now I felt like having a baked rice pudding again. Thus, after some trial and error, a vegan baked rice pudding was developed, which certainly can not replace the original dish of the grandmother, but it hits its taste pretty good.
While it was not that easy to veganise the original recipe, the preparation is actually quite simple. Sure, it takes a while until the finished baked rice pudding is finally on the table. But this is more due to the long cooking time than complicated steps of preparation. After all, the rice pudding needs about 30 minutes on the stove first and the baked rice pudding needs another 50 minutes in the oven. The result is definitely worthwhile and shines in winter as well as in summer. Then you could exchange the pickled sour cherries with some fresh fruits.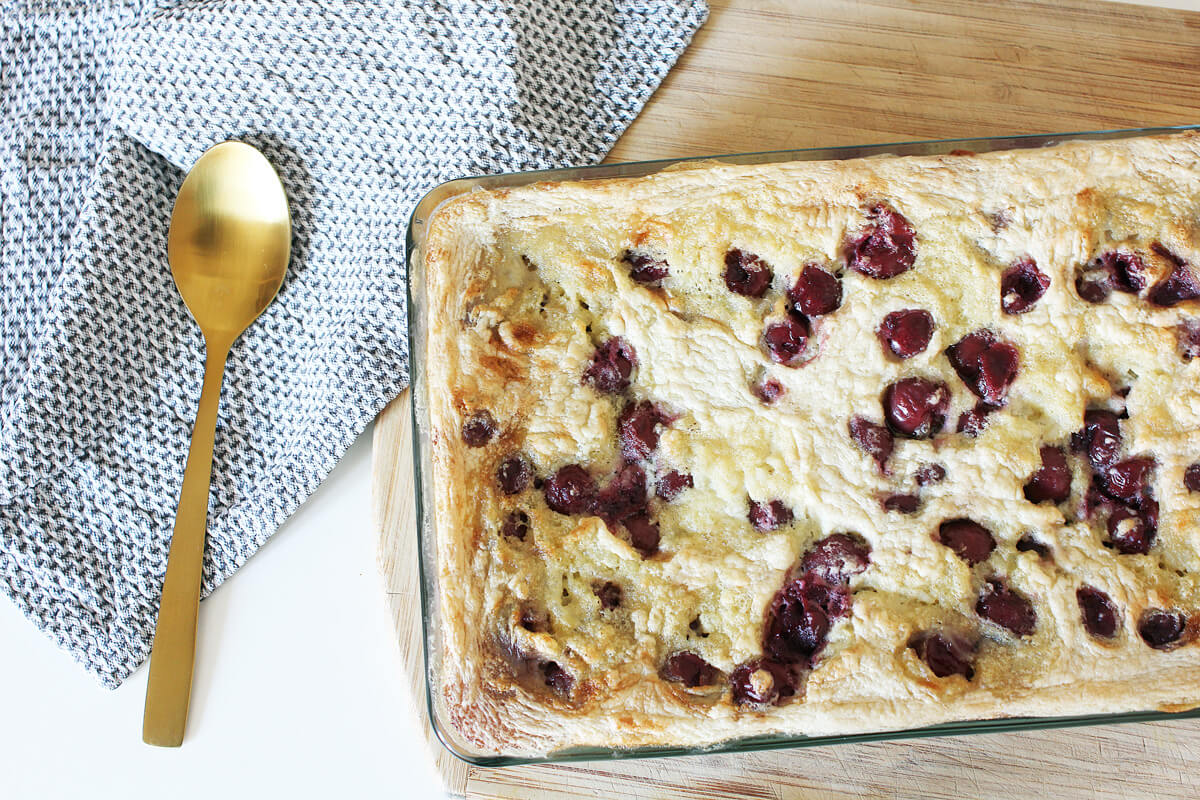 Vegan Baked Rice Pudding
Ingredients
250

g

pudding rice

1

l

soy milk

,

+ some tbsp extra

5

tbsp

sugar

1

pinch

salt

1

portion

aquafaba (vegan whipped egg white),

see recipe

250

vegan quark

350

g

pitted sour cherries

,

drained (is equivalent to 1 glass)

2

tbsp

cornstarch

vegan butter

zest of 1/2 lemon

,

optional
Preparation
Bring soy milk with salt and sugar to a boil in a pot. Stir in the pudding rice, bring to a boil again and let it simmer for about 30 minutes on rather low heat, stirring occasionally. Leave the finished rice pudding to cool.

Stir the cornstarch into some soy milk until smooth. Add with the quark to the rice pudding. Whip the aquafaba according to this recipe and gently fold it in. If desired, add the optional lemon zest.

Grease a large baking dish with some vegan butter. Add the rice pudding mixture and the sour cherries alternatively. Put some flakes of butter on top. Bake in the oven at 180 degrees for about 50 minutes.