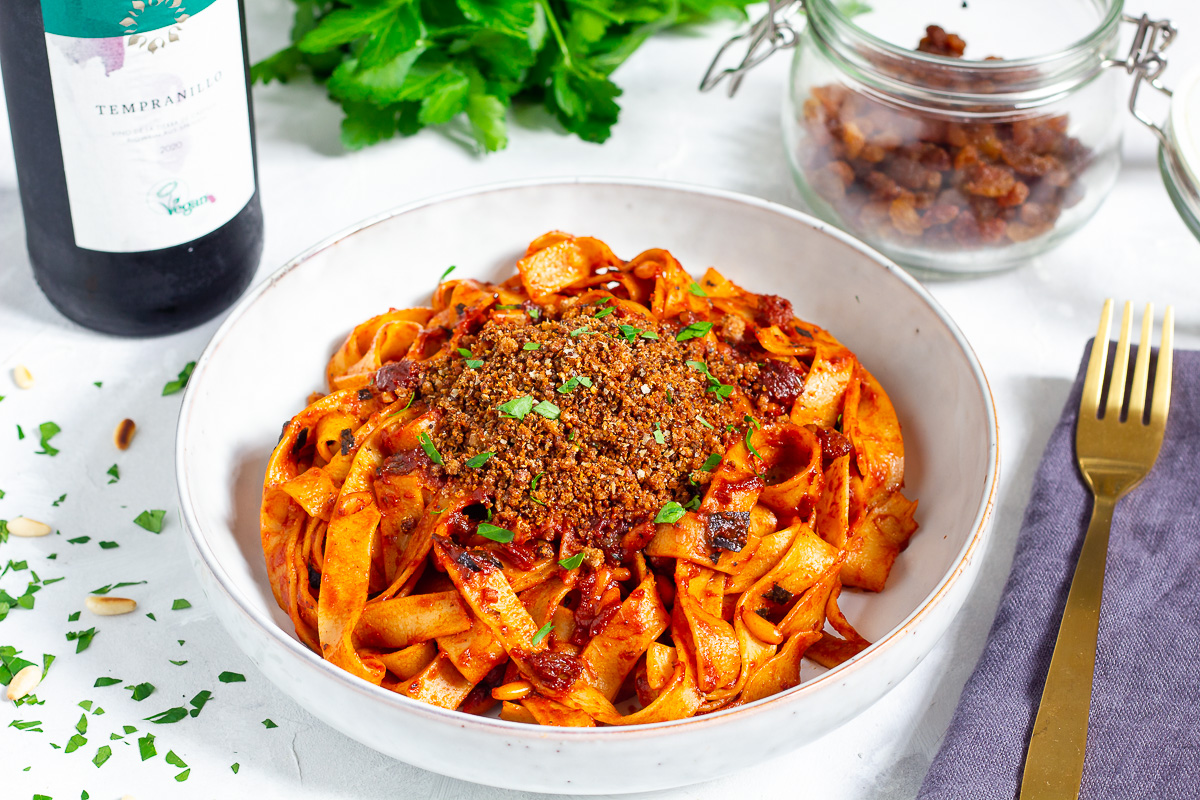 We have another recipe from the "quick and easy" category for you. Our vegan pasta c'anciova is perfect for dinner after a busy day, as it only requires a handful of ingredients and is ready on the table in 15-20 minutes. The deliciously sweet sauce is made with tomato paste, red wine, raisins, pine nuts and a little secret ingredient. Nori leaf. We'll explain why this goes wonderfully with this Sicilian pasta in a moment.
But first, let's turn our attention to the second special feature. Instead of Parmesan, crunchy breadcrumbs are used on top of the pasta. Yes, that's right. Because this pasta dish originated as a typical poor people's meal. But Parmesan cheese was very expensive, especially for people in the south of Italy, which was far away from the cheese production. So instead, toasted breadcrumbs were added over the pasta. And since we always have yeast flakes in stock in our vegan household anyway, we can even make the breadcrumbs taste a little like cheese. Fantastic! So this is the even cheaper alternative to vegan grated parmesan.
But back to the nori leaf in an Italian pasta sauce. Anchovies were readily available in Sicily, unlike Parmesan, and were therefore often used simply for seasoning. This was also the case in the sauce of pasta c'anciova. The small anchovy fillets were first sautéed and then simmered and fell apart in the sauce. Well, at least originally. For our vegan version, we simply use some nori algae instead. This also gives the pasta sauce a slightly fishy and salty flavour. And the raisins have a much more pronounced effect than the fish, even in the original. At least, that was our experience (which is now a long time ago) with the original version of this Sicilian dish.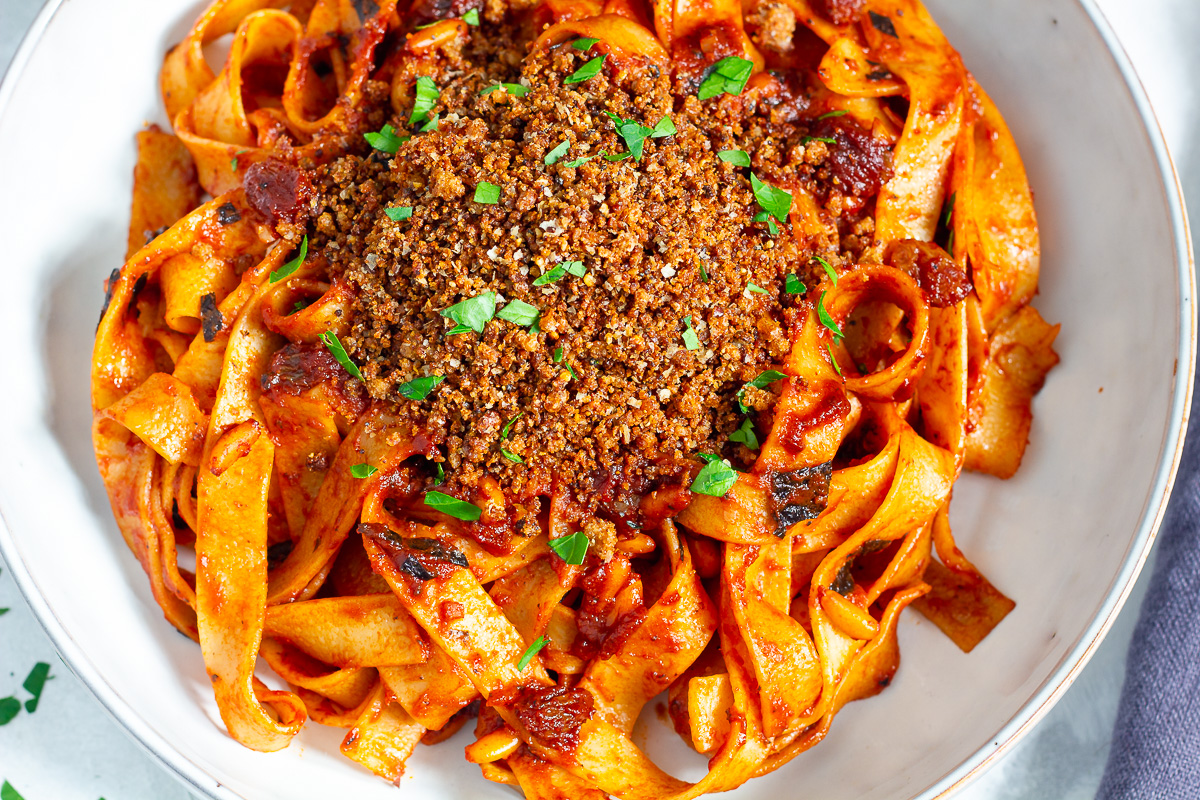 Vegan Pasta c'anciova - Sicilian Style Pasta
Ingredients
Pasta & Sauce
250

g

pasta

,

e.g. fettuccine

1-2

cloves

garlic

130

g

tomato paste

,

corresponds to approx. 4 heaped tbsp

125

ml

red wine

40

g

raisins

20

g

pine nuts

1/2

nori leaf

olive oil

salt + pepper

parsley

,

to taste
Breadcrumb Topping
50

g

breadcrumbs

1

tbsp

olive oil

1

tbsp

nutritional yeast flakes

,

optional
Preparation
Finely dice the garlic. Cut the nori leaf into small pieces with scissors or crumble with your hands.

Put the breadcrumbs in a pan with the olive oil and fry until golden brown. When the breadcrumbs have cooled down a little, mix in the yeast flakes if desired.

Heat a large frying pan over a medium heat. Pour in a good dash of olive oil. Fry the pine nuts very briefly, then add the garlic, tomato paste and raisins and stir-fry. As soon as everything starts to colour a little, deglaze with the red wine. Add the chopped nori leaf and simmer on a low heat for a few minutes.

Cook the pasta al dente according to the instructions on the packet, drain and collect the cooking water. Add the pasta with 125 ml pasta cooking water to the sauce and mix well. Season with salt and pepper. Serve with the breadcrumbs and some parsley sprinkled on top.
Song of the recipe:

With the Italian pasta dish, you can have a bit of Italo disco.
(Would you like to listen to all the songs for the recipe? Find them collected in one playlist here)