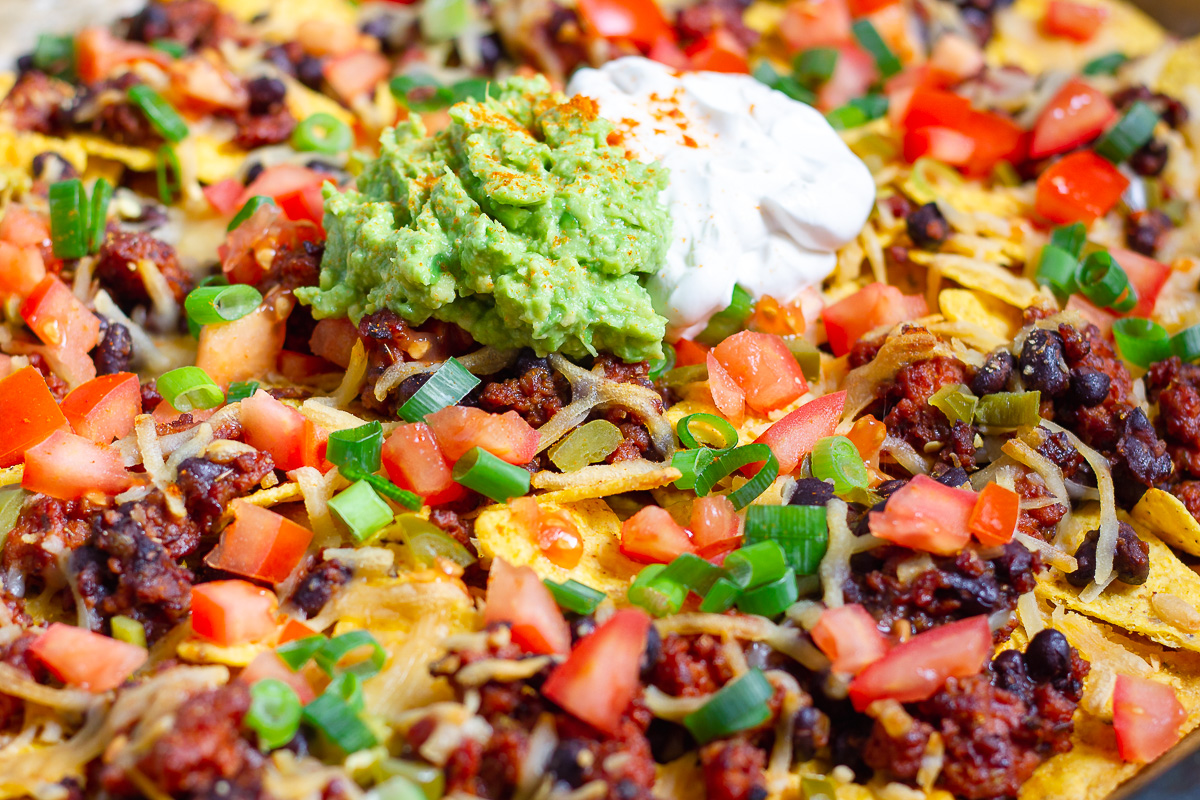 Today we made a big tray full of delicious, warm nachos. And since the tray doesn't just contain tortilla chips topped with cheese, but also all kinds of other goodies, we call it vegan nachos deluxe. And this deluxe load of finger food makes a wonderful snack while watching a series or on a long Super Bowl night. But you can also prepare the nachos just as well for your next party buffet. Or simply as a dinner without a special occasion.
In any case, there is one important rule when eating nachos. The nachos 101, so to speak. And that is: don't eat the nucleus prematurely! And before you think we're completely crazy. The nacho nucleus is a 2000s reference. To explain, here's the appropriate quote from Doug Heffernan from the sitcom King of Queens: "Every pile of Nachos has one main chip that holds the whole thing together. The Nacho Nucleus. You don't take the Nucleus. You work around it. You honour it."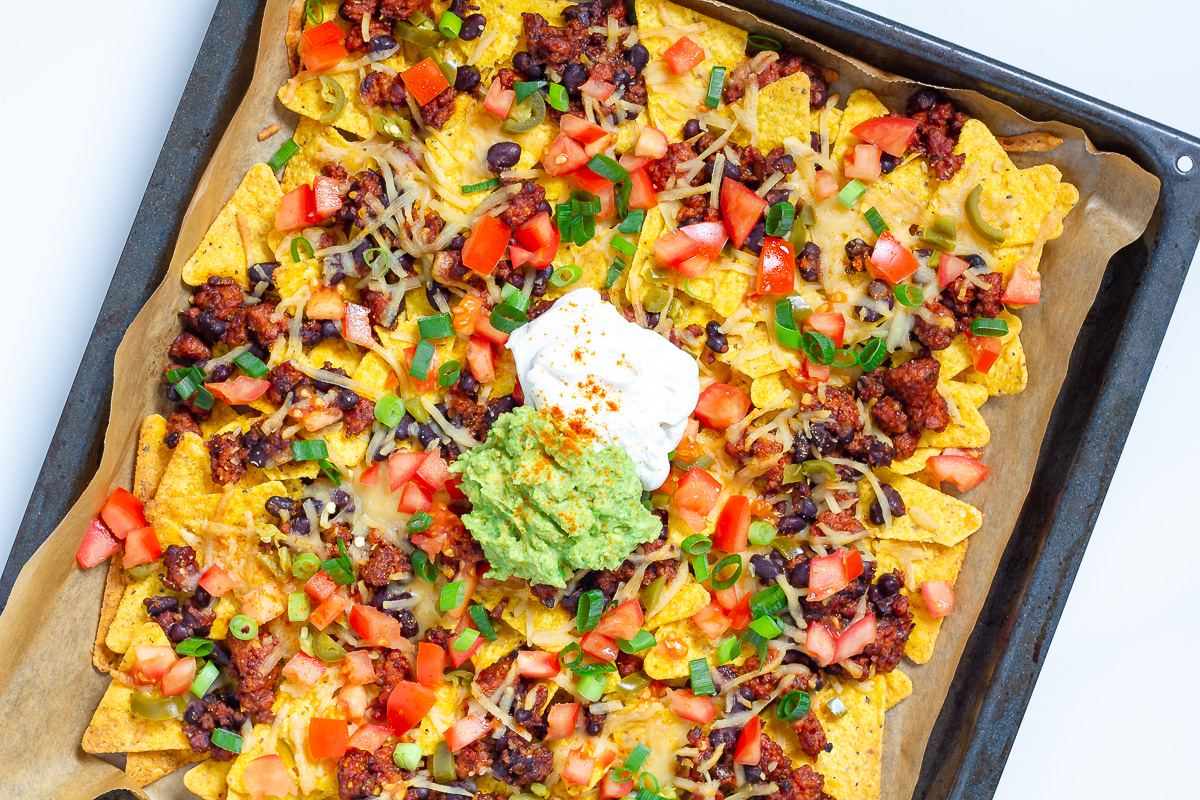 Vegan Nachos Deluxe
Ingredients
275

g

tortilla chips

125

g

vegan grated cheese

1

tomato

20

g

jalapeño slices

1

spring onion

,

only the green part

1

avocado

1

tbsp

lime juice

75

g

vegan crème fraîche
Minced Meat Mixture
250

g

vegan minced meat

1

onion

1

clove

garlic

1

tsp

paprika powder

1

tsp

cumin powder

1

tsp

oregano

1/2

tsp

sugar

1/2

tsp

chilli powder

1/4

tsp

salt

200

g

black beans in chilli sauce

olive oil
Preparation
Finely dice the onion. Finely chop the garlic. Heat a good splash of olive oil in a large frying pan. Briefly sauté the onion, then add the vegan mince and garlic. Fry well from all sides. Add the spices and remove from the heat. Mix with the black beans.

Cut the avocado in half, pit it and remove it from the skin with the help of a spoon. Mash with the lime juice and 1 pinch of salt.

Preheat the oven to 200 degrees Celsius (preferably top heat only). Spread the tortilla chips on a tray lined with wrapping paper. Spread the minced meat mixture on top. Sprinkle with the vegan grated cheese and bake for about 5-10 minutes until the cheese has melted.

Meanwhile, dice the tomato. Cut the spring onion into fine rings. Cut the jalapeño slices a little smaller, if desired.

Sprinkle the diced tomato, jalapeños and spring onion directly onto the hot nachos. Serve with avocado and vegan crème fraîche aside or spread them on top of the nachos as well.
Song of the recipe:

Niña Dioz is an openly queer female rapper from Mexico and has already been hailed as the Mexican answer to M.I.A.. Even if such high comparisons can be really difficult, at least this much can be said: her music is worth listening to.
(Would you like to listen to all the songs for the recipe? Find them collected in one playlist here)