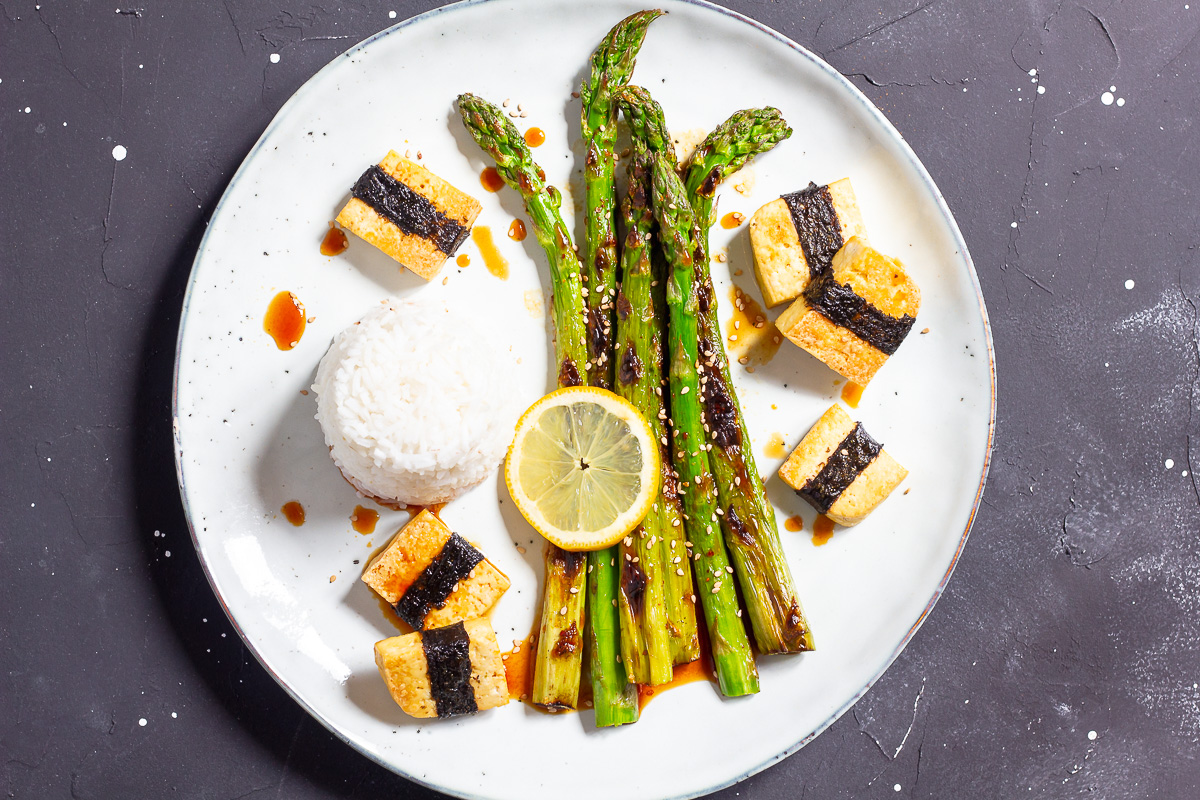 For today's creation, we were inspired by Japanese cuisine. We pan-fry the flavourful green asparagus and serve it with tofu wrapped in seaweed, which is also fried in the pan. At the end all of this is doused with a light soy sesame dressing. We recommend rice as a filling side dish.
Fried green asparagus is not only the easiest way to prepare asparagus, but also the most delicious. Just my opinion! 😉 And green asparagus is healthy too. In contrast to the white version, it sees the sun and therefore also contains more valuable vitamins and nutrients. And green asparagus doesn't have to be peeled either. Another plus. The woody ends can easily be cut off or broken off.
Since the tofu and dressing are also prepared super quickly, this dish is a wonderful candidate for a quick after-work meal.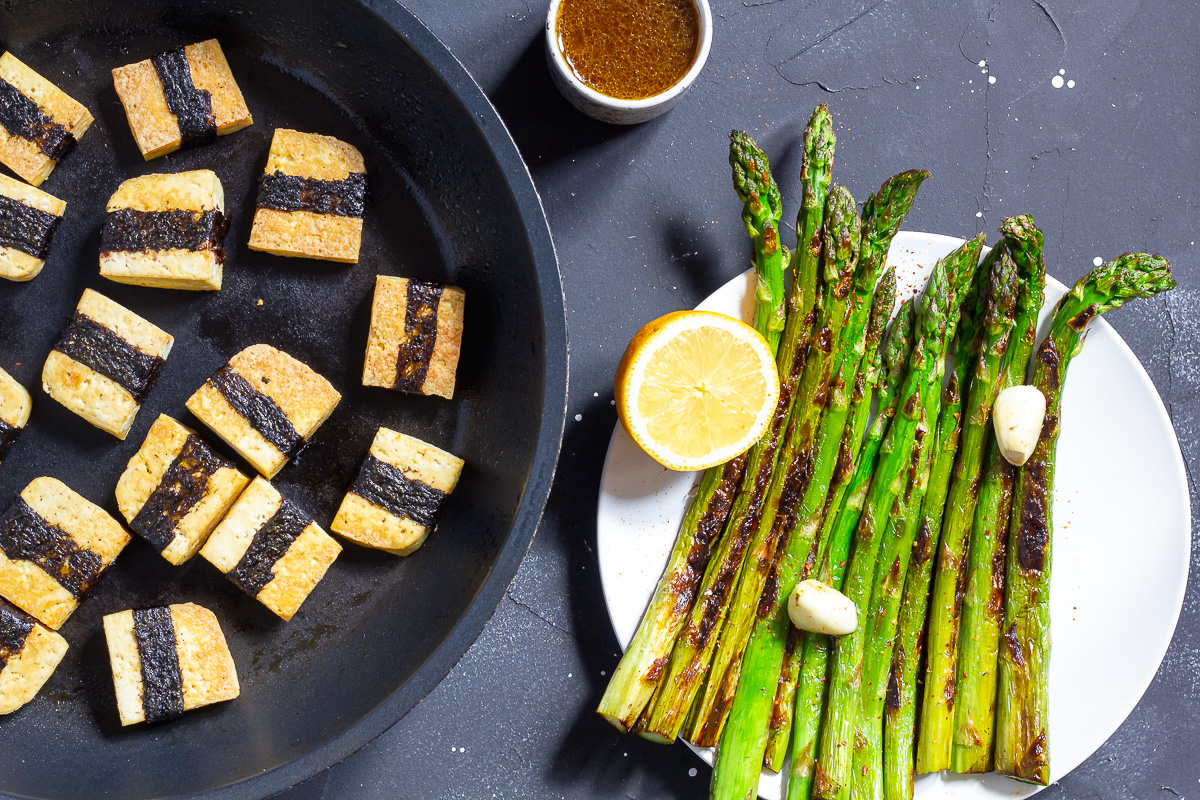 Green Asparagus with Soy Dressing and Tofu
Ingredients
Green Asparagus
250

g

green asparagus

1

clove

garlic

2

tsp

sesame seeds

1

tsp

chilli flakes

vegetable oil

salt
Soy Dressing
6

tbsp

soy sauce

3

tbsp

rice wine

3

tbsp

lemon juice

1

tbsp

agave syrup

1

tbsp

sesame oil

1

tsp

miso paste

3

tbsp

water
Preparation
Cut the tofu into pieces approx. 3x4 cm. Cut the nori seaweed sheets into strips approx. 2 cm thick. Wrap a strip of nori around a piece of tofu. If the algae strip does not hold by itself due to the moisture in the tofu, moisten it very lightly with your fingers.

Mix the ingredients for the dressing.

Remove the woody ends from the asparagus. Halve the garlic with skin on. In a large pan with a dash of vegetable oil, fry the asparagus well on all sides over medium to high temperature. Add the garlic to flavour. Take out of the pan and season with a little salt.

Put the tofu with a little more vegetable oil, if necessary, in the pan and fry from both sides.

Serve the asparagus with the tofu and pour the dressing on top. Sprinkle with chilli flakes and sesame seeds. We like to serve rice with it.
Song of the recipe:

Today we have a nice good mood pop song for the recipe. And no, it's not a cover version of the Sherman Kelly classic Dancing in the Moonlight.(Would you like to listen to all the songs for the recipe? Find them collected in one playlist here)