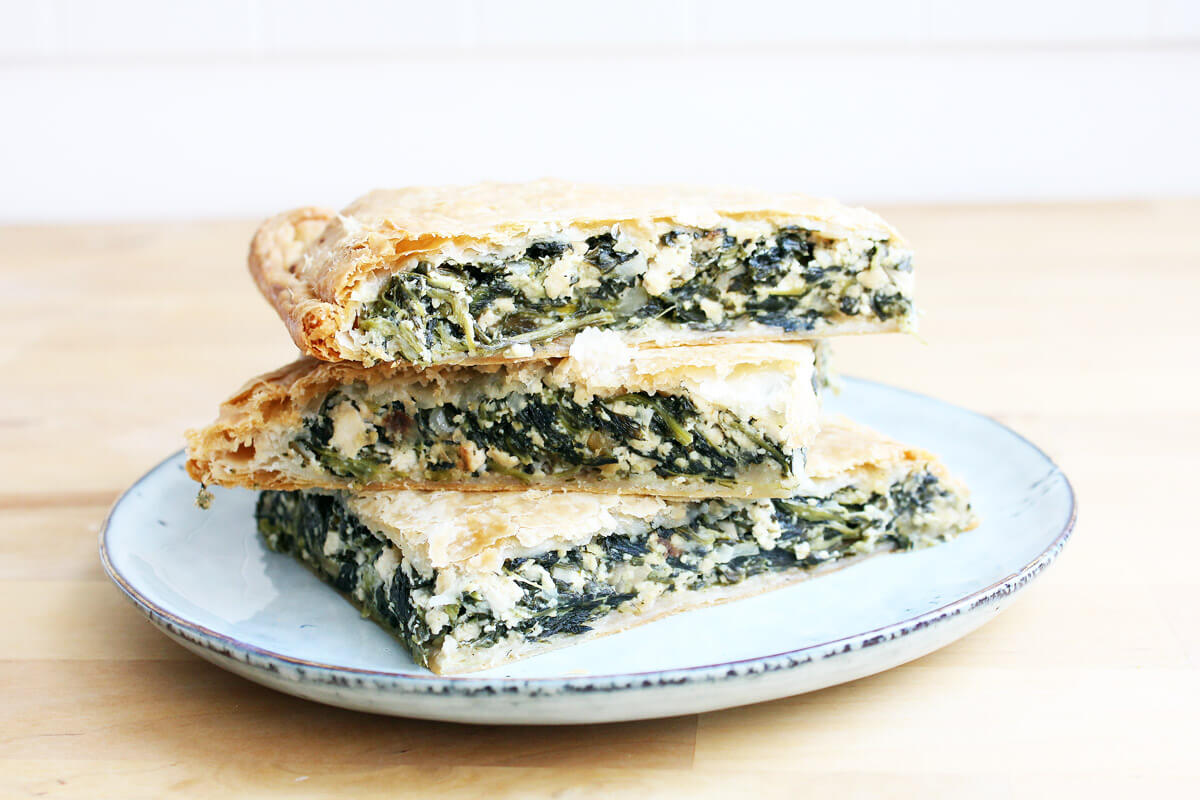 Ever heard of Spanakopita? No? Well, maybe spinach pie or spinach strudel will ring a bell. The dough dish filled with spinach is a real classic of Greek cuisine. In the original, filo dough is mostly used. Today we use puff pastry. On the one hand, it is available everywhere. On the other hand, it is much easier to make a closed package with it.
By the way, this recipe was often prepared for buffets in Lisa's family many many years ago. At that time still in a vegetarian version, in which the filling contained feta and egg. These two products can be wonderfully replaced with tofu, vegan cream cheese and nutritional yeast flakes. Thanks to plenty of salt and lemon juice, the vegan filling also tastes like feta. Chickpea flour and soy milk also add some firmness, although the mass would hold and taste wonderful without this support.
The vegan Greek spinach pie is prepared very quickly thanks to the use of store-bought puff pastry and frozen spinach and the ingredients are available all year round. Since you can eat the spinach pie wonderfully with your hands, we like to make it for party buffets or picnics with friends. But it is also perfectly suited as a starter with a little salad or as a main course with one or two delicious side dishes. Oh, we would eat the pie even for dessert. 😉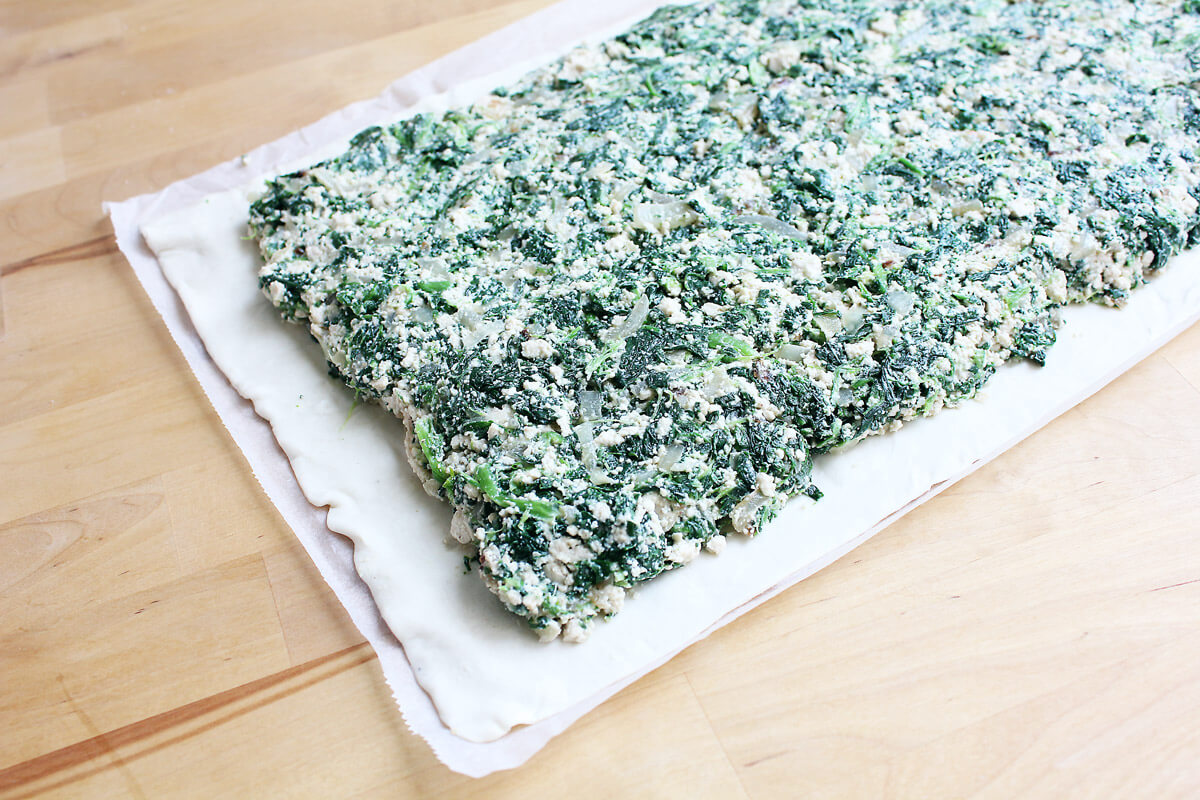 Vegan Greek Spinach Pie (Spanakopita)
Ingredients
2

rolls

vegan puff pastry

900

g

spinach

,

frozen

2

onions

2

cloves

garlic

3

tbsp

olive oil

400

g

tofu

150

g

vegan cream cheese

3

tbsp

lemon juice

5

tbsp

nutritional yeast flakes

1

tbsp

salt

1

tbsp

chickpea flour

,

alternatively rice flour

5

tbsp

soy milk

1

pinch

pepper

1

pinch

nutmeg
Preparation
Defrost the spinach completely.

Peel the onion and garlic, cut into small pieces and fry in a pan with 2 tablespoons of olive oil until golden brown.

Crumble the tofu with your hands and mix with cream cheese, salt, lemon juice, nutritional yeast flakes, chickpea flour, 2 tablespoons soy milk and spices.

Press the defrosted spinach in your hands to get rid of most of the water. Mix the tofu mixture with spinach and distribute it evenly on a rolled out puff pastry. Leave about 2 cm empty on each side.

Place the second puff pastry on top and roll up the edges with your fingers and seal it. Press in the edge with a fork as shown in the picture. In addition, pierce a few air holes in the dough with a fork and brush generously with the remaining soy milk.

Bake the pie in the oven at 180 degrees Celsius for 60 minutes. Let it cool, cut into small pieces and enjoy.