What could be better than starting the day with a homemade, healthy and delicious granola? Yes ok, some days we may all feel more like staying in bed and being brought pancakes by a favourite person. But for an active start to the day, our vegan date granola with nuts works wonders.
A great advantage of this recipe is that it contains no refined sugar and the sweetness can be determined individually. Store-bought granolas are usually full of sugar. Normally, you also save money and packaging waste by making your own.
For sweetening, we use bought date paste, which we buy in large packages in Turkish or Arab supermarkets. We love it because it can be used in so many ways and our blenders are usually overwhelmed with pureeing dates. So date paste saves work and time, even when it comes to washing up, which is not always easy with sticky date paste. You can also find other recipes for date paste on the blog, such as our energy balls and power bars.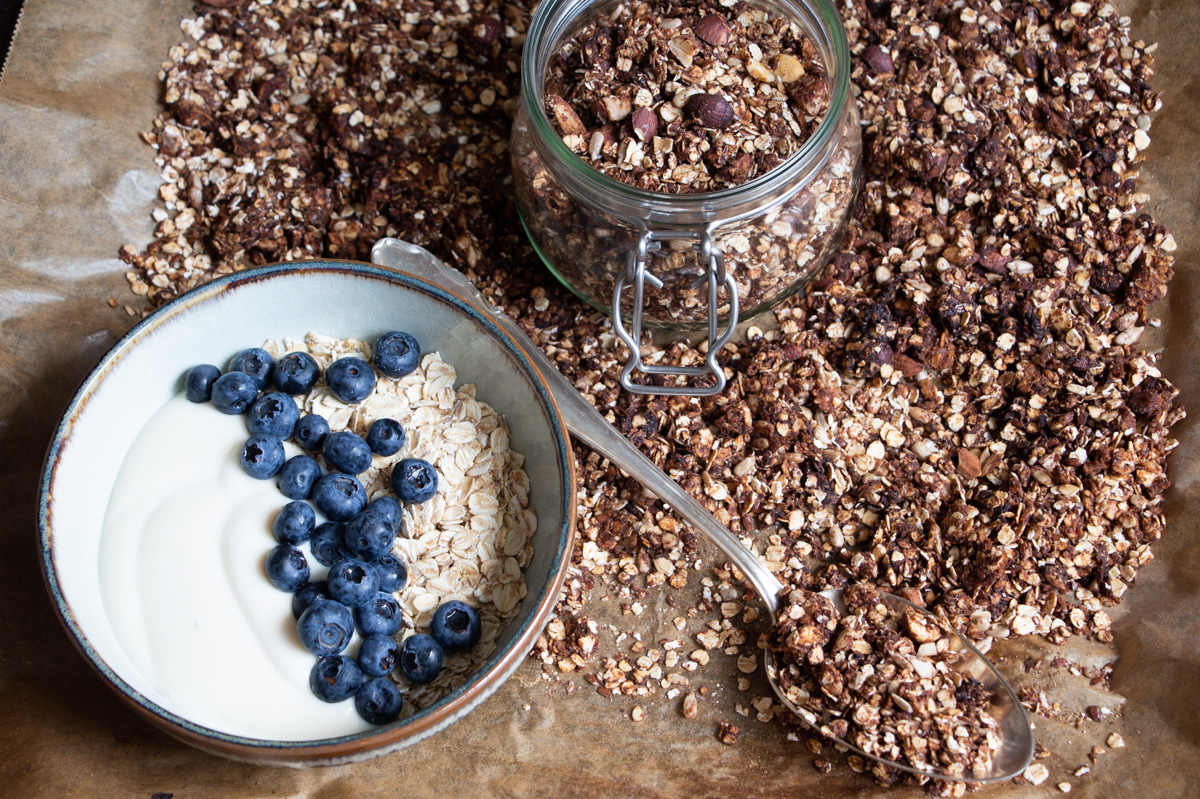 Vegan Granola with Dates & Nuts
Ingredients
Dry ingredients
1

kg

oats

200

g

flaxseed

,

coarsely ground

200

g

sunflower seeds

200

g

nuts

,

e.g. hazelnuts

1

tbsp

cinnamon

4

tbsp

cocoa powder

1

pinch

cardamom powder

1

pinch

salt

1

pinch

ginger powder
Syrup
400

g

date paste

10

tbsp

coconut oil

,

or neutral vegetable oil

10

tbsp

water
Preparation
Combine the dry ingredients and mix well so that the spices and cocoa powder are evenly distributed.

Mix the date paste with the water and oil in a saucepan over medium heat to a liquid, even paste and knead into the dry ingredients. For this, I prefer to use the dough scraper directly, which I also use to get the liquid out of the pot.

Divide the granola mixture evenly between 3 baking trays and bake at 160 degrees Celsius until crispy. This takes about 45-60 minutes. You should change the trays from time to time and stir the mixture with a spoon or dough scraper to prevent certain areas from burning.

Remove the granola from the oven and leave to cool and dry, preferably directly on the tray, for 24 hours. Check that the granola is crisp and dry before putting it into clean jars. After all, it should keep us stocked up for some time and not go mouldy due to residual moisture.
Song of the recipe:

A beautiful guitar melody by singer-songwriter Haley Heynderickx. A relaxing song to get up with the granola.
(Would you like to listen to all the songs for the recipe? Find them collected in one playlist here)