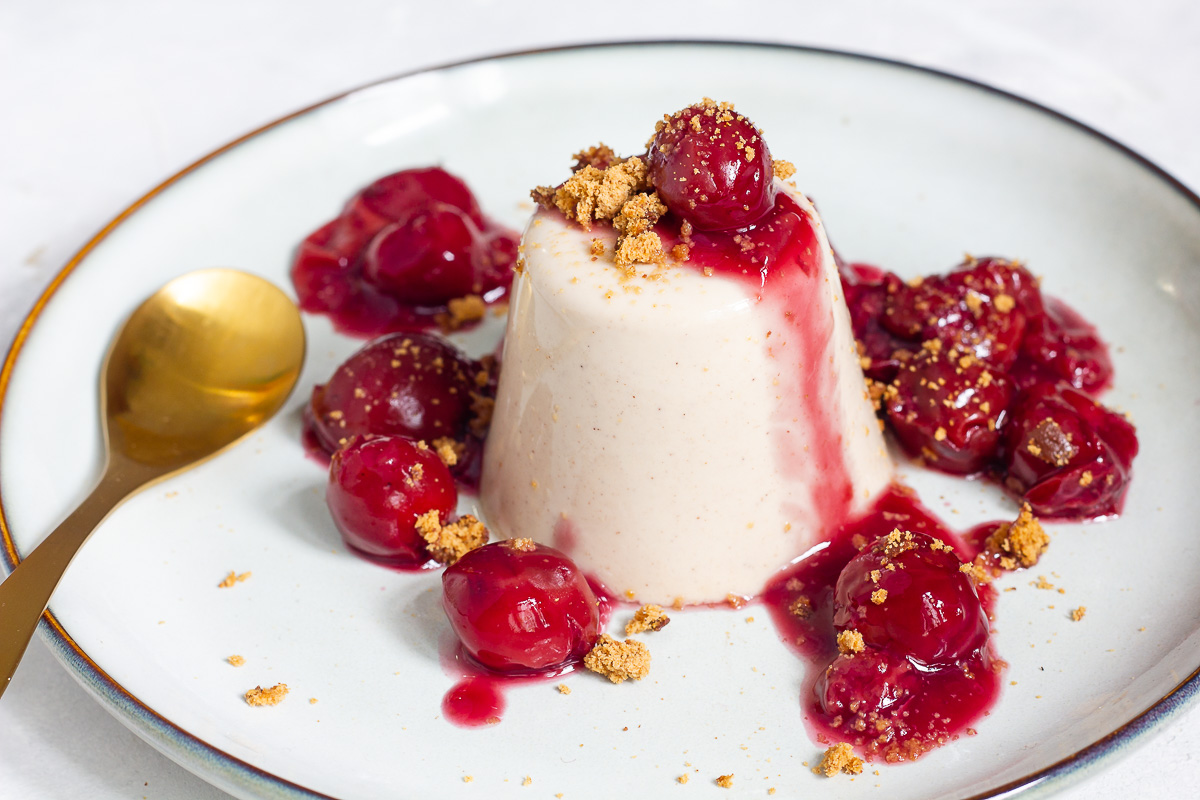 After porcini mushroom soup and seitan roast, today we present our conclusion to this year's Christmas menu: vegan gingerbread panna cotta with mulled wine cherries and gingerbread crunch. Oh yes! This doesn't just sound like the perfect Christmas dessert. It also tastes like it. It's still pretty easy to prepare, and in fact everything can be prepared perfectly in advance, so all that's left to do on the big night is to combine the three components.
For the panna cotta, we opted for a mixture of oat milk, vegan (oat) cream and nut puree. A great combination, both in terms of taste and consistency. Many vegan panna cotta recipes usually use coconut milk, as it has a high fat content and therefore a good creaminess. However, the panna cotta then also tastes very strongly of coconut. And that just doesn't go with the Christmas flavour. Agar-agar, the vegetable alternative to gelatine, is used to bind the panna cotta. All you have to do is mix all the ingredients together and bring to the boil. Then the panna cotta can be filled into containers of your choice to cool and set. That's it.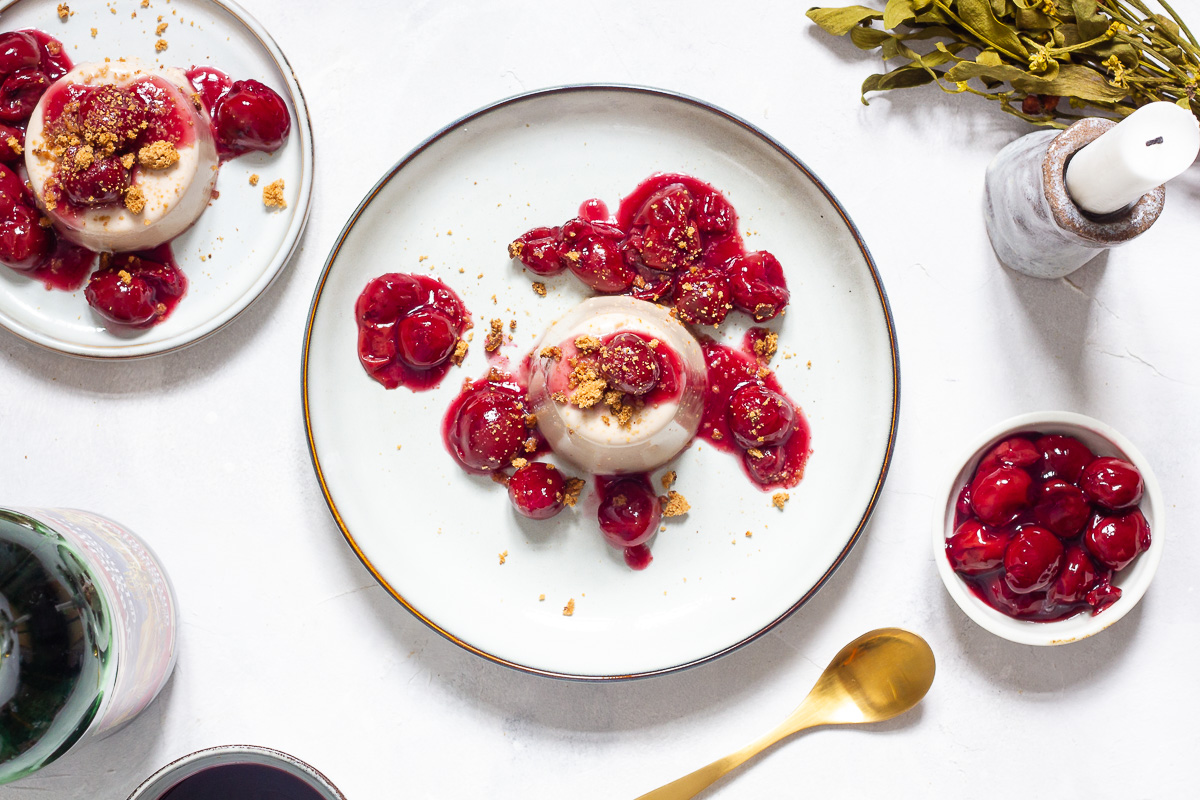 Vegan Gingerbread Panna Cotta with Mulled Wine Cherries
Ingredients
Gingerbread Panna Cotta
250

ml

oat milk

250

ml

vegan cream

,

e.g. oat casein

3

tbsp

almond puree

,

alternatively cashew puree

1

level tsp

agar-agar

1

tsp

gingerbread spice

2

tbsp

agave syrup
Mulled wine cherries
350

g

pitted sour cherries

,

drained (is equivalent to 1 jar)

150

ml

mulled wine

1

tbsp

sugar

1

tbsp

cornflour
Preparation
Mix or blend the ingredients for the panna cotta well. Bring to the boil in a saucepan, stirring occasionally. Reduce the heat slightly and simmer for at least 2-3 minutes. Stir from time to time. Remove from the heat and pour into suitable glasses or moulds. Leave to cool in the fridge for at least 2 hours, preferably overnight.

For the mulled wine cherries, drain the cherries. It is best to collect the liquid and use it for something else. Mix the cornflour with a small dash of cold mulled wine. Bring the remaining mulled wine to the boil in a pan with the sugar. Stir in the cornflour and simmer for 1-2 minutes. Add the cherries, stir everything well and remove from the heat.

For the gingerbread crunch, crumble the gingerbread, place on a baking tray and bake in the oven at 160 degrees for about 5 minutes until crisp. It's best to keep an eye on it at all times, as the gingerbread crunch can also burn quickly.

Serve the panna cotta either directly in the jar sprinkled with cherries and crunch or carefully remove from the jar and arrange everything nicely on a small plate.
Song of the recipe:

A Lana del Rey cover of a 60s song. The sound sounds a bit like Christmas and the holidays, but it really has nothing to do with them. Still super nice.
(Would you like to listen to all the songs for the recipe? Find them collected in one playlist here)