Crunchy yet juicy. Hearty but also fresh. Exactly those contrasts signify a good crunchwrap supreme. Well known from Taco Bell (or just from the internet) this tex-mex wrap is filled with mince, tomatoes, salad, cheese, sauces and a tostada. Because it's not easy to get your hands on tostadas in Germany, we substituted them with tortilla chips. It works just as good. A vegan crunchwrap supreme is easy to prepare. At first you prepare the mince. Afterwards you just have to top the wrap with the yummy ingredients, fold it and fry it. Done!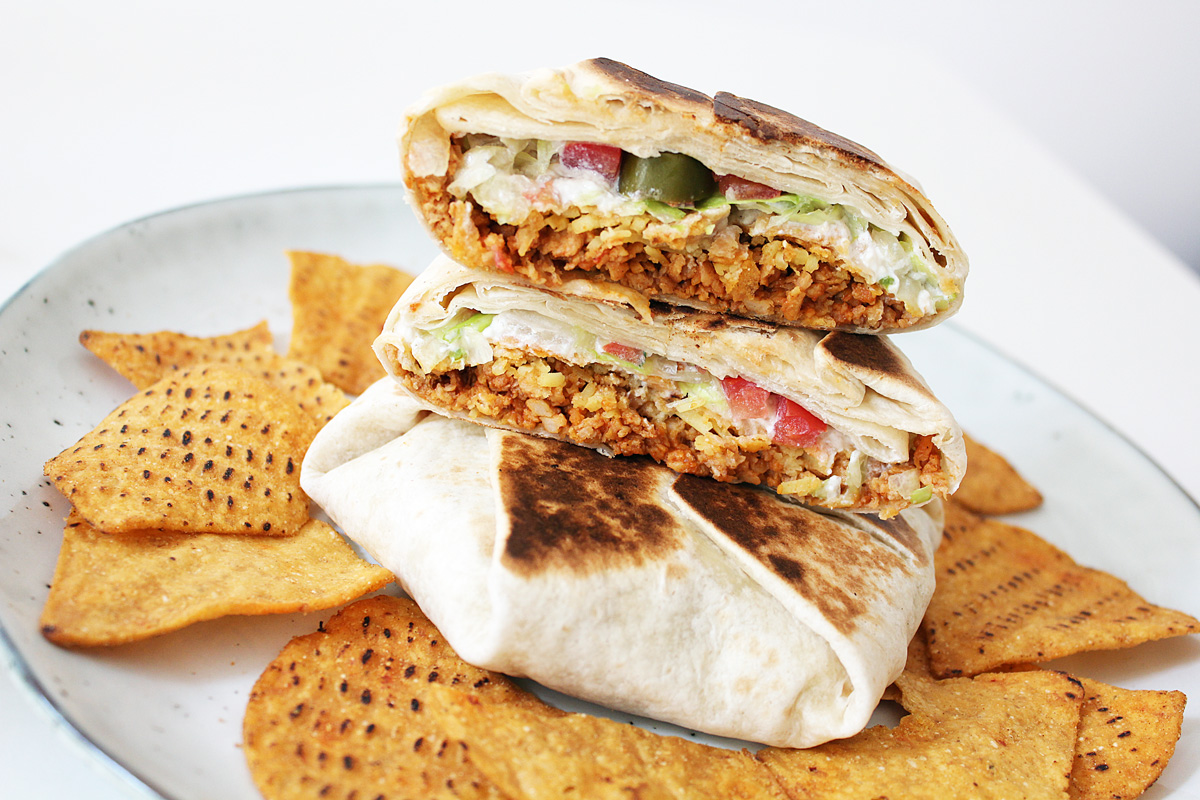 The right folding technique isn't that hard to learn. Basically you just fold up the edges, starting on one side. You can see how it is done fairly good on a GIF later on. That way you are well prepared for your next vegan tex-mex night.
VEGAN CRUNCHWRAP SUPREME
Ingredients for 2 servings (about 1,75 Euro each):
VEGAN MINCE
75 g dried soya mince
400 ml vegetable stock
1 heaped tbsp taco seasoning
2 tbsp tomato passata (or sieved tomatoes)
salt and pepper
2 tbsp vegetable oil
FILLING
about 1/3 iceberg lettuce, cut in thin stripes
2 tomatoes, finely diced
12 – 16 tortilla chips
4 heaped tbsp vegan yoghurt
about 16 pickled jalapeño slices
4 hand vegan grated cheese
WRAPS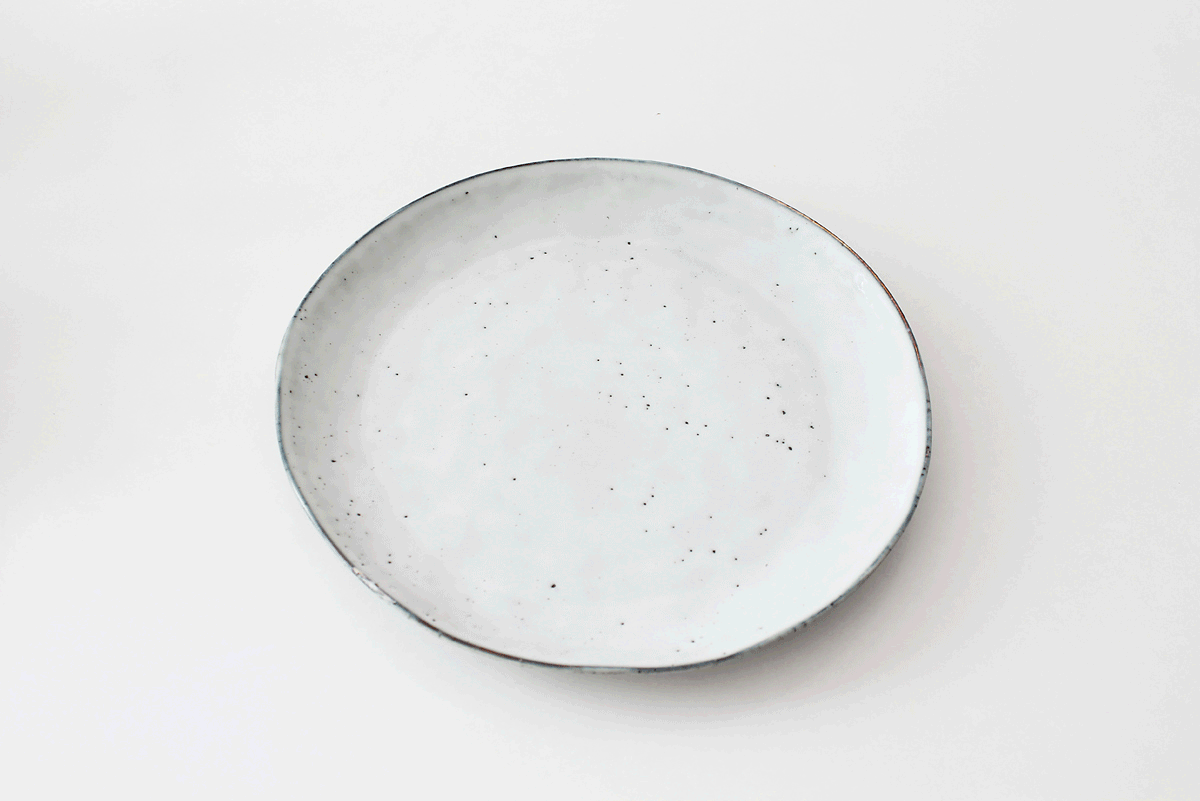 Preparation
1. Pour boiling vegetable stock over the soya mince and let it soak for about 5 to 10 minutes to rehydrate. Drain and squeeze out excess liquid. Fry the mince in the vegetable oil in a non-stick frying pan. When lightly crunchy, ass seasoning and tomato passata. Season everything with salt and pepper.
2. Heat the wraps lightly in the oven, so they get more flexible. Then pile up mince, grated cheese, tortilla chips, yoghurt, salad, tomatoes and jalapeños in the middle of each wrap. Fold up the edges, starting from one side, until the wrap is sealed.
3. Fry the wraps from both sides without any oil in a pan until crunchy. Start with the "folded side" down to really seal the vegan crunchwrap supreme.
For a simple side dish, you can e. g. serve the rest of the tortilla chips with a dip. Besides classic tomato salsa this nacho "cheese" dip suits well.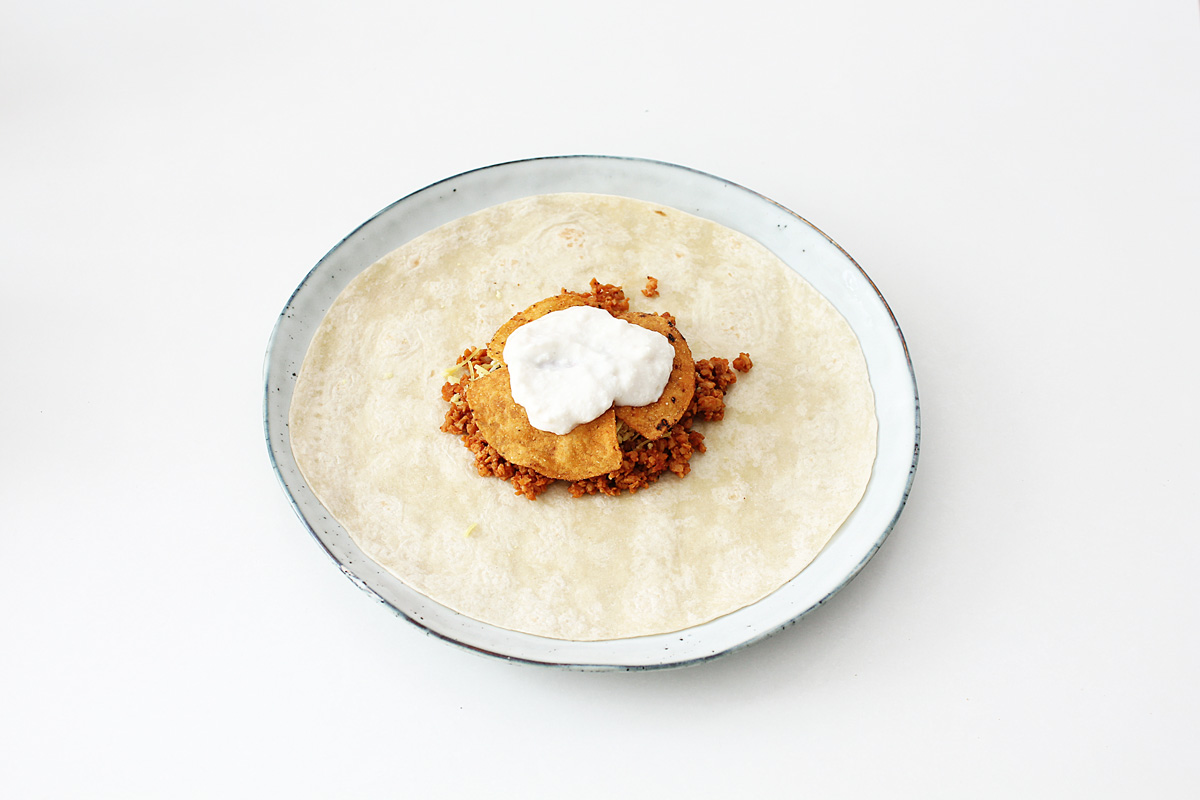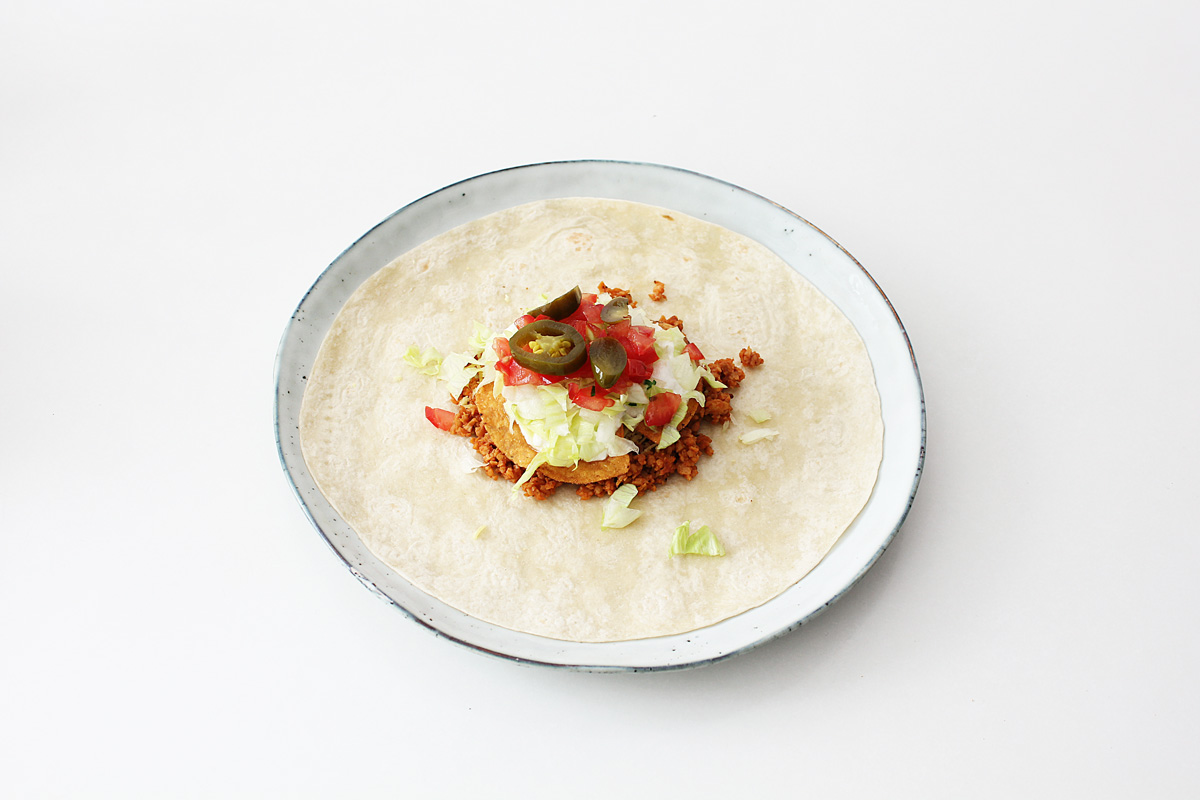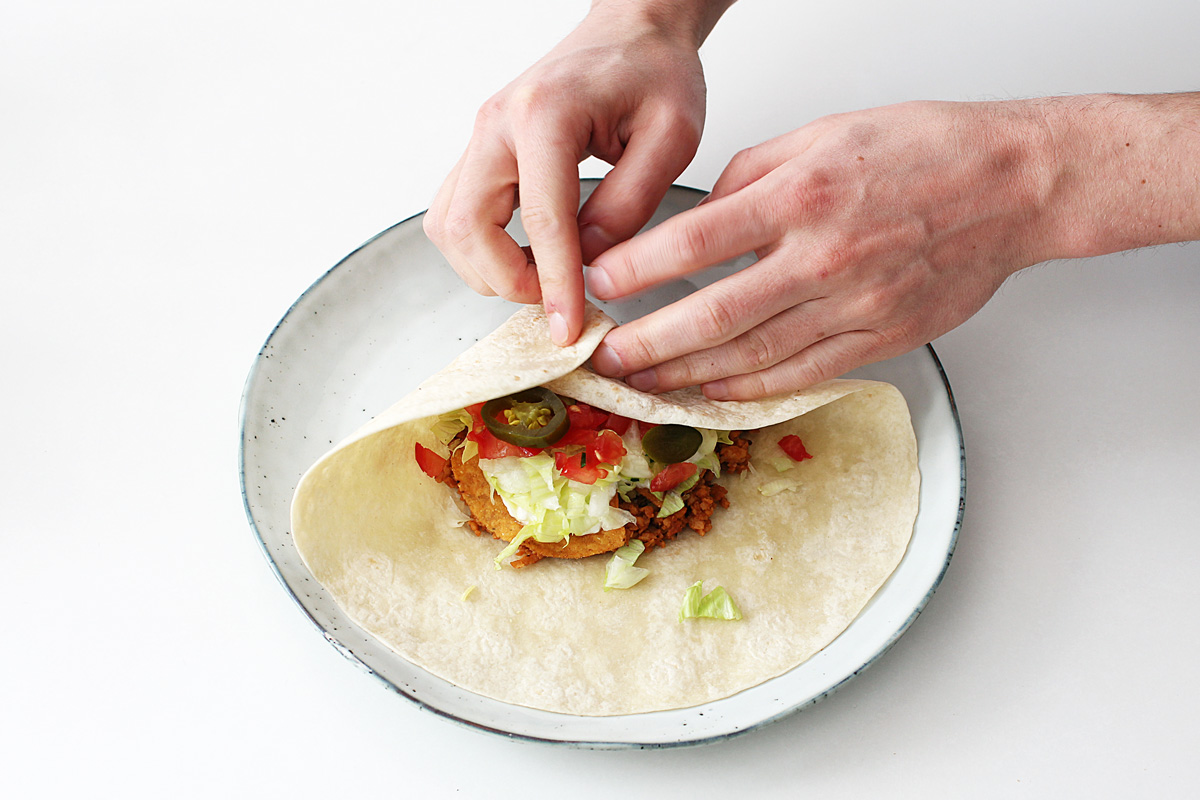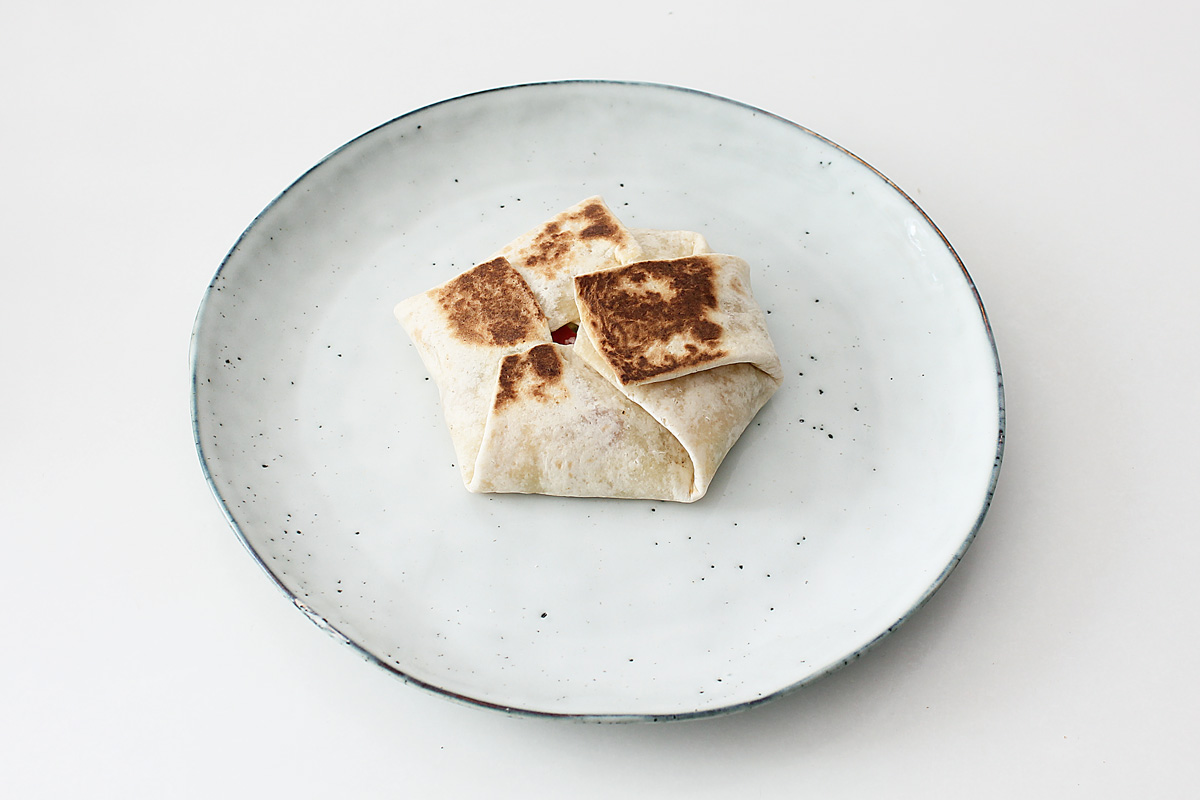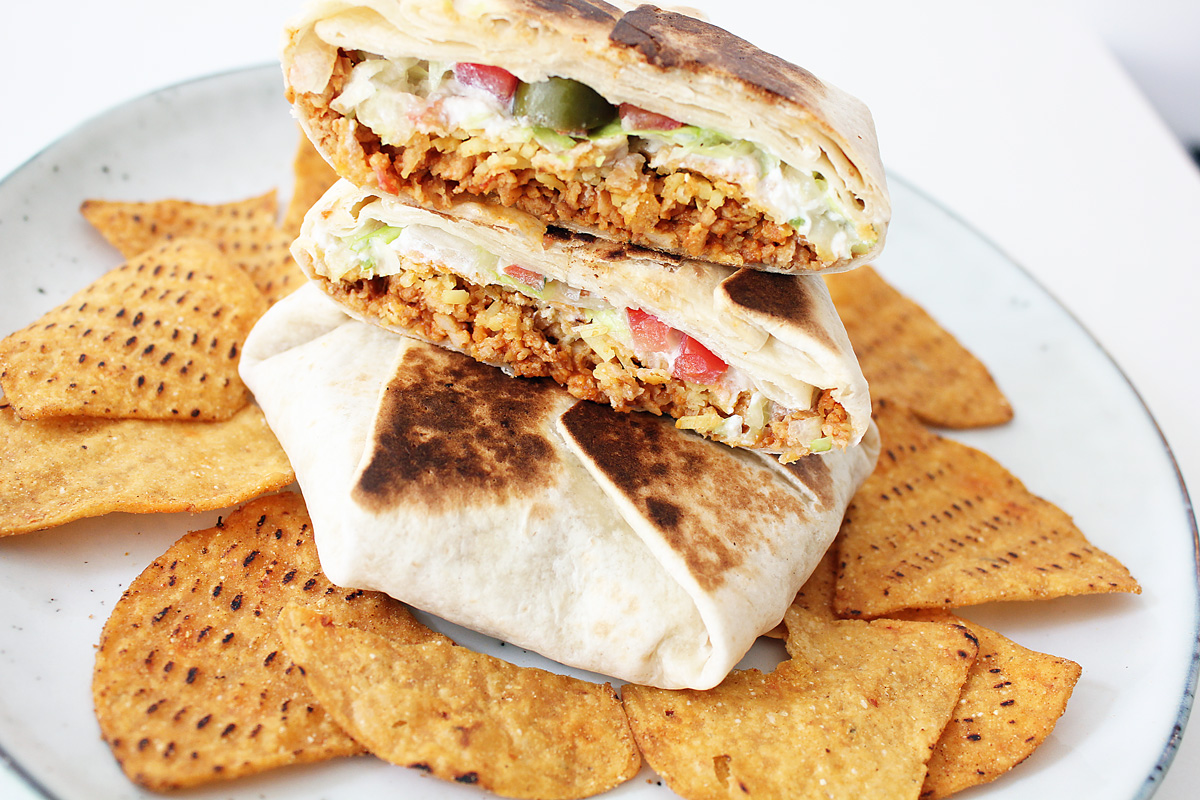 MerkenMerken
MerkenMerken