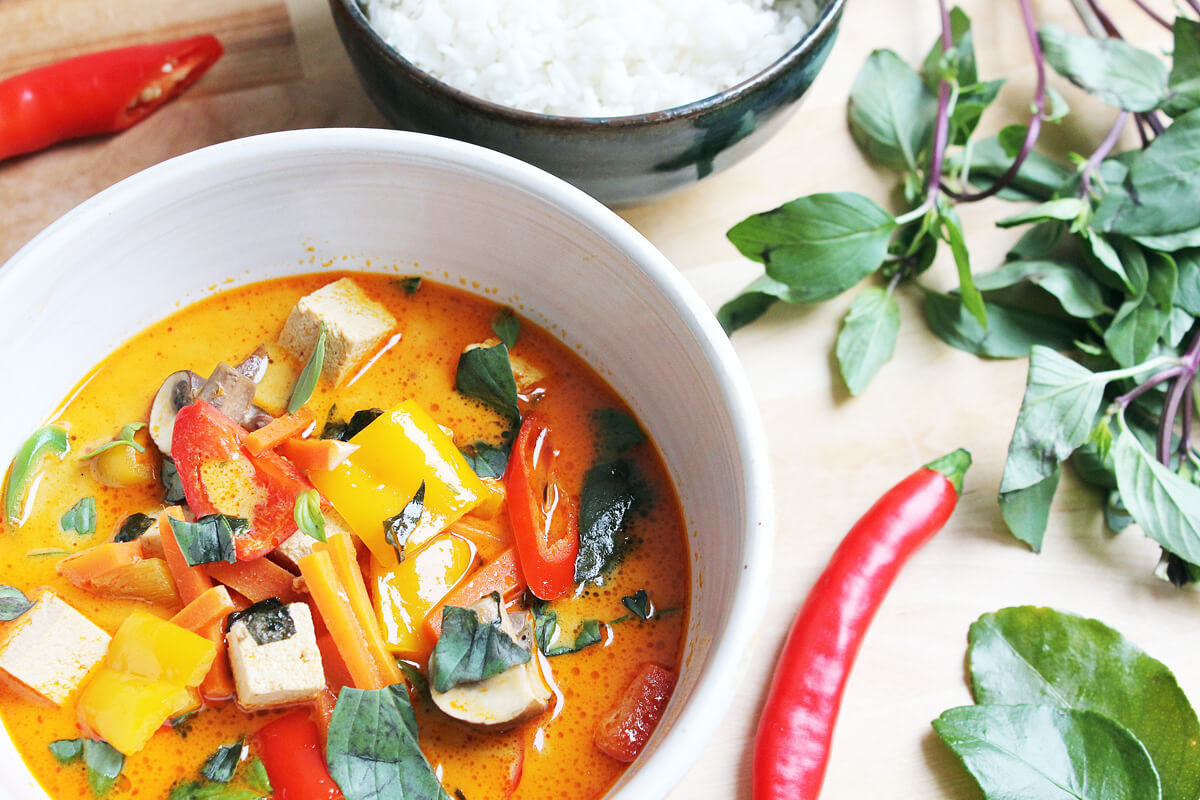 Today we share our recipe for a quick red thai curry with tofu with you. We wanted to put it on the blog for so long, but never got round to it. Shame on us! But better late than never.
You need a good red curry paste as a basis for the preparation. Thai curry pastes can fortunately be found almost everywhere by now, whether in supermarkets or organic markets. We think the one from the Asian store ist the best by far. But watch out! Not every curry paste is vegetarian or vegan. Some for example contain fish sauce or prawns. So you better check the ingredients yourself when buying one.
Our basic version of the red thai curry is made of carrots, bell pepper and mushrooms. But basically you can use almost every vegetable for it. Eggplant, courgette, peas, sugar snap, bamboo shoots, broccoli, cauliflower, pumpkin – this list could go on forever. Just take a look which vegetables look appealing on the market or what needs to be used from your fridge before it spoils. We additionally use some tofu, tempeh or vegan meat substitute as source of protein. Ready is a tasty and filling dish, which can super quickly be made during week after coming home from work.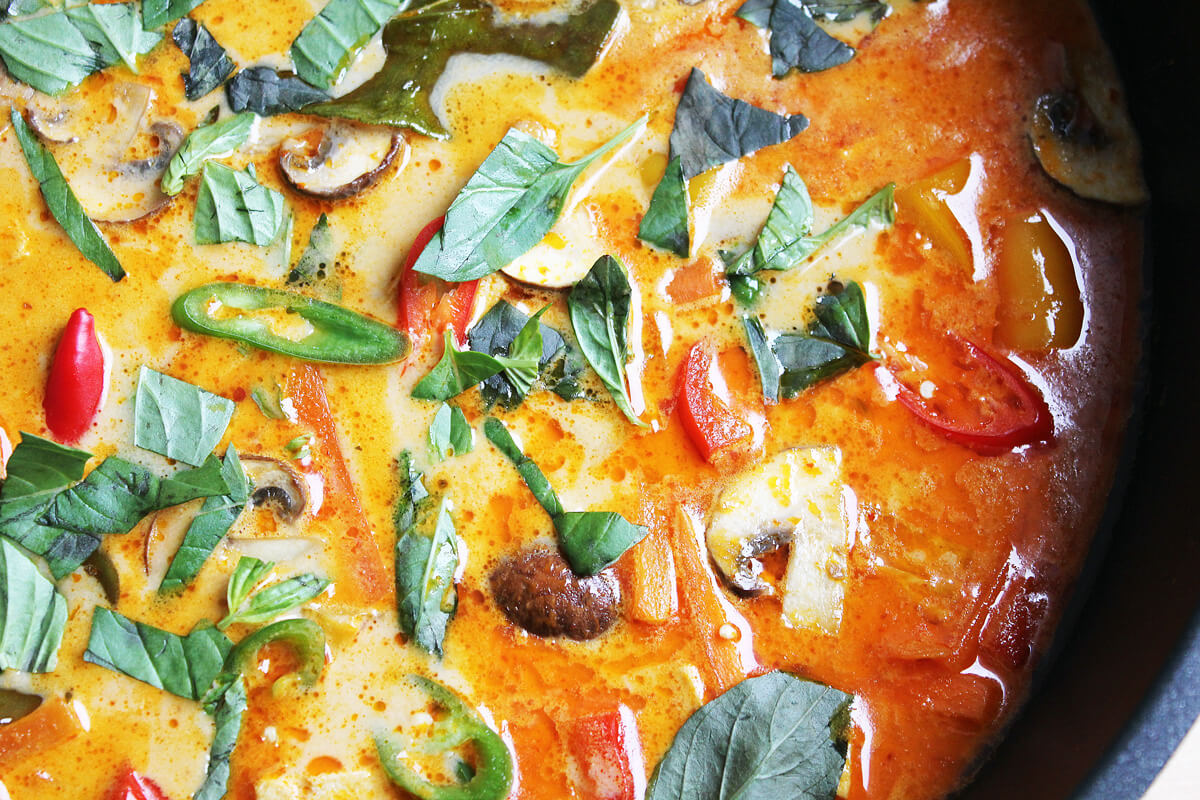 Red Thai Curry with Tofu (Vegan)
Ingredients
Curry
1

tbsp

vegan red curry paste

1

can

coconut milk

,

400 ml

1

tbsp

sugar

1

tbsp

soya sauce

3

kaffir lime leaves
Vegetables + Tofu
1

carrot

1

bell pepper

100

g

button mushrooms

150

g

tofu

thai basil

,

optional
Preparation
Prepare the vegetables + tofu for the curry. For this cut the carrot into thin strips. Cut the bell pepper into about pieces of about 3 cm. Depending on the size of the mushrooms, cut them into quarters or sixths. Dice the tofu into bite-sized pieces.

Cook the curry paste with about ¼ of the coconut milk (the thick creamy part is best for this) in a large pan on medium heat, until the mixture becomes oily. Stir occassionally while doing so.

Add vegetables, tofu, the remaining coconut milk and about 200 ml of water. Tear the kaffir lime leaves a bit, so they can better release their flavour, and also add to the pan. Season with sugar and soya sauce and let it all cook for about 5 minutes, until the vegetables are cooked.

Remove the lime leaves. Then serve the red curry sprinkled with thai basil with some rice or rice noodles.