I love food documentaries and cooking shows. Especially those in which it's really about the food itself and not just about entertainment. So for example I watch Kitchen Impossible on a regular basis. There I saw a episode some time ago in which 3-star chef Jan Hartwig was sent to Dubai by Tim Mälzer to cook a dish called Ginger Chicken in a Pakistani restaurant. It is supposed to be Tim Raue's favourite dish. He is also a star chef and the only German to whom a episode was dedicated on the famous Netflix series Chef's Table. The recipe sounded so delicious that sooner or later I wanted to make it, too. That has happened now. And it turned out very tasty. So have fun with the recipe for vegan ginger chicken from Pakistan.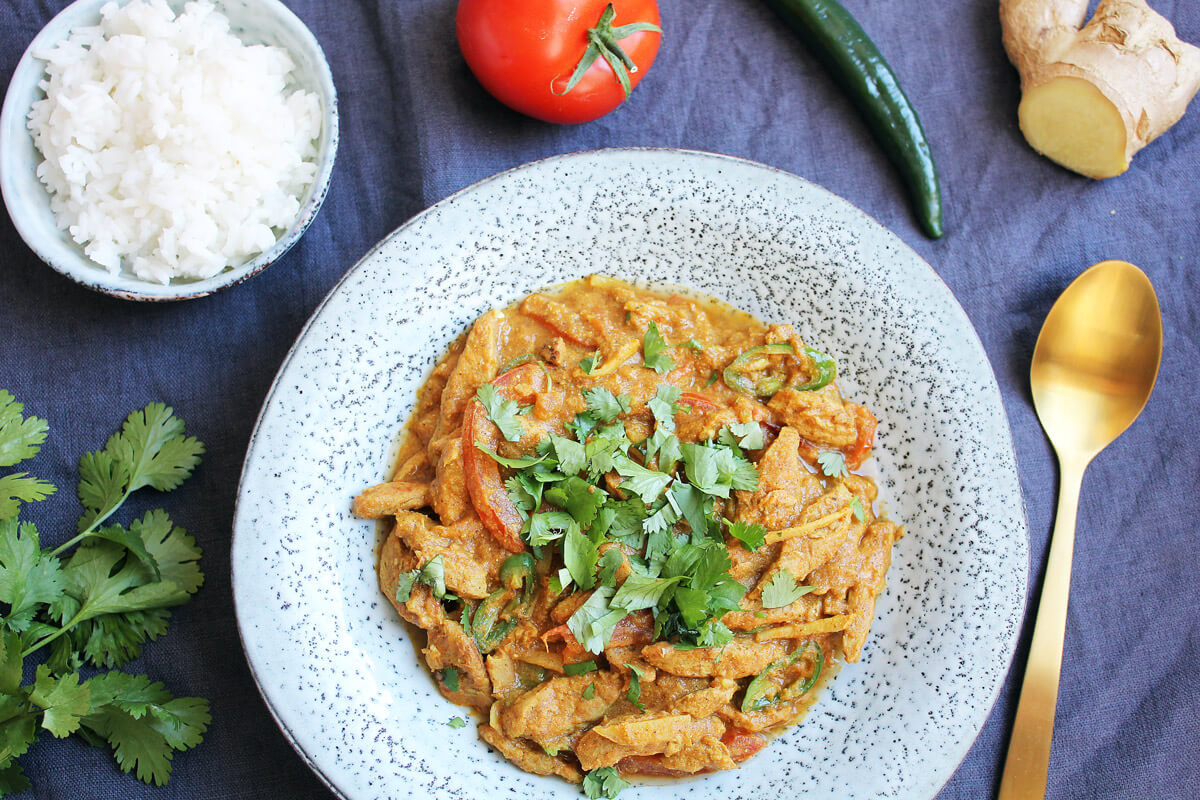 Very special in the preparation is that the curry is nicely creamy and thickened even without the use of nut butter or coconut milk. The secret is the sweet onion paste that is made for it. Chilli peppers and ginger provide a lot of punch. The garam masala spice mixture, as well as turmeric and paprika, add even more flavour. Tomatoes and yogurt provide a pleasant acidity. And then a lot of fresh coriander (sorry to all coriander haters) on top. Delicious!
Instead of chicken, we use soy chunks. Instead, you can for example also use tofu, tempeh or seitan. Then just skip the first step of the preparation.
Vegan Ginger Chicken from Pakistan
Ingredients
200

g

soy chunks

75

g

ginger

2

red onions

3

garlic cloves

200

g

tomato passata or sieved tomatoes

200

g

vegan yogurt

2

green chilli peppers

2

tomatoes

1/2

bunch cilantro

vegetable oil
SPICES
1

heaped tbsp

garam masala

1

tbsp

turmeric powder

1

tsp

paprika powder

1

tsp

salt

1

tsp

pepper
Preparation
Pour boiling water over the soy chunks and let them soak for about 10 minutes. Press out excess water (e.g. between two cutting boards) and put them aside.

Halve the onions and cut them into fine slices. Place in a saucepan with 250 ml of water. Bring to the boil and cook at a low temperature with the lid on for 10-15 minutes. Mix and let cool.

In the meantime, prepare the remaining ingredients. Chop the garlic finely. Quarter the tomatoes and cut them into thicker strips. Roughly clean the ginger and cut with the skin into thin rings and then into fine strips. If necessary, core the green chillies (for less spicyness) and cut diagonally into thin rings.

In a large pan, brown the soy chunks in a good amount of vegetable oil on medium to high temperature. Add ginger and garlic and also fry briefly. Add the tomatoes and onion paste. Continue frying for 3-4 minutes.

Add yogurt, spices, chilli peppers and tomato strips. Add 250 ml of water and simmer a little while stirring constantly.

Before serving, chop the cilantro and sprinkle over it. Serve the vegan chicken ginger with rice or bread (chapati).