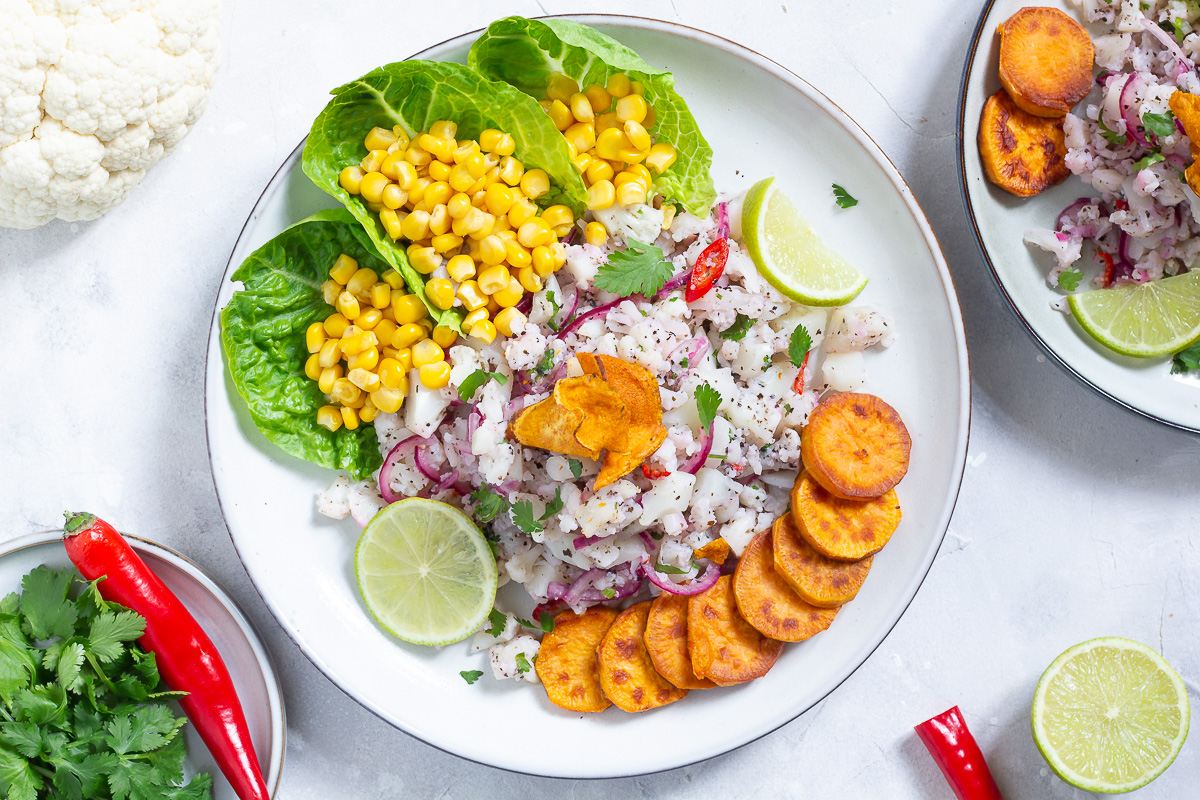 Today we have a colourful plate that is full of incredibly fresh flavour. Because we are serving vegan cauliflower ceviche.
Ceviche is a fish dish that is common in many parts of South America. It probably originated in Peru. There it is still considered the national dish. Originally, freshly caught fish was cut into small pieces and marinated in Leche de Tigre. This marinade, known as tiger's milk, usually consists of lime juice (or juice of another citrus fruit), salt and chilli. The acidity of the lime juice causes the protein in the fish to begin to denature, just as it does when heated. In other words, the fish is cooked when cold. Crazy, isn't it?
Of course, whether the fish is ultimately raw or cooked, we don't have to worry. Because instead of fish or seafood, cauliflower is the main ingredient in our purely vegetable version. The cauliflower is blanched briefly to get the right consistency. It is then left to marinate in the Leche de Tigre marinade. The tiger's milk contains a little secret ingredient: ground nori leaf. The seaweed also gives the vegan ceviche version a slightly iodiney, fishy aroma.
Red onion, coriander and chilli round off the ceviche. It is served with sweet potato, corn and salad. As a variation, the side dishes can also be mixed directly into the ceviche. In this case, however, the sweet potato and lettuce should be cut into bite-sized pieces.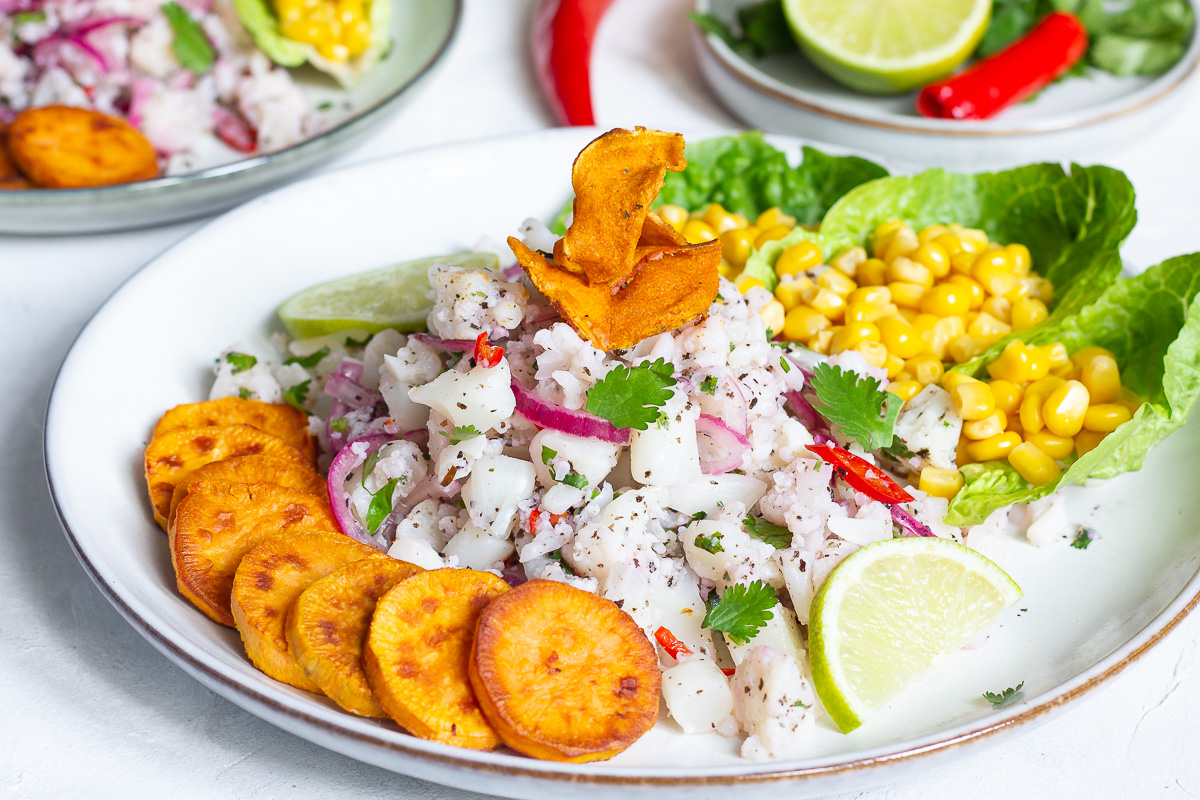 Vegan Cauliflower Ceviche
Ingredients
Leche de Tigre marinade
2-3

limes

1/4

nori sheet

,

alternatively seaweed flakes

1

tsp

salt

1

red onion

1/2

red chili pepper

3

tbsp

cilantro

,

chopped
Sides
75

g

corn

,

pre-cooked or fried

250

g

sweet potato

lettuce leaves

olive oil
Preparation
Roughly chop the cauliflower into florets. Cook in a large pot of boiling salted water for about 6-8 minutes until the cauliflower is still tender. Drain, cool and drain well. Then cut into small pieces.

Finely grind the nori sheet with the salt or chop it finely in a food processor. Halve the red onion and cut into fine rings just like the chili pepper. Mix everything in a large bowl with the juice of 2 limes and the coriander. Add the cauliflower, mix well and leave to stand for at least 20 minutes (or in the fridge overnight).

In the meantime, the side dishes can be prepared. To do this, peel the sweet potato, cut into 1 cm thick slices and fry on both sides with a little olive oil in a pan at medium temperature. If necessary, also fry the corn.

Season the cauliflower ceviche with salt, chilli/pepper and, if necessary, a little more lime juice. Serve with sweet potato, corn and a few lettuce leaves.
Song of the recipe:

The Peruvian food classic is served with a Peruvian song classic.
(Would you like to listen to all the songs for the recipe? Find them collected in one playlist here)