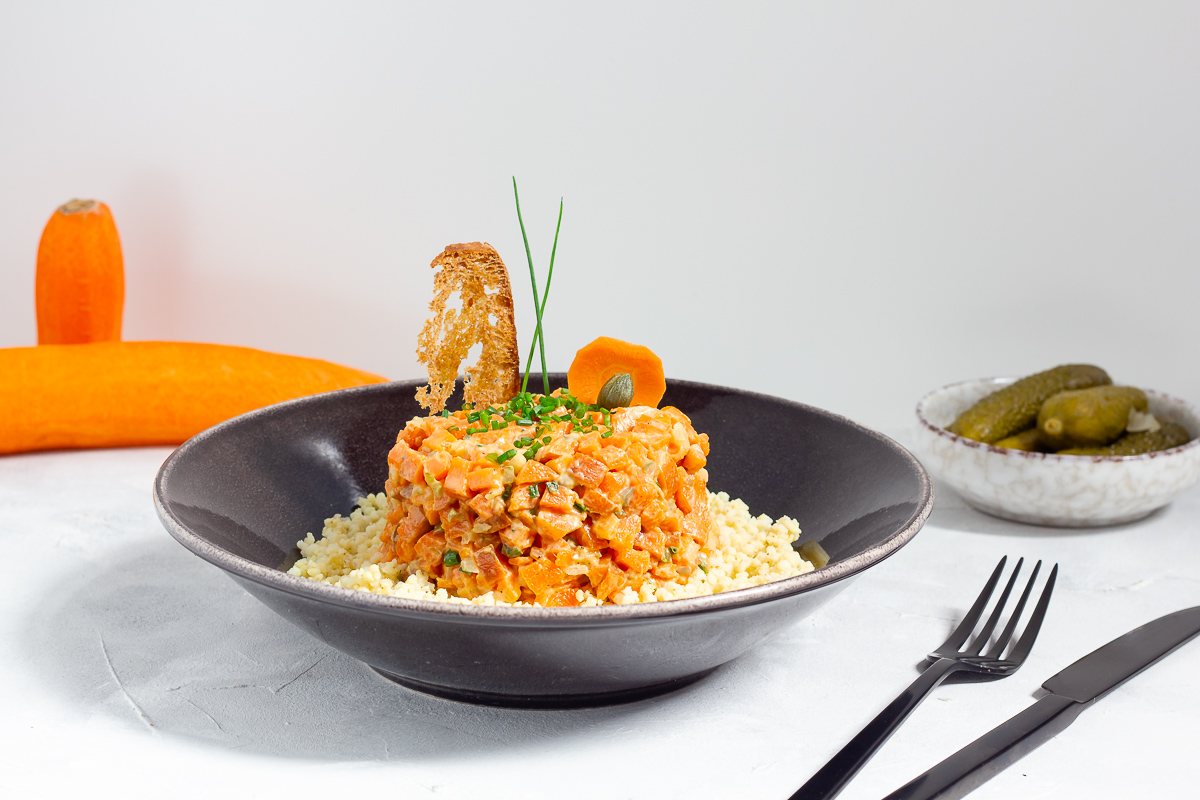 Today we are once again providing an example that purely plant-based regional cuisine does not have to be boring. Basically, our meal today consists of carrots and millet. But that would only be half the truth. Because while the millet actually ends up on the plate simply cooked as a side dish, we conjure up a vegan carrot tartare from the bright orange carrots in a few simple steps.
First, the carrots are cooked in a broth until soft. The idea behind this is that the carrots have a slightly smoky, full-bodied taste afterwards. Just like our carrot lox. After cooking and chopping, the carrots are mixed with vegan mayonnaise, chives, onions, capers, pickles and a few spices (basically a vegan sauce tartare). The delicious carrot tartare is done.
The recipe is an adaptation of the carrot tartare from the vegan restaurant KLE in Zurich, which is run by the chef Zineb Hattab, known as "Zizi". The Spanish-born chef with Moroccan roots studied under 3-star chef Andreas Caminada and now runs two restaurants of her own in Zurich. I became aware of Zizi, her KLE and the carrot tartare a few weeks ago through the TV show Kitchen Impossible, in which Tim Mälzer had to recreate two of her vegan dishes.
Our tartare is served on a bed of millet. A super healthy filling side dish. Millet is a gluten-free grain, but contains almost as much protein as wheat. It is also a good source of iron and contains many other important nutrients. The taste is slightly nutty. But millet is not only healthy, it is also a fairly frugal plant. It grows particularly well on poor, dry soils. Moreover, millet grows quite quickly and can be harvested after a short vegetation period. In India and some African countries, millet cultivation already plays a major role in feeding the population. But millet can also be grown well in some locations in Germany. It is therefore worthwhile to pay attention to the origin of the grain when buying it.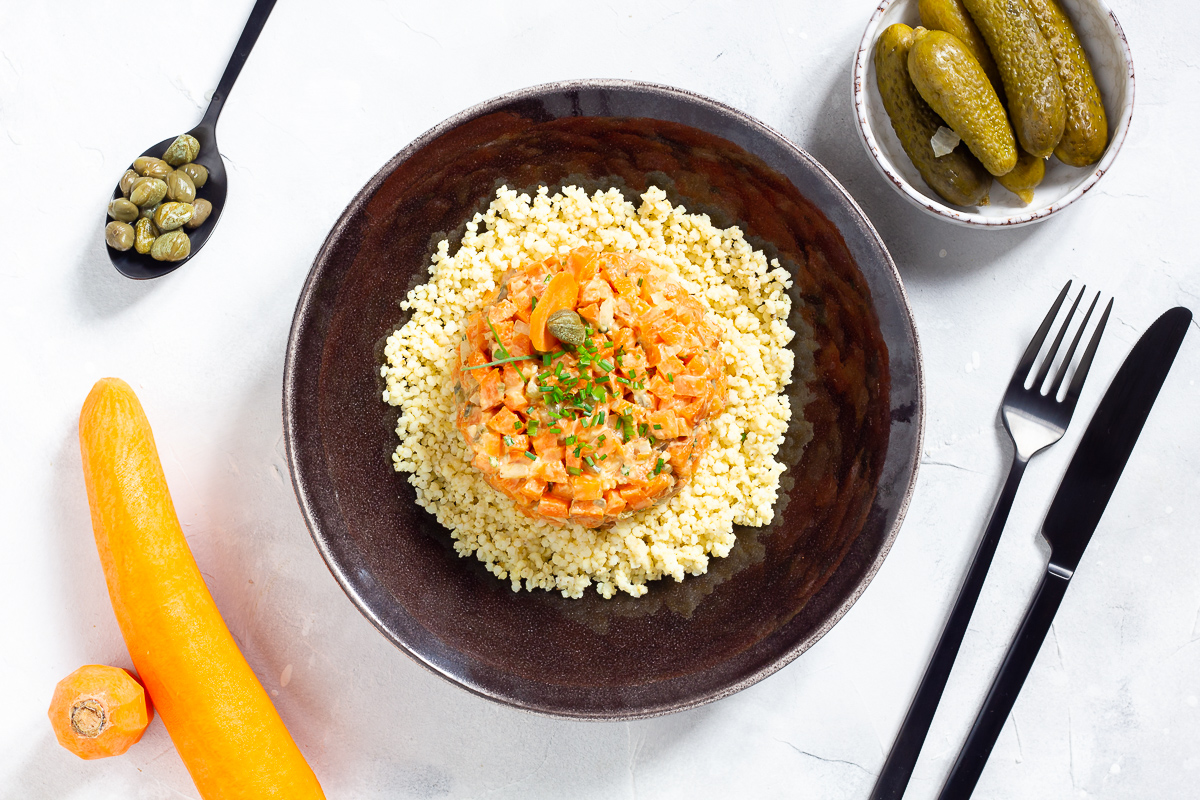 Carrot Tartare on Millet
Ingredients
Carrot Tartare
500

g

carrots

4

tbsp

vegan mayonnaise

2

tbsp

gherkin

,

chopped

2

tbsp

chives

,

chopped

1

tbsp

capers

,

chopped

1

tsp

Sriracha chilli sauce

1

tsp

apple cider vinegar

1

tsp

mustard

1/4

onion

salt + pepper
Broth for the Carrots
750

ml

vegetable stock

2

tbsp

rice vinegar

2

tbsp

liquid smoke

2

tbsp

soy sauce

2

tbsp

sugar

1

tsp

salt

1/2

nori sheet
Preparation
Clean the carrots and put them in a pot with the ingredients for the broth. Bring everything to the boil and then simmer with the lid on and a low heat for about 25-30 minutes, until the carrots are relatively soft but also still have a slight bite. Remove and leave to cool.

Rinse the millet well and place in a saucepan with twice the amount of salted water or light vegetable stock. Bring to the boil over a high heat, simmer for 10 minutes. Take off the heat and let it stand covered for about 20 minutes to cook through.

Finely dice the cooled down carrots. Cut or chop the capers, gherkins, onions and chives very finely. Mix with the rest of the tartare ingredients and season with salt and pepper.

Serve the tartare with the millet.
Song of the recipe:

Give Peace a Chance. Not much more to say in these times.(Would you like to listen to all the songs for the recipe? Find them collected in one playlist here)