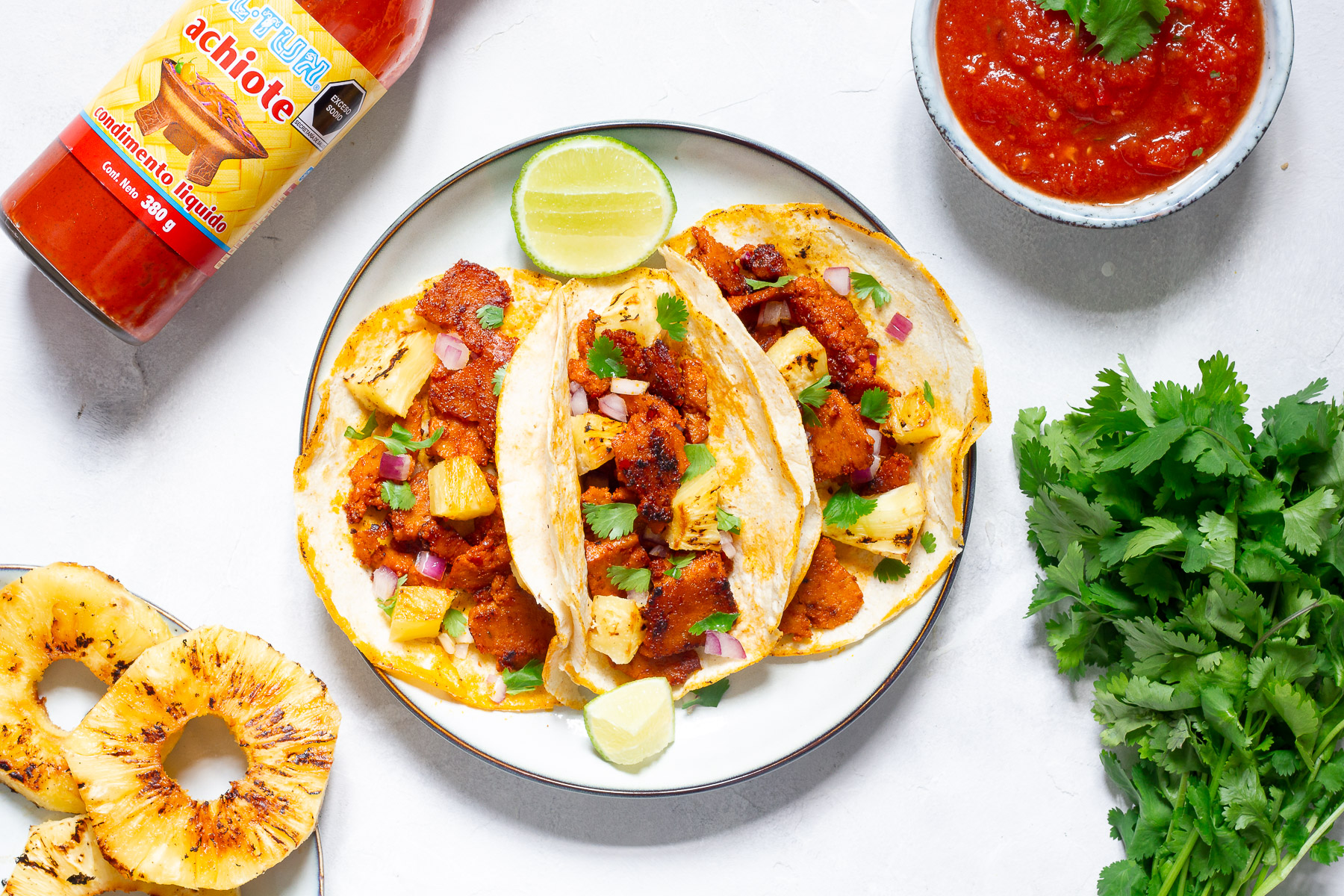 For our vegan tacos al pastor, we combine homemade and spicy pickled seitan strips with pineapple, red onion, salsa roja and coriander. Everything is spread on small corn tortillas and then ends up in your mouth faster than you can say Mexico. Don't believe us? Then try it out!
By the way, taco al pastor is one of the most famous taco variations in Mexico. The original, which comes from central Mexico, usually uses pork rather than seitan. The meat is marinated, attached to a large skewer similar to a kebab and cooked on a rotary grill. The dish probably originated with immigrants from the Arab region and is thus also related to shawarma or doner kebab. However, the local Mexican influence can be clearly tasted through the marinade and toppings. Crossover cuisine at it's best.
The right marinade is essential for authentic tacos al pastor. The seeds of the annatto bush, which is called achiote in Spanish-speaking countries, are very important for this. Achiote is considered anti-inflammatory, provides a special flavour and a strong red colour. Here in Berlin, achiote seasoning sauce can be found in Mexican grocery shops, but also in large Asian markets, which often have a small section for original Mexican products. The product we use can also be seen in the photo. In addition to achiote, it also contains – very important for tacos al pastor – spices such as oregano, pepper or cumin. The remaining ingredients of the marinade are therefore kept relatively simple: Chilli, onion, garlic, orange juice, apple cider vinegar and oil.
By the way, the seitan base is a somewhat simplified version of our tried and tested seitan BBQ steaks. The recipe is not only sure to succeed and delicious, but also really inexpensive. With bought vegan meat products, the vegan tacos al pastor would be much more expensive, as the meat substitute is the focus here and a bigger amount is needed.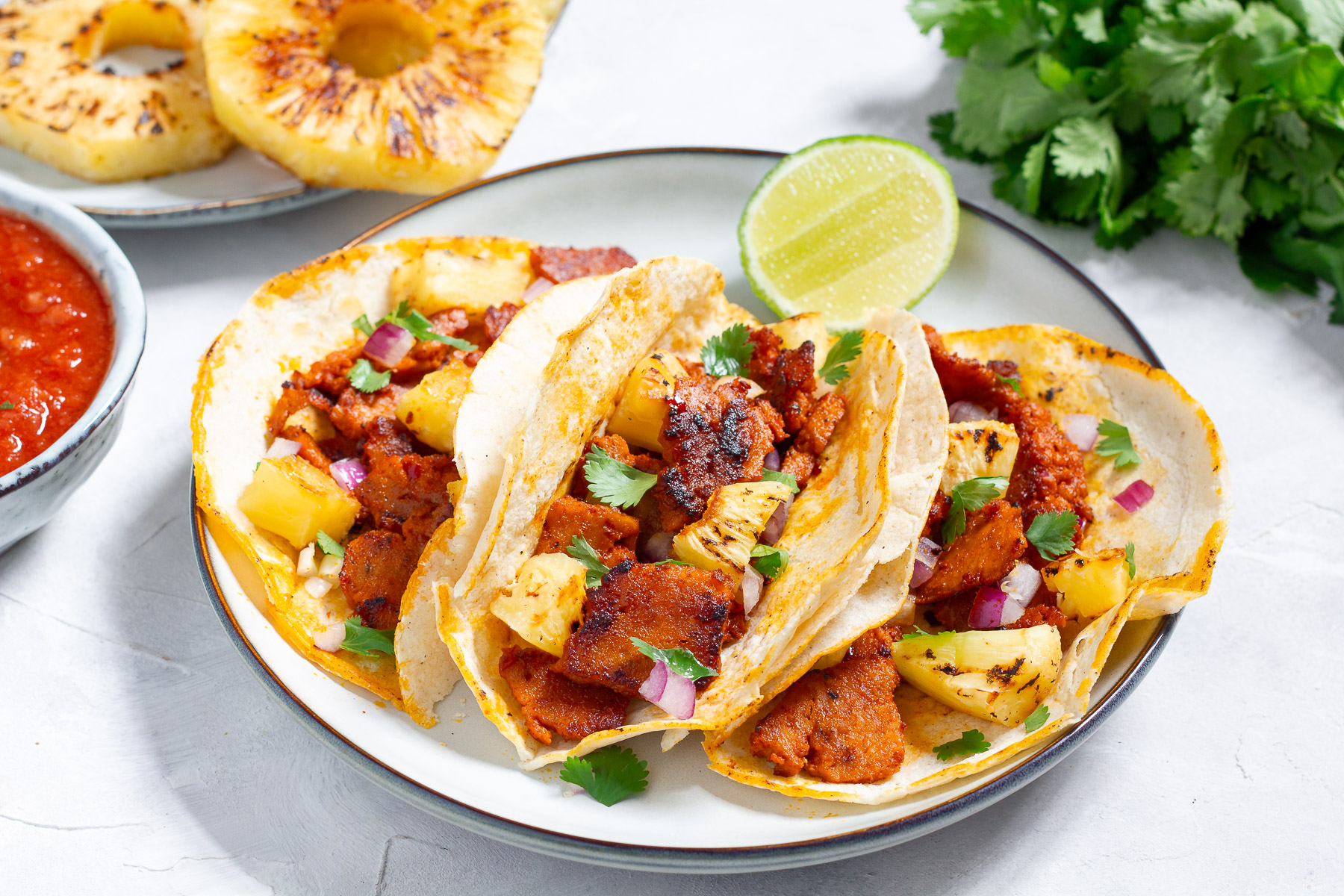 Vegan Tacos al Pastor
Ingredients
Seitan
175

g

vital wheat gluten flour

40

g

chickpea flour

2

tbsp

nutritional yeast flakes

1

tsp

salt

1

tsp

paprika powder

1

tsp

onion powder

1

tsp

garlic powder

200

ml

water

3

tsp

tomato paste

1

l

vegetable stock

,

strong
Marinade
2

chillies

,

preferably dried

1/2

onion

2

cloves

garlic

2

tbsp

achiote seasoning sauce

100

ml

orange juice

1

tbsp

apple vinegar

2

tbsp

vegetable oil
Toppings + tortillas
1

red onion

1

pineapple

1

lime

cilantro

,

to taste

12-16

corn tortillas
Salsa Roja
1

can

whole tomatoes


1

tbsp

sugar

1

tbsp

balsamic vinegar

chilli

,

alternatively jalapeño rings according to taste


1/2

red onion

1

clove

garlic

,

small

1/4

tsp

salt

1

tbsp

tomato paste

cilantro

,

optional
Preparation
Seitan + marinade
Mix water and tomato paste together. Mix the dry ingredients in a large bowl and pour over the water-tomato mixture. Knead everything for 2-3 minutes to form a smooth dough. Cut the dough into 6 roughly equal pieces and let them rest for 10 minutes.

Bring the broth to a boil in a saucepan and turn down so that it is just barely simmering. Shape the seitan pieces into flat steaks, add in and cook for 15 minutes. Remove and let cool. Then cut into thin, bite-sized strips.

Belnd the ingredients for the marinade. Let the seitan strips marinade in the refrigerator for a few hours, preferably overnight.
Salsa Roja
Coarsely or finely blend the ingredients as desired.
Toppings + Tortillas
Peel the pineapple and cut into rings about the thickness of a finger. Cut out the hard core inside. Sauté the pineapple rings in a skillet on both sides, allowing them to caramelize slightly. Then cut into bite-sized pieces.

Finely dice the onion. Pluck the cilantro.

Sear the seitan strips on all sides in a pan with a dash of vegetable oil.

Heat the corn tortillas in a skillet on both sides so that they become soft and elastic. Top with salsa, seitan, pineapple, onion and cilantro. Finish with a squeeze of lime juice if desired and enjoy.
Song of the recipe:

2 stars of modern latin pop. 1 nice song.
(Would you like to listen to all the songs for the recipe? Find them collected in one playlist here)