Our vegan Caesar salad with crunchy tofu represents the perfect balance of a light summer cuisine and yet satisfying food. Fresh romaine lettuce is mixed with a savory dressing and served with crispy croutons and crunchy coated tofu strips. The salad is enough as a main meal for 2 people or can be wonderfully served as a side dish at a barbecue. Then even without the tofu.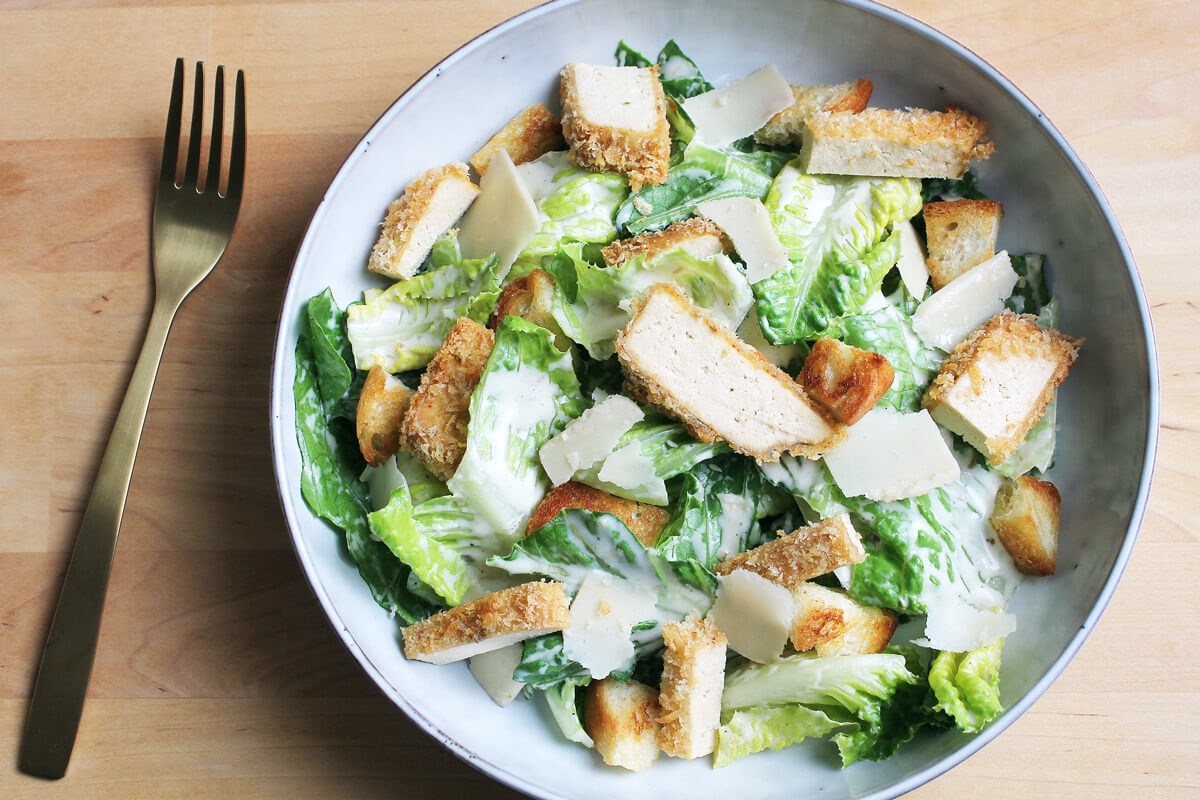 The Caesar salad has its origins in North America. It is said to have been invented in 1924 by the Italian-American Cesare Cardini in Tijuana, Mexico, near the American border, for lack of other ingredients and gained national and later international fame in the following years. Even today, a Caesar salad with chicken breast is a classic on many menus. Of course we do not use chicken and instead put an extra crunchy tofu with panko breadcrumbs on the salad.
Essential for a good Caesar salad, however, is the dressing. As a plant-based substitute for anchovies, we use capers. Otherwise, the mayonnaise is seasoned with garlic, lemon juice, mustard, worcester sauce, nutritional yeast (instead of parmesan cheese), agave syrup and some salt and pepper. The result is a simple dressing in which one would like to take a bath.
VEGAN CAESAR SALAD WITH CRUNCHY TOFU
Ingredients for 2 servings (about  2,25 Euros each):
SALAD
250 g romaine lettuce
50 g white bread
1-2 tbsp olive oil
optional: vegan parmesan cheese
salt + pepper
DRESSING
5 heaped tbsp vegan mayonnaise
1 garlic clove
2 tbsp lemon juice
1 tbsp nutritional yeast
1 tsp capers
1 tsp mustard
1 tsp vegan worcester sauce
1 tsp agave syrup
salt + pepper
CRUNCHY TOFU
200 g tofu
1 tbsp wheat flour
30 ml plant milk
1 tsp paprika powder
1 tsp rosemary
1/2 tsp salt
some panko breadcrumbs
enough vegetable oil for deep-frying
Preparation
1. Cut the white bread into small pieces and fry with the olive oil in a pan at medium temperature from all sides until golden yellow and crispy. Season the croutons with a pinch of salt and set aside.
2. Finely mix the ingredients for the dressing with a blender. Dilute to the desired consistency with a little water. The dressing should be slightly thick. Season with salt and pepper.
3. Prepare the salad. For this, cut out the stalk. Wash and dry the remaining salad and tear it into bite-sized pieces.
4. Cut the tofu lengthwise into slices about 2 cm thick. Mix plant milk, flour, rosemary, salt and paprika powder until smooth. Turn the tofu slices well in the mixture. Then put in the panko crumbs and cover from all sides. Heat enough oil in a deep frying pan or saucepan and fry the breaded tofu slices crispy brown on both sides for 1-2 minutes. Drain on kitchen paper and cut into bite-sized pieces.
5. Mix the salad with the dressing and season with a little salt and pepper. Serve together with the croutons, the crunchy tofu and a few chips of vegan parmesan.