Buddha bowls (also known as glory bowls or hippie bowls) are a big trend on the internet right now. The basic idea behind that is to bring as many colours and nutrients as possible into one bowl. It mainly consists of different vegetables and a filling side dish. So a buddha bowl should be tasty, substantial and still incredibly healthy. I don't know if it is called a buddha bowl because the heap of goodies in the bowl is round like buddha's belly or if the healthy meal contributes to purity and completeness of your body and soul, but who cares.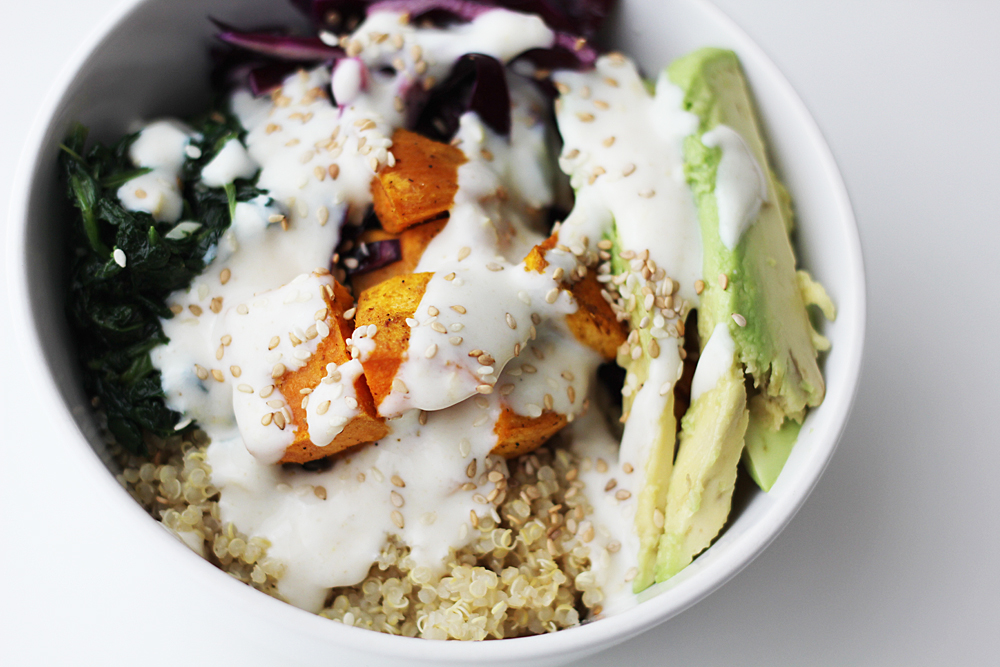 Personally I like the term karma bowl, which I picked up at the fantastic Happenpappen in Hamburg. This kind of a dish just has to be good for your karma. My very own karma bowl uses quinoa as a base. Quinoa is gluten-free and rich in protein and therefore perfectly suited for a vegan diet. If you want to save a bit money you can use rice or couscous (if  you have no gluten intolerance). The toppings are all rich in vitamins and nutrients. You still can get creative here and substitute or add ingredients. Karma bowls are not only healthy but good for making a use of leftovers.
Ingredients for 2 karma bowls (about 3 euros each):
150 g quinoa
1 large sweet potato
1 tsp curry powder
200 g frozen spinach
2 cloves garlic
a pinch of nutmeg
ca. 1/4 red cabbage
4 tbsp unsweetened soy yoghurt (e.g. Provamel)
1/2 organic citron
1/2 tsp coriander powder
1 avocado
1 tsp roasted sesame
olive oil
sea salt & freshly ground black pepper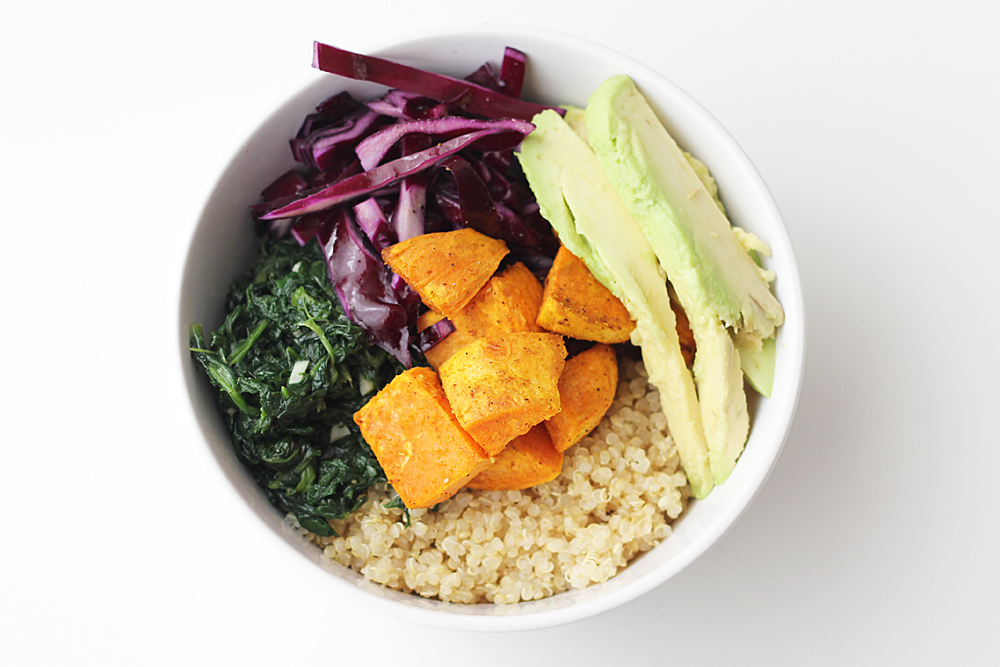 Preparation
Rinse and cook quinoa according to package instructions.
Peel and dice the sweet potato. Put it on a backing sheet, drizzle with 1 tbsp olive oil, curry powder and a pinch of salt and bake for about 20-25 minutes at 180 degrees Celsius.
Peel and finely dice the garlic cloves. Heat a splash of olive oil in a pot over medium heat and cook. Add the spinach when the garlic turns slightly golden and let it all cook until the frozen spinach is defrosted and warm. Season with freshly ground nutmeg, salt and pepper.
Cut the red cabbage into stripes and marinate with 1 tsp olive oil and a pinch of salt & pepper.
Halve the avocados and scoop the flesh out of the skin. Cut into slices and sprinkle with a bit of lemon juice so they don't turn brown. Season with salt.
For the dressing mix the soy yoghurt with the zest and juice of 1/2 citron and the coriander powder.
Serve
Split the quinoa on 2 bowls. Put the different ingredients separately on top. Finally sprinkle with yoghurt dip and sesame. Enjoy!