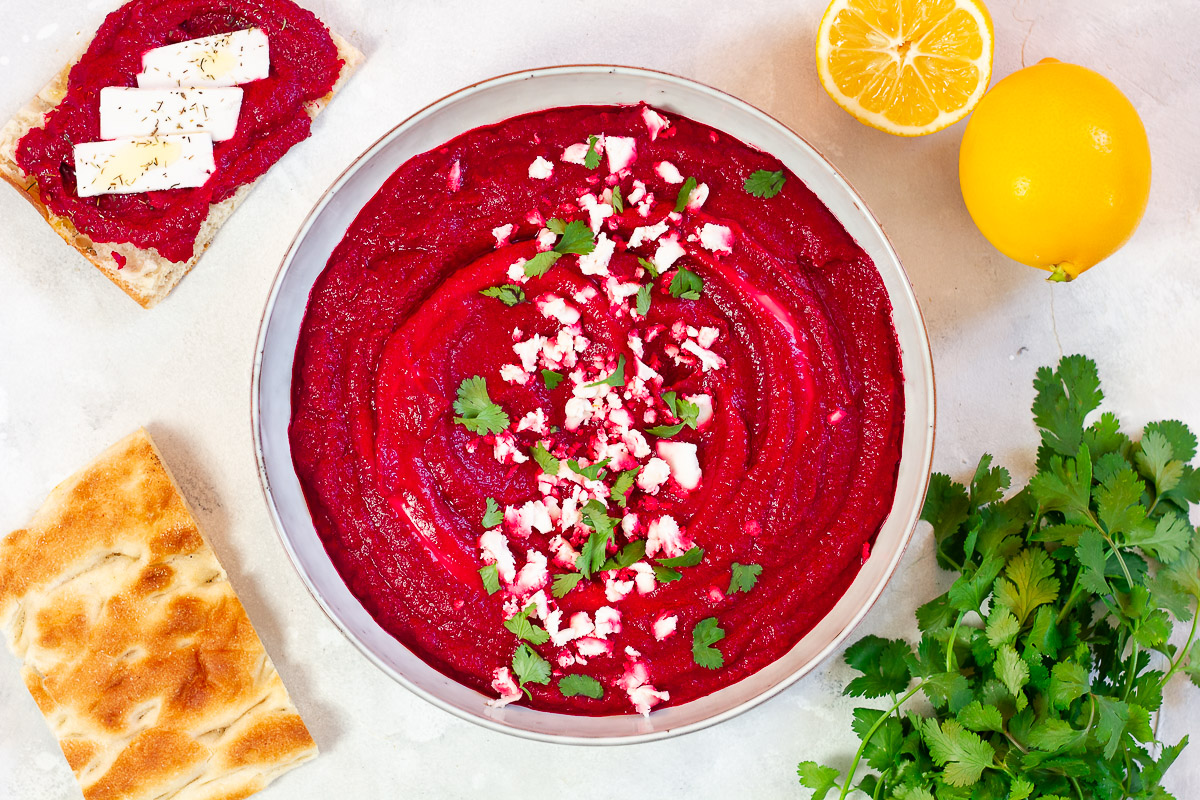 Thanks to the vegetable box of our SoLaWi (solidarity agriculture) we really couldn't complain about beetroot replenishment this winter. But that's a good thing, because the beetroot is not only incredibly healthy because it contains many vitamins, minerals and secondary plant substances. No, it is also extremely tasty and versatile. Today we make a vegan beetroot dip out of it, which is wonderful for dipping or as a spread on bread.
We like to prepare the beetroot dip parallel with baba ghanoush, an eggplant dip, and muhammara, a red pepper walnut dip. Then the beetroot can simply take a seat next to the eggplant and red pepper in the oven and heating up the oven is worth three times. Furthermore we love an extensive feast based on the Arab mezze tradition. Some bread and a lot of small plates and bowls with different delicacies.
In addition to some spices we also pimp our beetroot dip with vegan feta. Of course, it can't be officially called like that. That could confuse the consumers. Let's have a big sip of scouring milk on that, cheers! You can find the feta alternatives under poetic cover-up terms such as "Greek Style", "Greek White Block" or "Hirte in Salzlake" (the translation would be "Shepherd in Brine"). The currently best-known products in Germany are from bedda and Violife. Well-stocked supermarkets and organic shops are increasingly offering their feta alternatives. Even outside of our Berlin vegan bubble, we have therefore often seen vegan feta in the refrigerated shelves.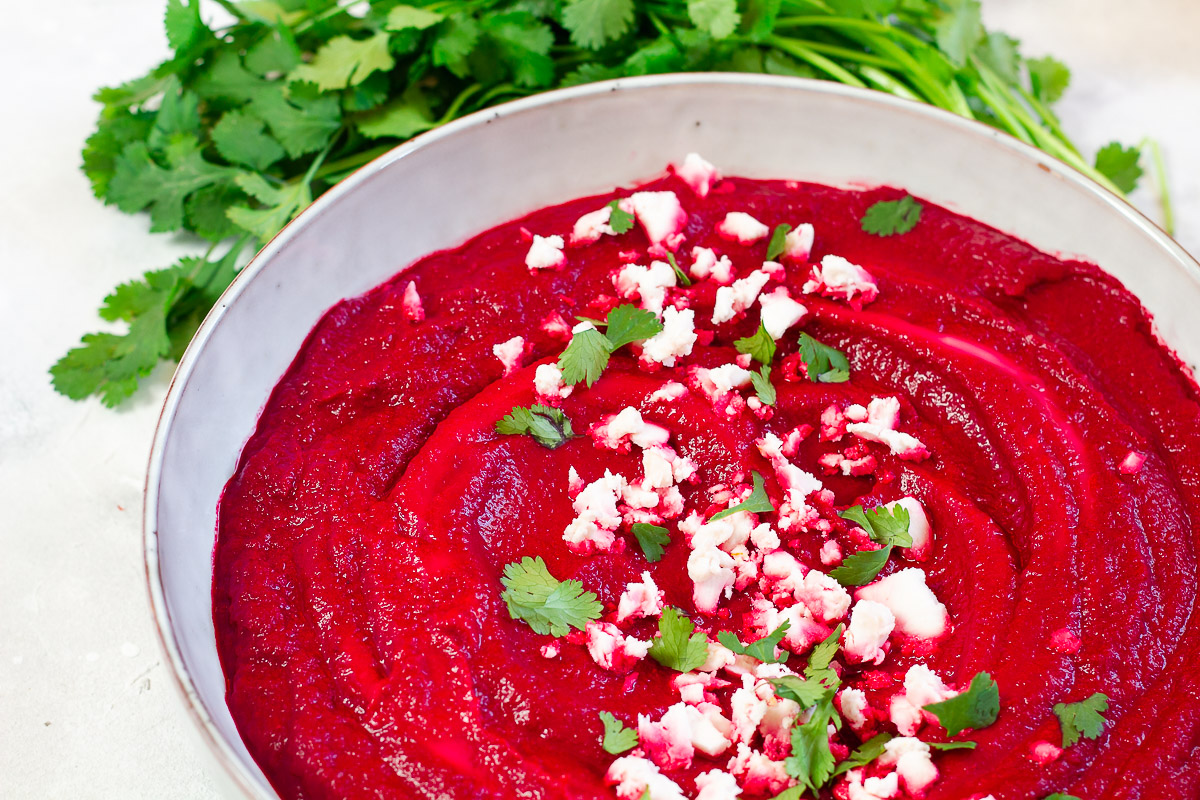 Vegan Beetroot Dip
Ingredients
500

g

beetroot

1

clove

garlic

100

g

vegan feta

80

g

vegan yogurt

2

tbsp

olive oil

2

tbsp

lemon juice

1

pinch

cumin powder

1

pinch

coriander powder

1

pinch

allspice

,

ground

1

pinch

cardamom

,

ground

1

pinch

cinnamon powder

1

pinch

nutmeg

,

ground

1

pinch

pepper

1

tsp

salt
Preparation
Cook the beetroot with the skin on for 1 hour at 190 degrees Celsius in the oven until you can easily stick a knife into it. In the last 10 minutes, add the garlic clove with the skin on.

Peel beetroot and garlic. Cut the beetroots into small pieces and blend with the remaining ingredients in a food processor or with a hand blender.

Pour the beetroot dip into into clean, boiled jars. This way it can be kept in the refrigerator for several days. Or serve the dip directly on a plate with a bit of yogurt or some feta crumbs as well as fresh herbs.
Song of the recipe:

People have the power. With every single purchase decision. Or even with every decision not to buy. Because less consumption is healthy for the world. And a statement can also be made when it comes to consumption: small businesses instead of large corporations. Vegan instead of animal products. Fair trade instead of exploitation. Organic quality instead of chemicals. And so on.
(Would you like to listen to all the songs for the recipe? Find them collected in one playlist here)