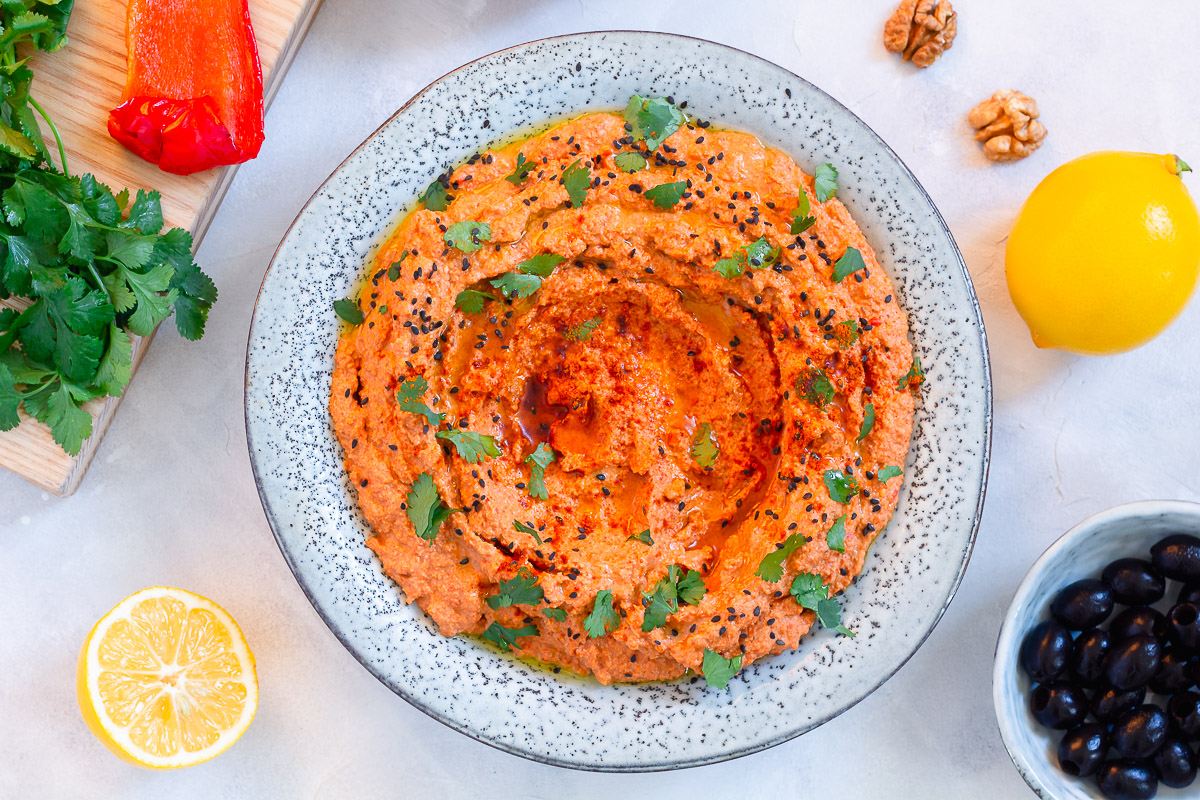 Whether as a spread on bread or as a mezze starter plate, this red pepper walnut dip is quick and easy to prepare. For the muhammara, red peppers are first grilled in the oven and then blended with walnuts and some spices. That's it. Really easy, right?
Muhammara is originally from Syria. Probably from Aleppo. The red pepper walnut dip is also very well known in other countries, for example in Lebanon, Iraq and Turkey. Muhammara is real Levantine cuisine and is often served as part of a mezze. Mezze is the term used to describe the serving of several small delicacies spread over bowls and plates. Mezze, like tapas in Spain, are often served as a snack with drinks or, above all, as an appetizer.
We like to prepare the vegan red pepper walnut dip at the same time as baba ghanoush and the beetroot dip in order to make full use of the cooking time in the oven. We then serve the dips as a full meal with flatbread and other delicacies that are typical for an Arabic table, such as olives, peppers, vine leaves filled with rice, hummus, (pickled) cucumber, tomato and salad.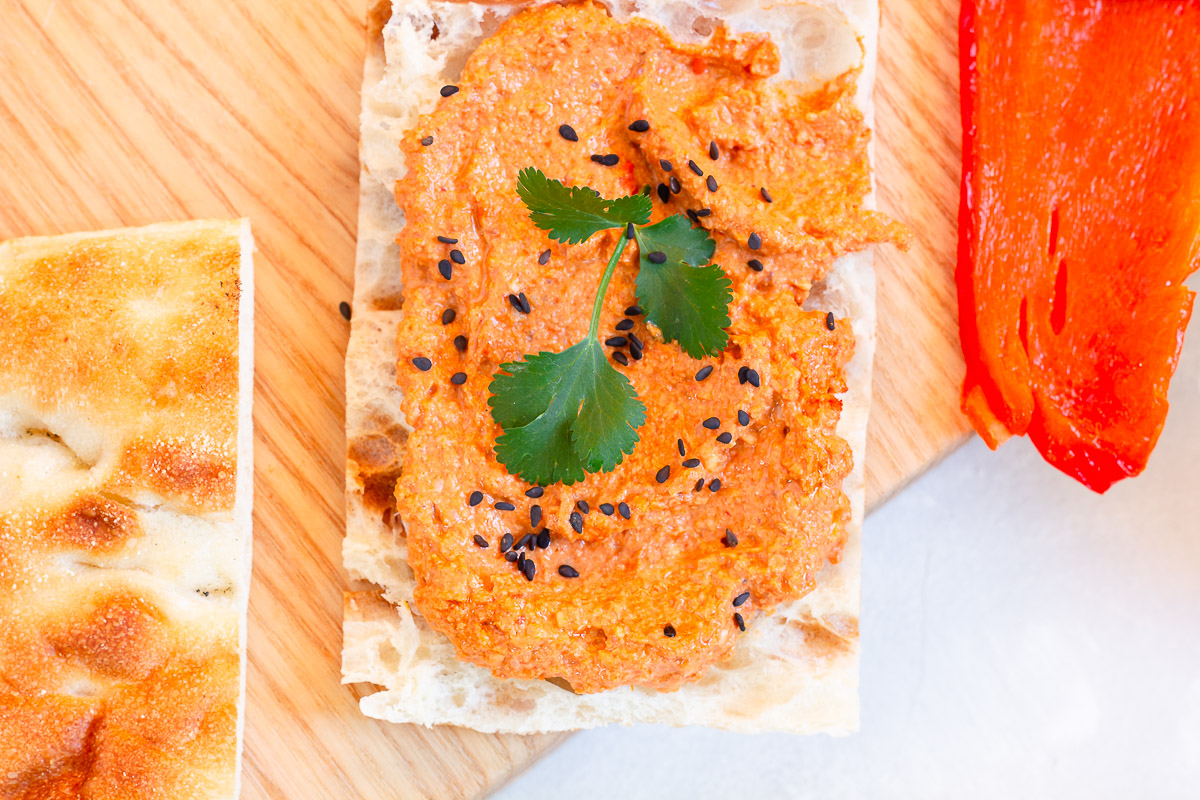 Muhammara - Red Pepper Walnut Dip
Ingredients
2

red bell peppers

,

large

1

clove

garlic

150

g

walnuts

,

peeled

2

tbsp

paprika paste

,

alternatively tomato paste

2

tbsp

olive oil

2

tbsp

lemon juice

1

pinch

cumin powder

1

pinch

coriander powder

1

pinch

paprika powder

1

pinch

chili powder

1

tsp

salt
Preparation
Cut peppers into half and divide them from stalk and seeds and put them in the oven with the skin to the top. Let them cook for about 30 minutes at 180 degrees Celsius. After 15 minutes put the garlic glove with its skin next to them.

Peel the garlic and red peppers. Blend with all other ingredients in a food processor or with the help of a hand blender.

Pour the red pepper walnut dip into clean, boiled jars. This way it can be kept in the refrigerator for several days. Or serve the dip directly on a plate with a little olive oil and fresh herbs on top.
Song of the recipe:

We of course serve the right music with the Syrian food. Mais Harb is a Syrian singer who completed her training at the Higher Institute for Music in Damascus and has since been active in various band projects and as a solo artist.
(Would you like to listen to all the songs for the recipe? Find them collected in one playlist here)