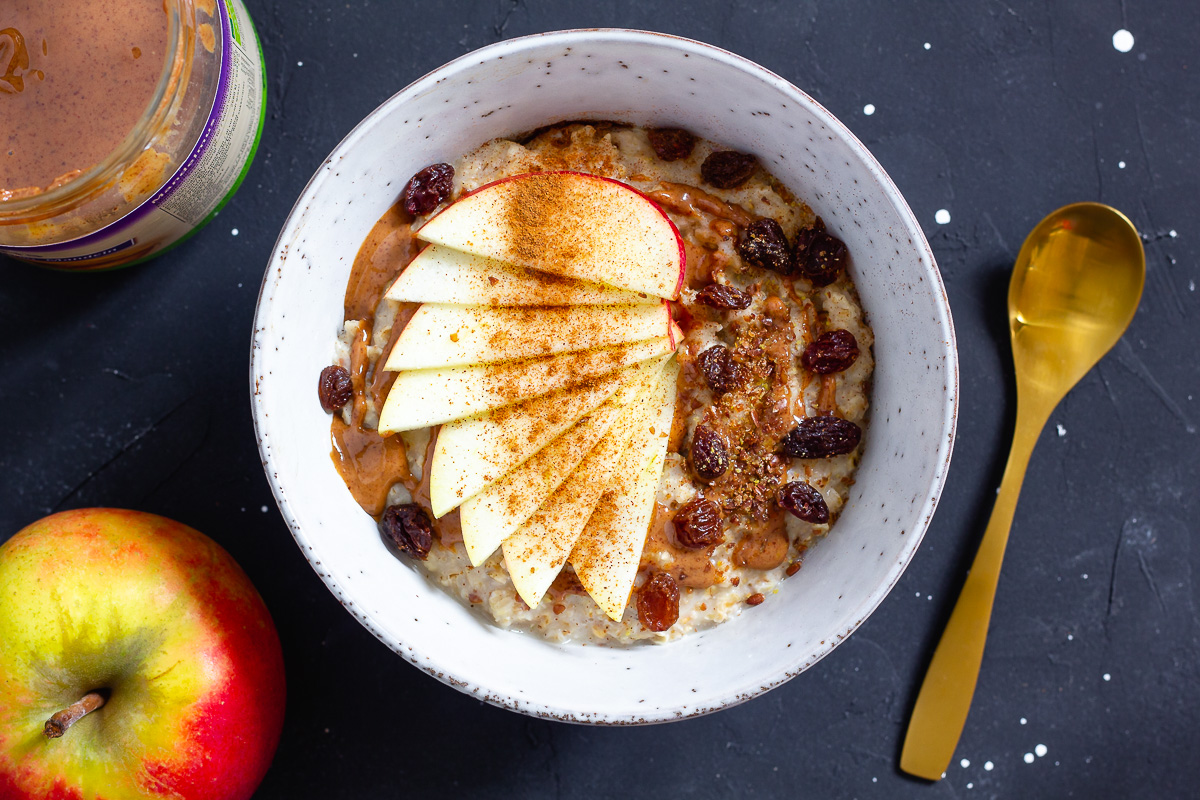 Andi introduces you to his standard breakfast today. A porridge with apple, cinnamon and almond. Not that he eats it every day. But mostly he actually has this version. We have already shown you how to cook a perfect porridge. But especially on a weekday, it has to be quicker than that. Then it's time for this super quick porridge.
For this purpose, the oats are simply poured over with boiling water. Actually not that strange when you consider that oat milk also consists of 90% water. Thanks to the other ingredients, the super quick porridge is guaranteed not to taste bland. Apple (puree), raisins and almond puree bring a sweet taste that is perfectly rounded off by the cinnamon. If you like, you can of course also add a little more sweetener, e.g. maple syrup.
The crushed flax seeds provide important omega-3 fatty acids. Just like nuts and kernels, they should be consumed daily for a balanced diet. So this super quick porridge is not only a delicious, but also an extremely healthy start into the day.
What do you eat in the morning on a weekday?
Super Quick Porridge with Apple, Cinnamon & Almond
Ingredients
90

g

oat flakes

,

tender

2

tbsp

raisins

2

tsp

flaxseed

,

crushed

350

ml

water

,

boiling

1

apple

,

alternatively 6 tbsp apple sauce

2

tsp

cinnamon powder

2

tbsp

almond butter

,

alternatively chopped almonds

Sweetening

,

optional, e.g. maple syrup, agave syrup or sugar
Preparation
Put the oatmeal, raisins and flaxseed in a bowl and pour the boiling water over them. To let go.

In the meantime, quarter the apple, remove the core and cut into small pieces.

Add the apple, cinnamon and almond butter to the lightning porridge. For even more sweetness, a little maple syrup, agave syrup or sugar can be added.
Song of the recipe:

Of course, a good morning breakfast also needs a good morning song. Guts' instrumental hip hop beats are highly recommended. Relaxed and still groovy thanks to the perfect use of soul & funk samples.
(Would you like to listen to all the songs for the recipe? Find them collected in one playlist here)