As you might have noticed, we're big fans of Asian cuisine. Due to our backpacking trips we were not only allowed to try all sorts of stuff and find loads of inspiration but we also improved our cooking skills taking part in cooking classes. And even here in Germany we could have Asian food literally everyday. But as we're trying not to spend all our money at authentic restaurants and takeaways we do try to recreate some delicoius meals from Southeastern Asia in our kitchen and prepare them just like the original, preferably with ingredients that are easy to find. And this time we're cooking Laab Gai or Larb Gai, a warm salad from Thailand originally made of chicken meat, which can easily be veganized by using dried soy mince. We call it Larb Soy.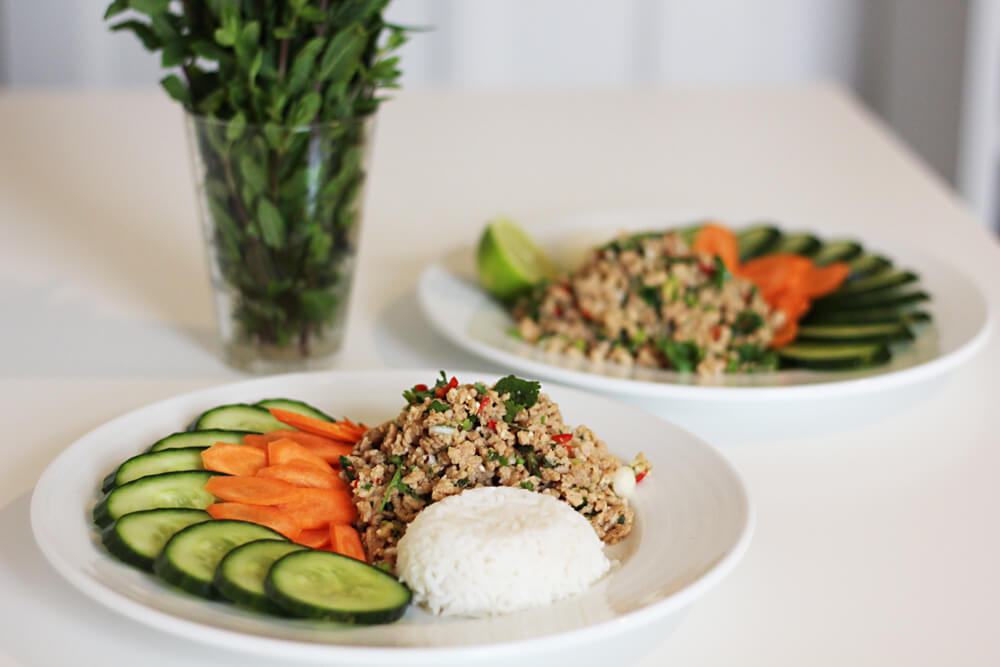 LARB SOY (VEGAN)
Ingredients for 2 servings (about 2,50 Euros each):
150 g dried soy mince
3 spring onions
3 tbsp soy sauce
juice of 2 limes
1 tbsp sugar
2 chilis
1 small bunch of fresh mint
1 small bunch of fresh coriander
1 tbsp ricepowder* (scroll down for recipe)
serve with (sticky) rice, salad or white cabbage and raw or shortly blanched veggies like cucumber, carrots, beans, …
Preperation of Rice Powder
Roast (sticky) grains of rice in a pan or pot without adding any fat until it's golden brown. Use mortar and pounder or a hand blander squelching it into a more or less fine rice powder that will not only bring/give the meal a soft crunch but will also absorb the dressing.
Preparation of Larb Soy
1. Pour boiling water over the dried soy mince in a pot. Let it set for a couple of minutes and drain it into a strainer. It'll be best to rinse it with cold water to be able to easily squeeze most of the water and soy flavour out of the mince. Put it back into the pot and mix it with the juice of half a lime.
2. It's now time to prepare all your supplements, so cook your rice and cut all your veggies. The spring onions and chilis are ready to be cut in small rings or chopped into small pieces. Wash your herbs and shake them till they're dry enough so you can tear them to small pieces or roughly chop them.
3. Put your pot filled with soy meat back on the oven and warm it up with high heat adding sugar and soy sauce while stirring and mixing it well. As soon as the soy meat is hot and all sugar is dissolved you're ready to put it off the stove and mix it with all remaining ingredients (lime juice, chili, mint, coriander, spring onion and rice powder).