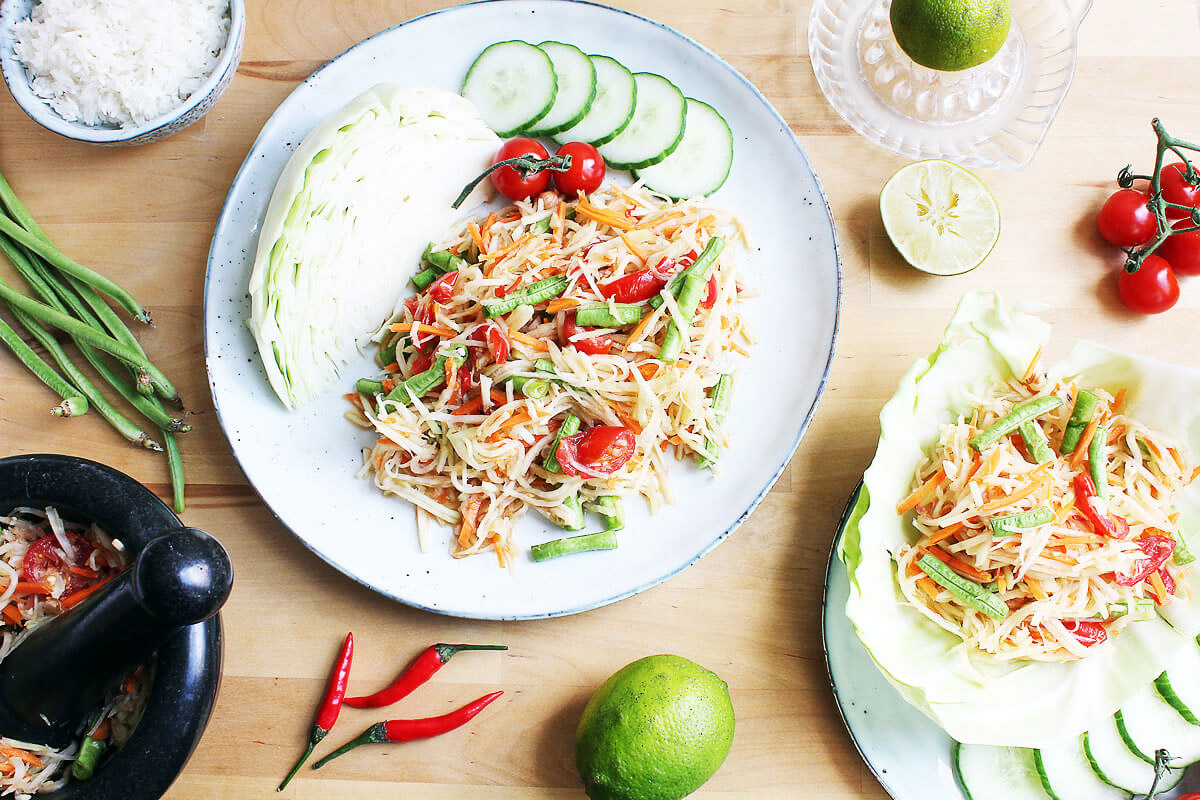 Kohlrabi is almost only consumed as a raw food snack. At least that is the case in my circle of friends. But with a few tricks, a delicious Thai dish can be made from kohlrabi. Hello kohlrabi salad som tam style!
Kohlrabi has high season from May to September, which is why it is offered everywhere in Germany right now. My first organic vegan SoLaWi vegetable crate also contained two thick bulbs and I guess that some will follow. Reason enough to upload the very first kohlrabi recipe to the blog. Oh yeah!
Our Thai style kohlrabi salad is based on a dish called som tam, a papaya salad made from green papaya. The still unripe papaya is neither regional nor cheap and usually not that easy to find. But since green papaya has a relatively neutral taste, it can be easily replaced with other vegetables.
And this is where the kohlrabi now makes its big appearance. Finely grated or sliced, it is allowed to bathe in a marinade made from lime juice, soy sauce, sugar, garlic and chili. Then add a few beans, cherry tomatoes and peanuts. So the Thai summer treat made from mainly regional ingredients is ready to serve.
If you don't like spicy food, you should try the dish with a maximum of 1 chili first and ideally also remove the white membranes including the seeds. If, on the other hand, you want to try real Thai spiciness, you can also use 3 or more of the Bird's Eye chilies. But be careful, then it will burn properly. For me as a "spicy food lover", the version with 2 of the small Thai chilies is the best choice.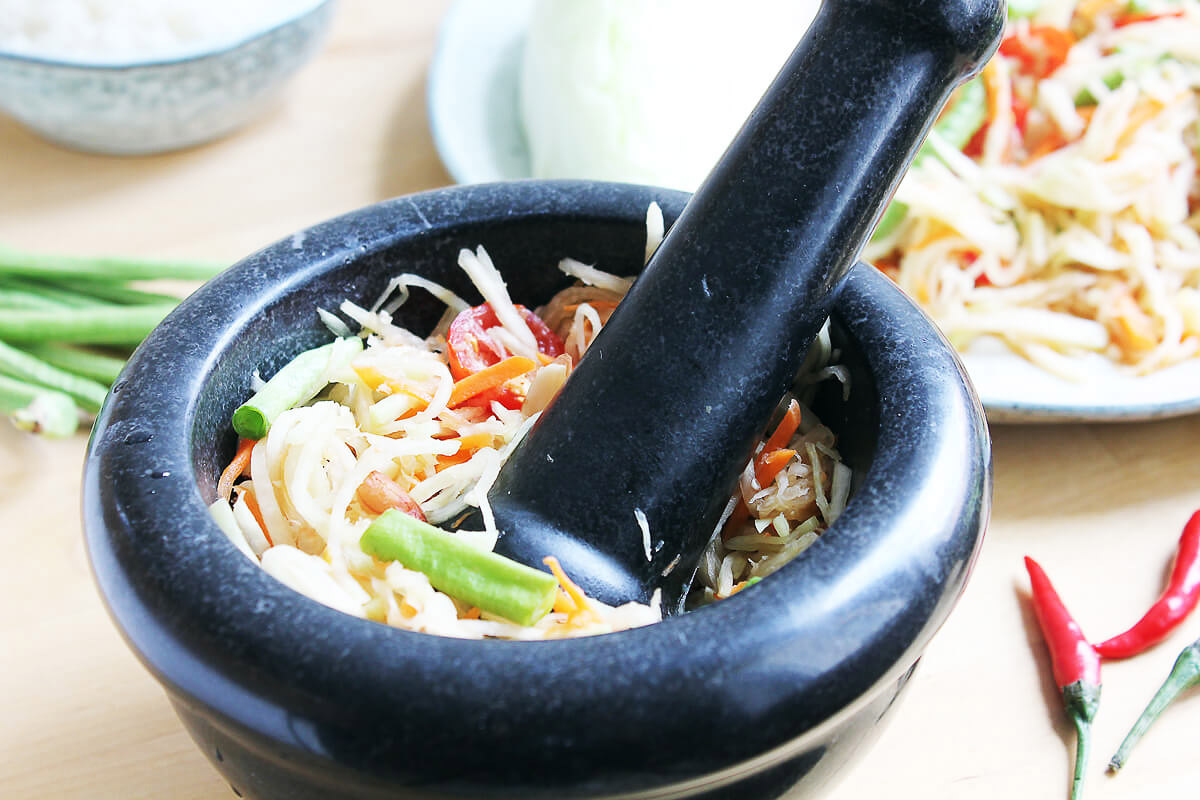 Thai Style Kohlrabi Salad (Som Tam)
Ingredients
500

g

kohlrabi

1

carrot

,

small (about 65 g)

3

cloves

garlic

1-2

bird's eye chillies

1

heaped tbsp

peanuts

,

roasted

5

cherry tomatoes

,

quartered

3

tbsp

lime juice

2

tbsp

soy sauce

2

tbsp

palm sugar

,

alternatively brown sugar

40

g

long beans

,

alternatively green beans

1

pinch

salt
Preparation
When using green beans, blanch them in boiling salted water for about 2 minutes. Take out, rinse cold and cut into pieces about 3-4 cm long. Simply wash the snake beans and chop them raw.

Peel kohlrabi. Clean the carrot. Use a vegetable slicer to cut both into fine strips and place in a bowl.

Put the garlic, chillies, salt and sugar in a mortar and crush them relatively finely. Add peanuts and roughly crush them.

Add lime juice, soy sauce and cherry tomatoes. Mix everything and squeeze the tomatoes lightly.

Add the dressing to the kohlrabi and carrot strips. Mix well. Som Tam is traditionally served with sticky rice, some white cabbage and a few cucumber slices.