Fasolakia is a classic Greek summer dish, which consists mainly of green beans and a tomato sauce. Sometimes potatoes are added to make the vegan dish richer. All ingredients are in season in summer or late summer, so they are available now regionally, fresh and with full flavour. Perfect foundations for a healthy Cheap & Cheerful dish. Fasolakia is by the way not only tasty and inexpensive but also soy-free and gluten-free. We like to eat this Greek bean stew accompanied by some bread, because it soaks up the tomato sauce wonderfully. But of course you can enjoy your Fasolakia just pure. The bean stew also works well served as a side dish for a barbecue or as part of a (Greek) brunch.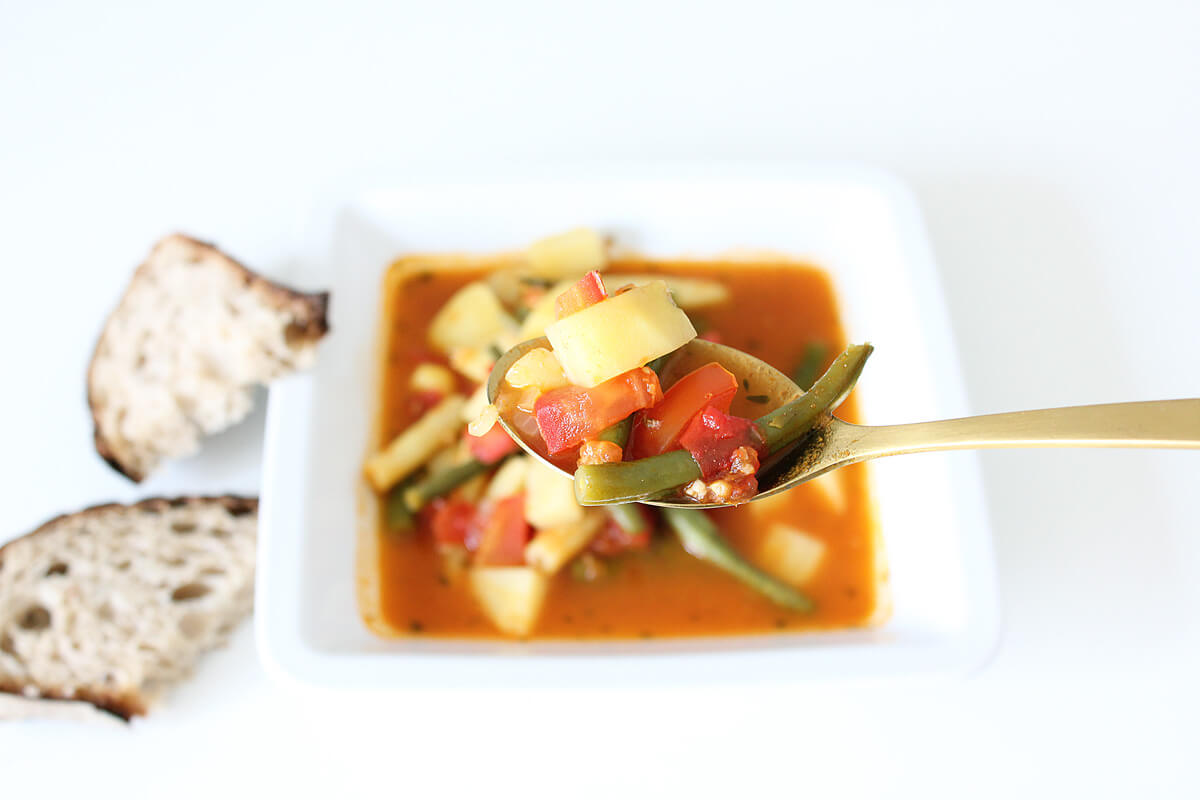 FASOLAKIA – GREEK BEAN STEW
Ingredients for 4 servings (about  2,00 Euros each):
500 g green beans
1 kg tomatoes
850 g potatoes
1 large onion
2 garlic cloves
2 tbsp olive oil
1 tbsp tomato purée
2 tbsp dried oregano
2 tbsp dried thyme
100 ml white wine
2 tbsp salt
a pinch of black pepper or chili powder
1 bunch of savory
Preparations
1. Wash the beans, cut off both ends and and cut the beans into pieces of about 3 cm. Peel the potatoes and cut them into bite-size cubes. Peel the tomatoes after a short bath in hot water or directly slice them into small pieces. Peel and finely dice the onion. Peel and press the garlic gloves.
2. Fry the onion in olive oil on medium heat. Add garlic after a minute or two. As soon as the onions turn translucent, add dried spices and tomatoe purée and keep frying. Add beans and potatoes, stir well and deglaze with white wine.
3. Then add salt, tomatoes and 500 ml water. Let everything cook for about 45 minutes with lid on until potatoes and beans are cooked through. Don't forget to stir from time to time so everything gets equally cooked through. If you like your tomato sauce thickened, just take off the lid after half of the cooking time.
4. Finally season to taste and then serve the Greek bean stew.