The wild garlic season has started again and we were already busy collecting in the woods. Part of the harvest will again be processed into pesto and wild garlic butter and frozen just like every year. This way, our wild garlic cravings can still be satisfied later in the year. But of course we also have to make something delicious from the fresh herb immediately after the wild garlic harvest. And that's how this great vegan wild garlic pull apart bread was created. It's crispy on the outside but super soft and airy on the inside.
Since we can imagine the bread as a wonderful side dish for barbecues, this year we will probably freeze a little more wild garlic butter than usual. But the pull apart bread can not only be prepared with wild garlic butter. Herb butter and garlic butter are also suitable. Or how about a tomato butter with pureed, sun-dried tomatoes? You can also simply spread natural vegan butter on the bread dough and season with herbs and spices of your choice. The basic preparation of this recipe always remains the same.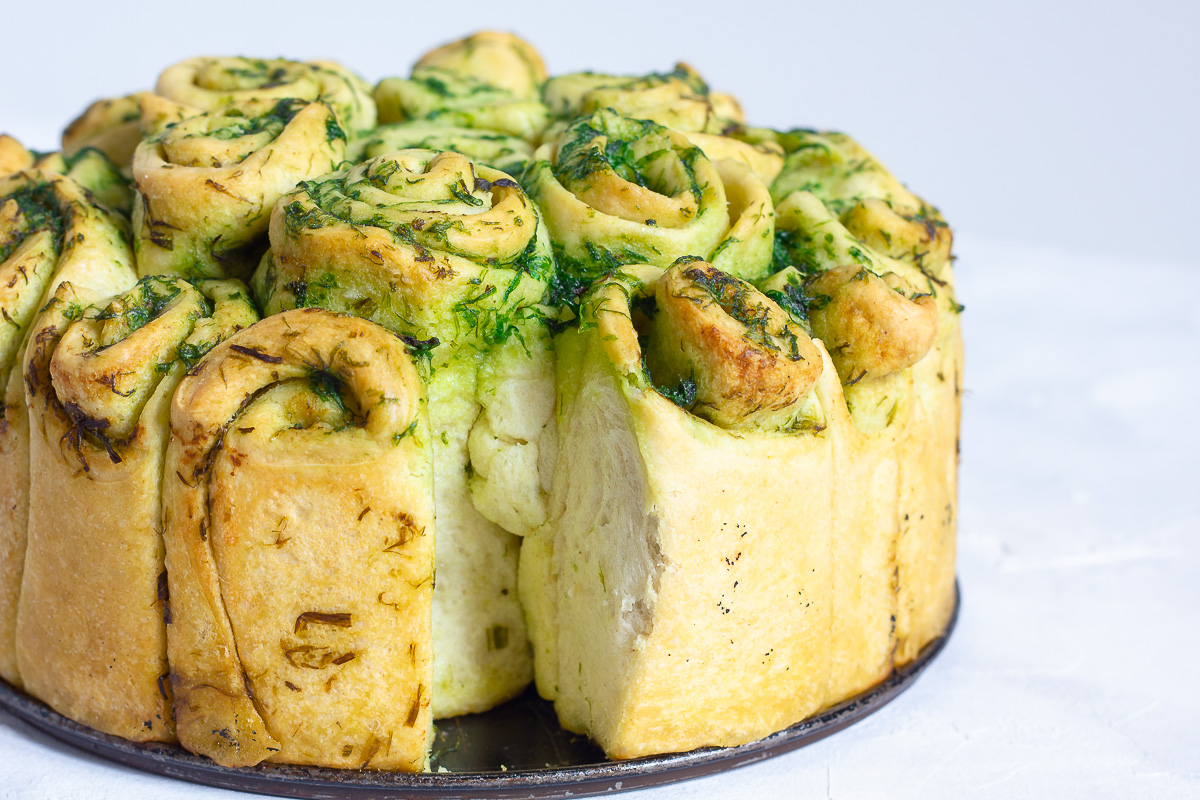 Vegan Wild Garlic Pull Apart Bread
Ingredients
Dough
750

g

wheat flour

400

ml

water

,

lukewarm

1

tsp

sugar

42

g

fresh yeast

,

corresponds to 1 cube

2

tsp

salt

5

tbsp

olive oil
Wild Garlic butter
200

g

vegan butter

,

soft

40

g

wild garlic

1/4

tsp

salt
Preparation
Vegan Wild Garlic Pull Apart Bread
For the dough, first mix the lukewarm water (only around 35-40 degrees Celsius) and the sugar. Crumble in the yeast and dissolve by stirring. Let stand in a warm place for about 5-10 minutes to activate the yeast.

Put the flour and salt in a bowl. Add the yeast mixture and olive oil and knead everything into a smooth dough for a few minutes. Shape the finished dough into a large ball. Cover the bowl with a damp kitchen towel and let the dough rise in a warm place for at least 1 hour. Now also prepare the wild garlic butter or put it out of the refrigerator so that it can become soft.

Roll out the dough into a long rectangle on a floured work surface and brush with 3/4 of the soft wild garlic butter. Halve the rectangle from the short side. Then cut from the long side into strips approx. 5-6 cm thick and roll them up. Don't worry, you don't have to work exact here. Place the dough rolls close together in a greased springform pan (we use one with a diameter of 21 cm). Below you can find pictures of these steps.

Preheat the oven to 180 degrees Celsius. Since springform pans are usually not completely tight, place a pan underneath in the oven to catch any melting fat. Bake the wild garlic bread for about 40-45 minutes until the crust is lightly brown and crispy. Brush the bread with the rest of the wild garlic butter and bake for another 5 minutes.

Take out of the oven and let cool down before cutting.
Wild Garlic butter
Wash wild garlic and spin dry. Roughly cut into small pieces with a knife.

Mix the wild garlic, salt and the softened butter (in small pieces) either in a tall, narrow container with a hand blender or in a food processor. Like this it can be used for the recipe.

If you make more butter and want to keep it: put the vegan wild garlic butter in a clean container or form a roll in cling film. The wild garlic butter can be kept in the fridge for at least 1-2 weeks. But it can also be frozen wonderfully.
Song of the recipe:

Andi heard this cover version of the French House classic by Stardust a few days ago on the Tempelhofer Feld and posted it directly on the blog today. So you have fresh spring vibes not only in the kitchen!
(Would you like to listen to all the songs for the recipe? Find them collected in one playlist here)