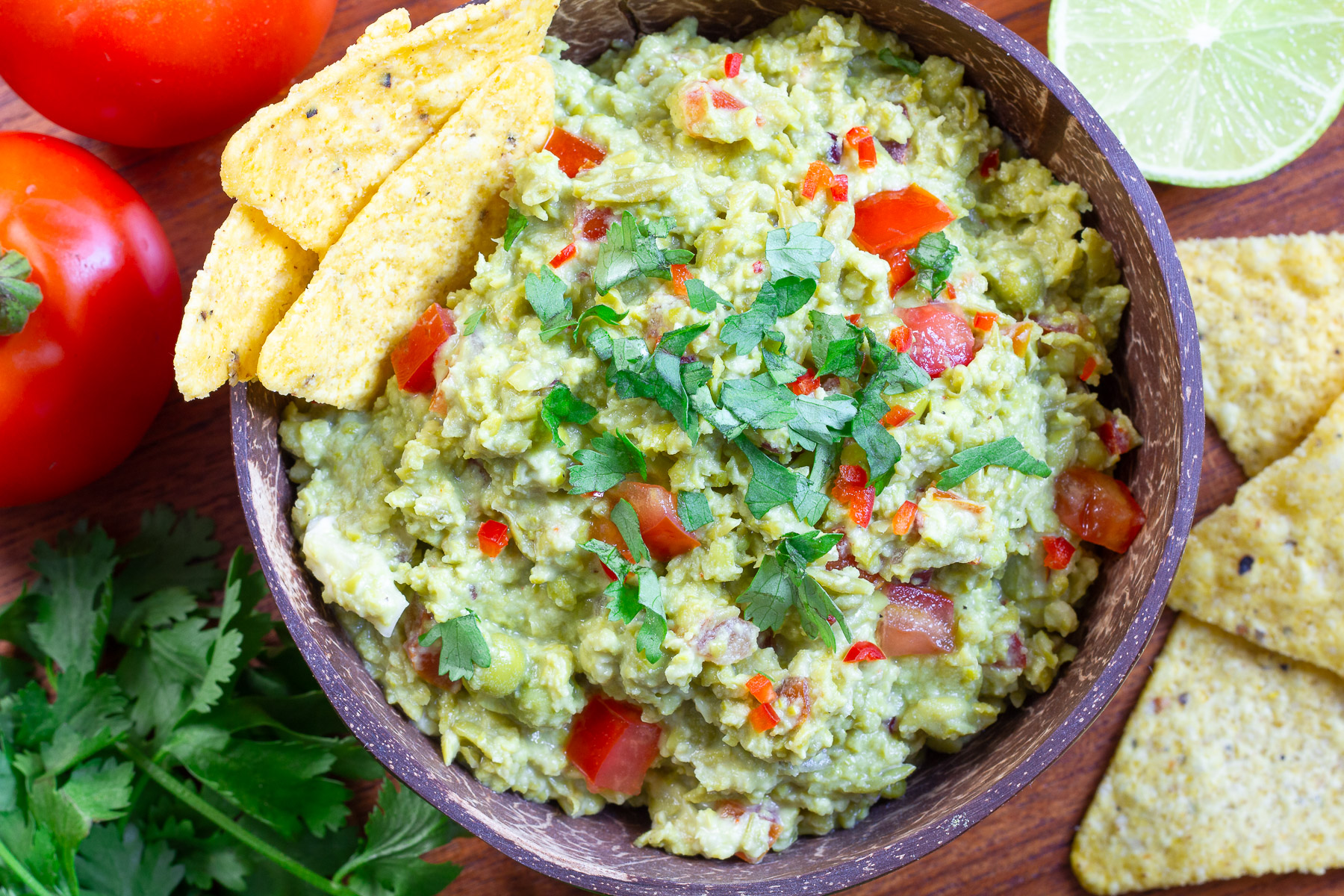 Admittedly, we think avocados are damn tasty. At least if you have managed to select a rare specimen that is neither too hard nor too soft and brown. But the environmental balance of avocados is unfortunately not so cool: long transport routes, high water consumption, and so on and so forth. That's why it is and remains an absolute luxury product for us. So it's all the nicer that a great substitute for guacamole can be made from a regional ingredient like the green pea. And if anyone gets upset now that a green pea guacamole without any avocado at all is not a guacamole: we hear you, but we'll keep calling it that anyway. 😉
For the green pea guacamole, we use frozen peas for simplicity's sake, which are frozen directly after harvesting and are therefore in season all year round. They are boiled briefly, rinsed in cold water and then pureed. Lime juice, tomato, onion, cilantro (or not), chilli, salt and cumin provide the right flavour. And to provide a little more creaminess and richness – an avocado is, after all, much richer in fat than a pea – we stir in some vegan mayonnaise at the end. And the avocado-free guacamole is ready.
Green Pea Guacamole – Completely Without Avocado
Ingredients
450

g

frozen peas

4

tbsp

lime juice

1

tomato

1/2

red onion

,

small

1

hand

cilantro

,

optional

1/2

tsp

cumin powder

2

tbsp

vegan mayonnaise

,

optional for creaminess & richness

Salt

chili

,

or pepper
Preparation
Blanch the frozen peas in a pot of boiling salted water for 2-3 minutes. Then rinse in ice water or rinse well with cold water and drain.

Dice the onion as finely as possible. Cut the tomato into slightly larger cubes. Roughly chop the cilantro.

Blend the peas with the lime juice using a food processor or hand blender. Depending on your own preference, the guacamole can be blended very smooth or still have a few pieces of peas. Add onion, tomato and remaining ingredients and stir everything by hand. The green pea guacamole is ready.
Song of the recipe:

A French producer and a French singer team up to make relaxed French disco sound. I can feel myself sitting on the edge of the pool and letting my legs dangle in, while a refreshing breeze runs through my hair.
(Would you like to listen to all the songs for the recipe? Find them collected in one playlist here)