Eat like grandpa and grandma used to. Our vegan pea soup is based on traditional home cooking and may also awaken childhood memories for you. So switch your head off, your heart on an dive into the warmth of your grandparents' living room.
Pea soup is a perfect dish for the long German winter, when in this country there are almost only cabbages and root vegetables from storage and hardly any fresh vegetables. Because apart from the dried shelled peas, all you really need are greens and potatoes. And just a few spices. So the soup is cheap to buy, easy to prepare and, on top of that, healthy. A win-win-win situation.
If you're missing a smoky note for the ultimate childhood memories, you can of course add some smoked tofu or vegan sausages to the soup.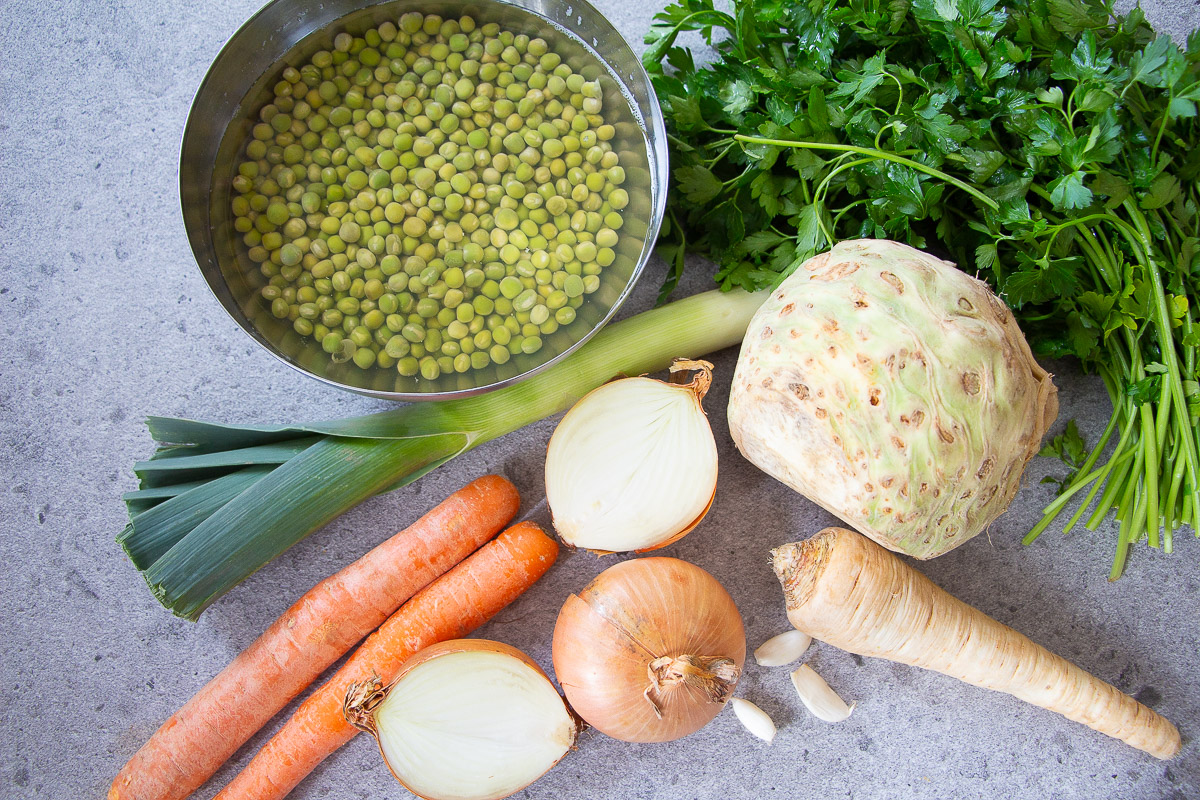 Vegan Split Pea Soup
Ingredients
250

g

green split peas

,

dried

1

onion

,

small

2

cloves

garlic

1

bay leaf

1.25

l

water

1

bunch

soup greens

,

approx. 70 g carrot, 50 g leek, 130 g celeriac

200

g

potatoes

1

tbsp

mustard

1

tbsp

vinegar

,

e.g. herb or apple vinegar

vegetable oil

Salt & pepper
To serve
100

g

bread croutons

1

bunch

parsley

vegan cream
Preparation
Soak the dried shelled peas in water for at least 5 hours, preferably overnight, and cover them away from light. Keep in mind that the peas will swell as they soak in water. The container should therefore be large enough and filled with sufficient water (min. 1.5 l). Drain the soaking water from the peas before using them again.

Finely dice the onion and garlic and sauté them with some vegetable oil and the bay leaves in a large pot over medium heat. When the onions are translucent and lightly browned, deglaze with 1.25 l of water and add the soaked peas. Now let the peas simmer for about 20 minutes.

In the meantime, wash the greens and potatoes and cut them into bite-sized pieces. Cut the parsley stalks into fine pieces. Add both to the pot after the 20 minutes cooking time. Let everything simmer for another 20 minutes.

In the meantime, fry the bread croutons in a pan with a dash of vegetable oil or some vegan butter.

Once the soup is cooked, you can season it with salt, pepper, mustard and vinegar. Puree the soup and serve with vegan cream, parsley leaves and bread croutons.
Song of the recipe:

German synthpop from Berlin. By the way, Fuffifufzich is the actress Vanessa Loibl.
(Would you like to listen to all the songs for the recipe? Find them collected in one playlist here)