Sloppy Joe is the name of a sandwich which consists of minced meat sauce between two halves of a bun instead of a burger patty. At first glance, the sauce resembles a Bolognese, but is characterized by a slightly different seasoning. Among other things, ketchup, worcester sauce, vinegar and mustard are used. For the vegan Sloppy Joes, we use soy granules as a substitute for minced meat. But you can also just take your favorite vegan mince. The first step may then be omitted.
The Sloppy Joe Sandwich was probably invented in the USA at the beginning of the 20th century. There are many rumors about the exact origin. For example, that either the Sloppy Joe's Bar in Havana (Cuba) or the bar of the same name in Key West (Florida) has something to do with it. However, there is no evidence for this. The only thing certain is that the term Sloppy Joe was used in connection with sandwiches in American newspapers from the 1940s onwards. The sandwich later became so famous that even canned sloppy joe sauce was launched. In Germany, however, it is still relatively unknown today.
Anyhow, the hamburger alternative with the sloppy mince sauce is pretty tasty. But eating it can quickly become a mess. However that's exactly where potato chips come in as a simple side dish. With these, the drippings of the sauce can be wonderfully carried from the plate to the mouth. 😉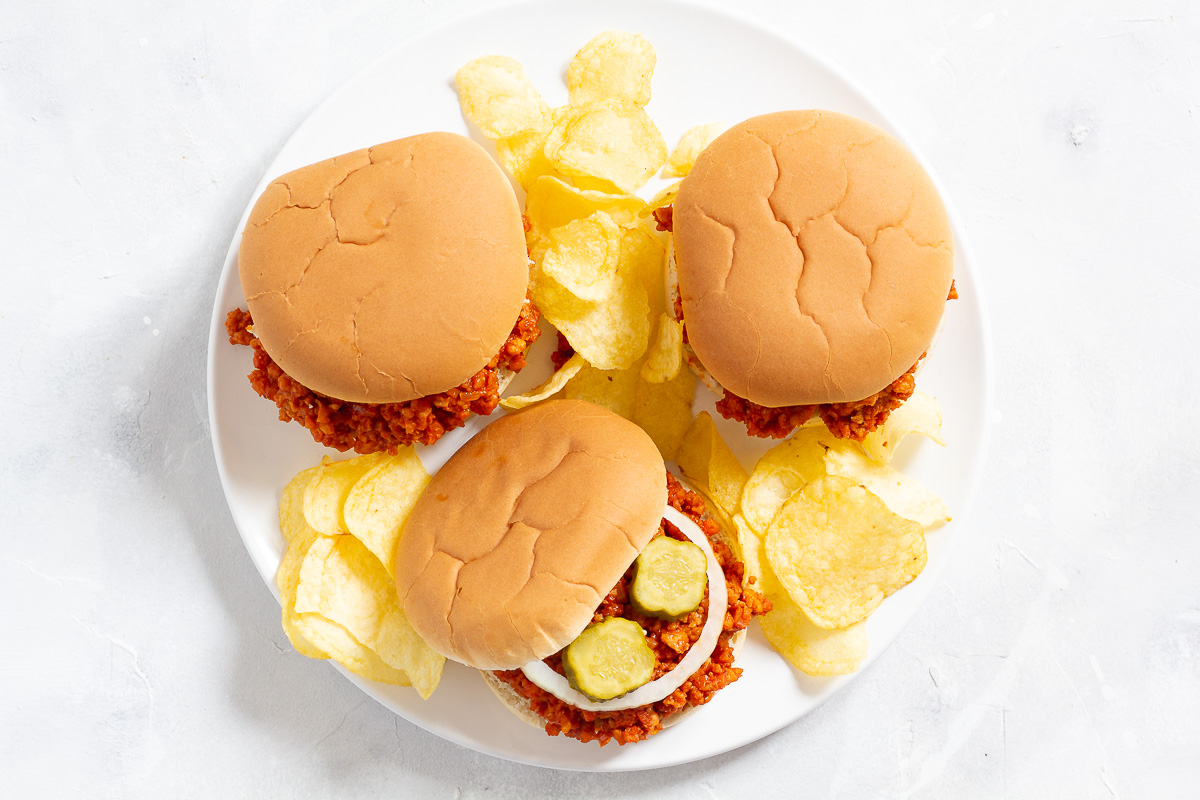 Vegan Sloppy Joes
Ingredients
150

g

dried soya mince

1

onion

2

cloves

garlic

80

g

carrot

350

g

pureed tomatoes

2

tbsp

tomato paste

2

heaped tbsp

ketchup

1

tbsp

sugar

1

tbsp

vegan worcester sauce

1

tsp

paprika powder

1

tbsp

balsamic vinegar

2

tbsp

soy sauce

1

heaped tsp

mustard

vegetable oil

salt + pepper

chili powder

,

optional
For serving
6

burger buns

other ingredients of your choice

,

e.g. onions, pickles, jalapeño, vegan cheese, etc.
Preparation
Pour boiling water over the dried soya mince in a saucepan and let it steep for 5-10 minutes. Drain, rinse with cold water and squeeze out excess liquid.

Finely dice the onion, garlic and carrot. Fry the soya mince in a large pan with a good dash of olive oil at a relatively high temperature. As soon as the soy mince has taken some color on all sides, add the onion and carrot. Fry for another 1-2 minutes.

Add garlic, tomato paste and sugar and stir-fry for 1 more minute. Deglaze with the pureed tomatoes. Add the other spices and let everything simmer for 5-10 minutes.

Season to taste with salt, pepper and (optional) chilli powder. Serve in burger buns. Top with other ingredients as desired.
Song of the recipe:

We have a US hip-hop song to go with the American fast food dish. But definitely hip-hop of the relaxed and pleasant kind. Coincidentally, just like the queer female rapper Princess Nokia, Andi is also a Gemini.
(Would you like to listen to all the songs for the recipe? Find them collected in one playlist here)