Satay oder sate is a Indonesian dish of skewers, mostly with chicken meat, grilled over fire. You can get those skewers in Indonesia almost everywhere. Besides the grilling flavour, the savoury and sweet marinade is crucial for the authentic taste of satay. The sweetness is created with the use of kecap manis (sometimes spelled ketjap manis). You can get this sweet, thickened soy sauce in any Asian store, but also in well stocked supermarkets. I learned this recipe a couple of years ago at a cooking school near Ubud on the island of Bali. I wasn't vegan back then, but of course this dish can easily prepared fully plant-based. So I created this recipe for vegan satay with peanut sauce based on dried soy meat (the largest ones are called Soja Big Steaks here in Germany). But of course you can substitute those steaks with tofu, tempeh or seitan.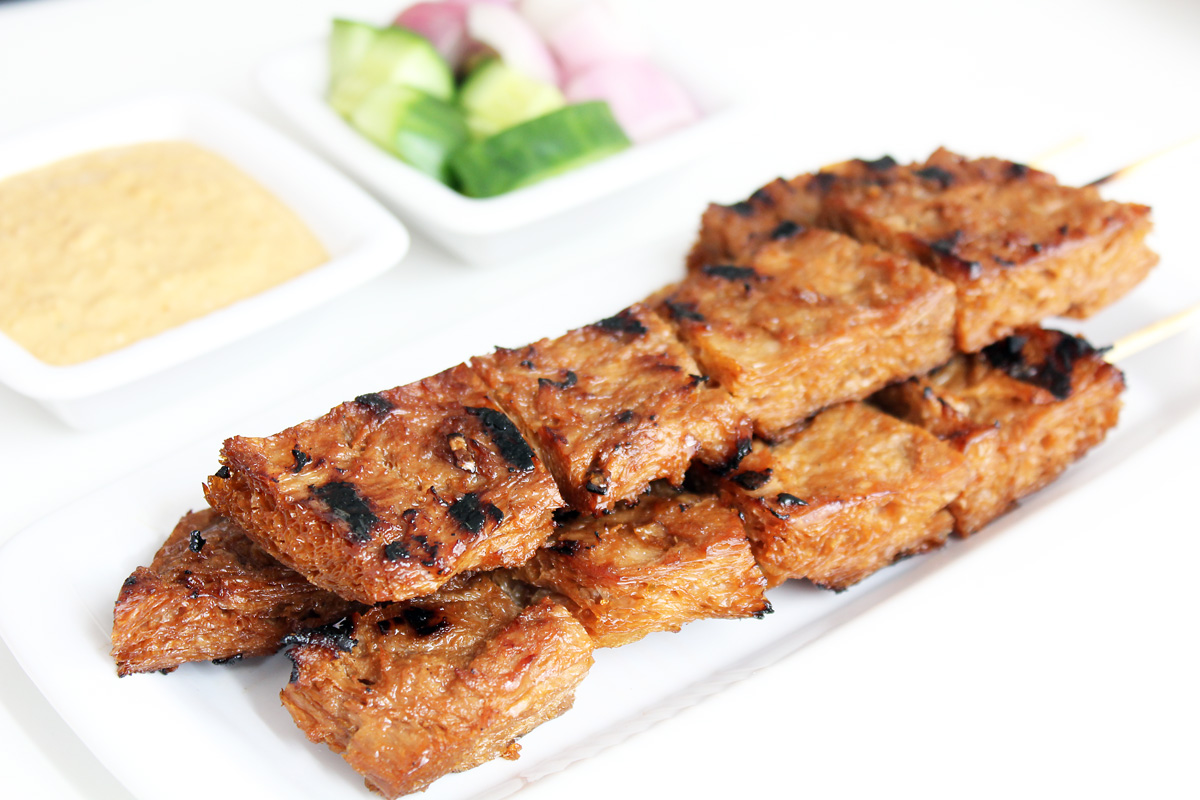 VEGAN SATAY WITH PEANUT SAUCE
Ingredients for 2 servings (2,00 euro each):
SATAY SKEWERS
3 dried soy big steaks
enough vegetable stock to rehydrate
MARINADE
5 tbsp coconut oil
4 tbsp kecap manis
2 tbsp soy sauce
juice of 1/2 lime
1 garlic clove, , pressed
1 small shallot, finely chopped
PEANUT SAUCE
75 g peanuts
1 garlic clove
1 shallot
juice of 1/4 lime
1/2 tsp chili flakes
1/2 tbsp sugar
2 slices ginger
1/2 tsp kecap manis
1/4 cup vegetable stock
optional: 1 tbsp coconut milk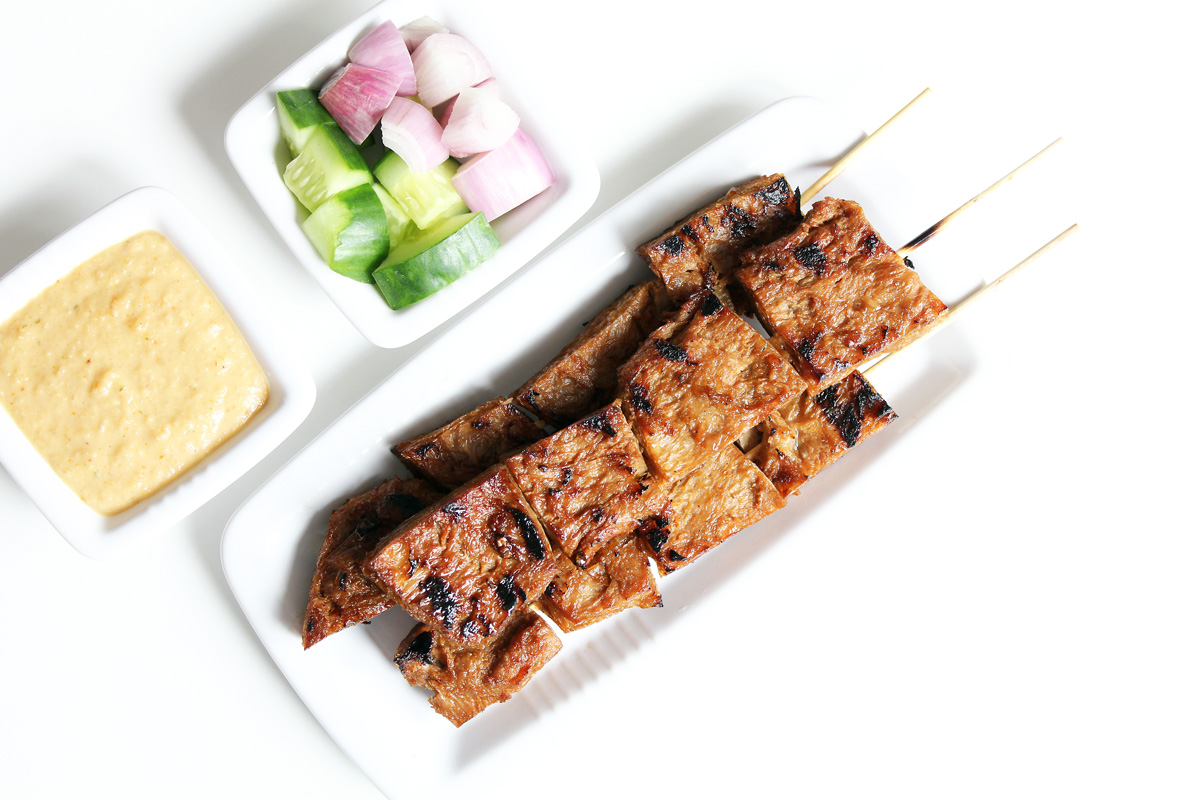 Preparation
1. Pour boiling vegetable stock over the dried soy steaks and let them sit for 10 minutes to rehydrate. Meanwhile mix the ingredients for the marinade. When the steaks are rehydrated, drain and press them, e.g. between two cutting boards. Cut the steaks in about 3×3 cm large bits and let them marinade for at least 1 hour at room temperature.
2. Blend all the ingredients for the peanut sauce and let it simmer for a while in a large saucepan. Depending on your desired consistency, add some water. If the sauce gets too thin, just let it simmer some more. If it gets too thick, add some more water.
3. Thread the marinated soya bites on some wooden skewers. Grill from both sides. Serve with peanut sauce, when it is still warm. For a side dish, I would recommend raw vegetables (originally cucumber and shallots) and rice. In Indonesia they often serve compressed rice cakes like ketupat or lontong instead of just boiled rice.