Today we present a slightly different burger. Because of the season, we put for example lamb's lettuce, plum ketchup, caramelised apple slices and crispy potato straw besides the obligatory burger patty between the burger buns. May we introduce to you? Our vegan autumn burger.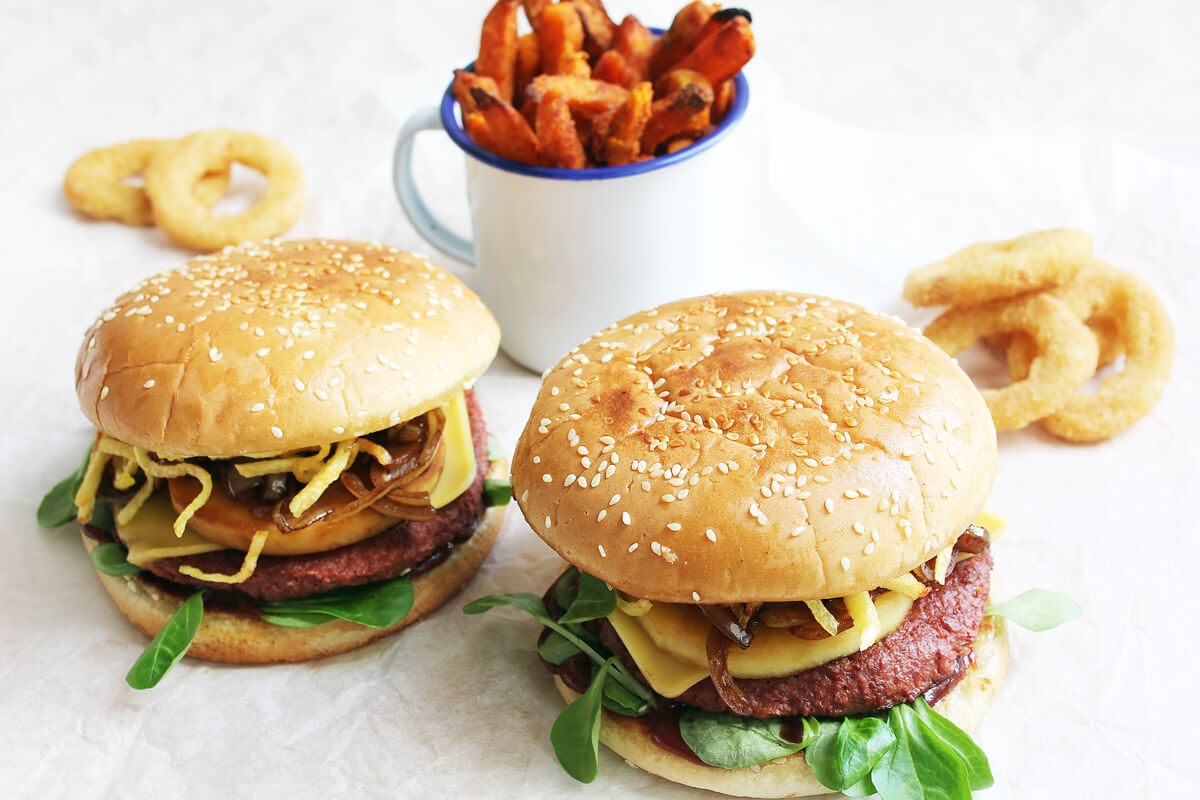 We caramelise the apple slices with a little apple cider in the pan. If you want to pass on the alcohol altogether, you can simply take apple juice instead. The onions are allowed to jump into the hot pan for some time as well and then can come closer with a good shot of balsamic vinegar. How romantic!
You think regular tomato ketchup is boring? Therefore, we pimp it with some plum puree. Ready is our super quick plum ketchup. Of course, some lettuce should not be missing on the burger. Here, too, we pick up on the autumn theme and pack delicious lamb's lettuce on the burger buns. We thought that a little crunch should not be missed either. So finally some golden potato straw is allowed to sit enthroned on the burger. How royal!
Because we made some effort to prepare the fancy toppings, we simply use store-bought vegan burger patties for the autumn burger. It's okay every now and then, right? In addition to that, almost every day a new product is released on the market, which needs to be tried. If you want to impress, you can of course also use homemade patties. How about, for example, a bean burger or a beetroot patty?
VEGAN AUTUMN BURGER WITH CARAMELISED APPLE
Ingredients for 2 burgers (about  2,75 Euros each):
2 XL burger buns
2 vegan burger patties
2 slices vegan cheese
1 small potato
2 handful lamb's lettuce
1 apple
75 ml apple cider
1 onion
3 tbsp balsamic vinegar
2 tbsp vegan mayonnaise
2 tbsp ketchup
1 tbsp plum puree
salt
vegetable oil
Preparation
1. Peel the potato and cut or shred into very thin strips. This is possible with a spiral vegetable slicer, with a mandoline or also manually with a knife. Fry in sufficient vegetable oil at a relatively high temperature until golden brown. Remove the potato straw and drain on kitchen paper. Season with a pinch of salt.
2. Peel the apple, remove seeds and cut out four 1 cm thick slices. Fry the slices in a pan at medium to high temperature for about 1 minute from each side. Deglaze with the cider and cook for another minute until the liquid is completely evaporated. While doing so, turn the apple slices carefully once again. Put aside.
3. Peel the onion, halve and cut into thin slices. Fry in a pan with some vegetable oil at medium temperature. As soon as they begin to take color, deglaze with the balsamic vinegar and simmer for about 1 minute. Season with a pinch of salt.
4. Mix the plum puree and ketchup to make a quick plum ketchup.
5. Fry the burger patties in a pan with a dash of oil over medium heat from one side first, then turn over, top each with a slice of cheese and fry the other side until done.
6. Halve the burger buns and heat in a pan or oven. Spread the plum ketchup on the bottom half of the burger buns. Put a handful of lamb's lettuce on each. Then cover with burger patty, caramelised apple slices, balsamic vinegar onions and potato straw. Spread mayonnaise on the upper part of the burger buns and put them on top.