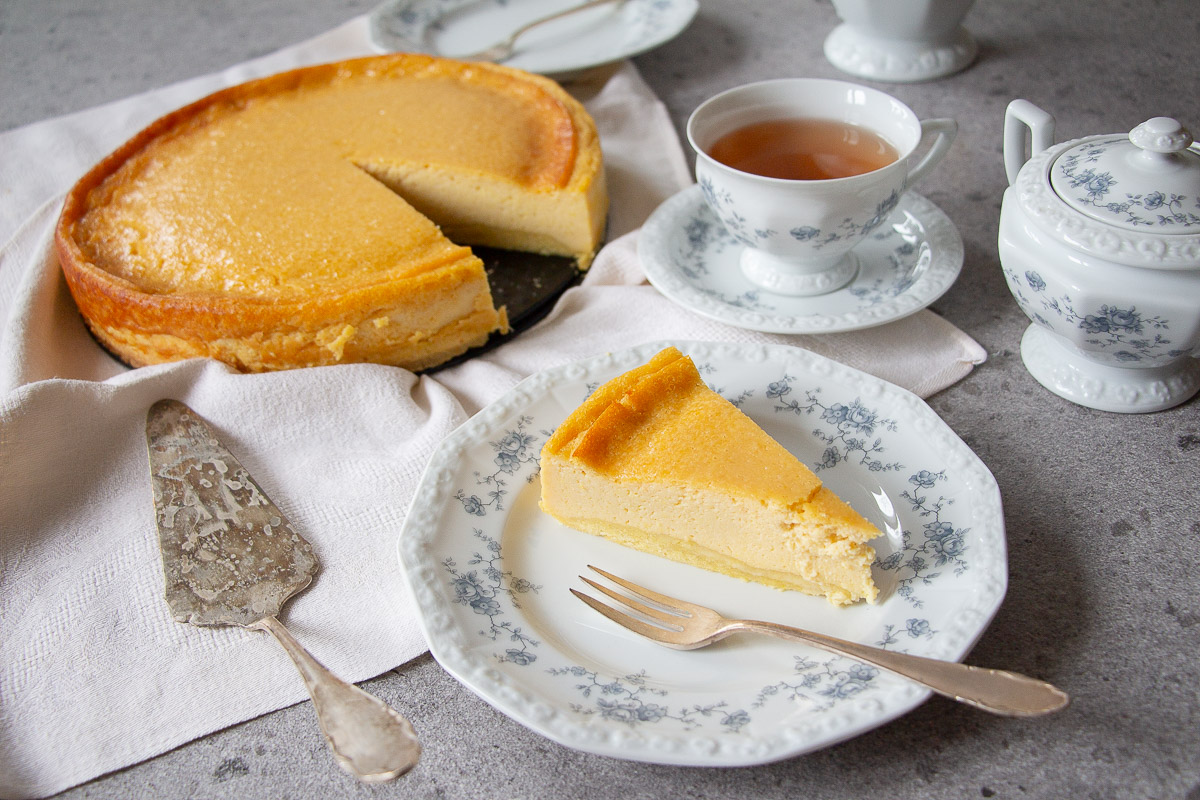 Today we are reminiscing about our childhood, because we are having cheesecake just like grandma used to make. Only vegan. The original recipe comes from Lisa's grandmother from Silesia. She never met her grandmother in person, but the recipe was passed on by Lisa's mother and, with her help, transformed into vegan. So a big thank you goes to Mama Jutta for all the great recipes and reports on her experiences in veganising recipes.
The important thing for this traditional preparation is that only the base is made of dough. So the sides and top are simply cheesecake mixture, which gets a nice golden colour in the oven. The mixture is curd-based – we use soy curd for this. This also clearly distinguishes the German cheesecake from American or New York cheesecake, both of which are made with a mixture based on cream cheese. The cream of the German cheesecake is also much fresher and less sweet, because quark and lemon provide a pleasantly refreshing acidity.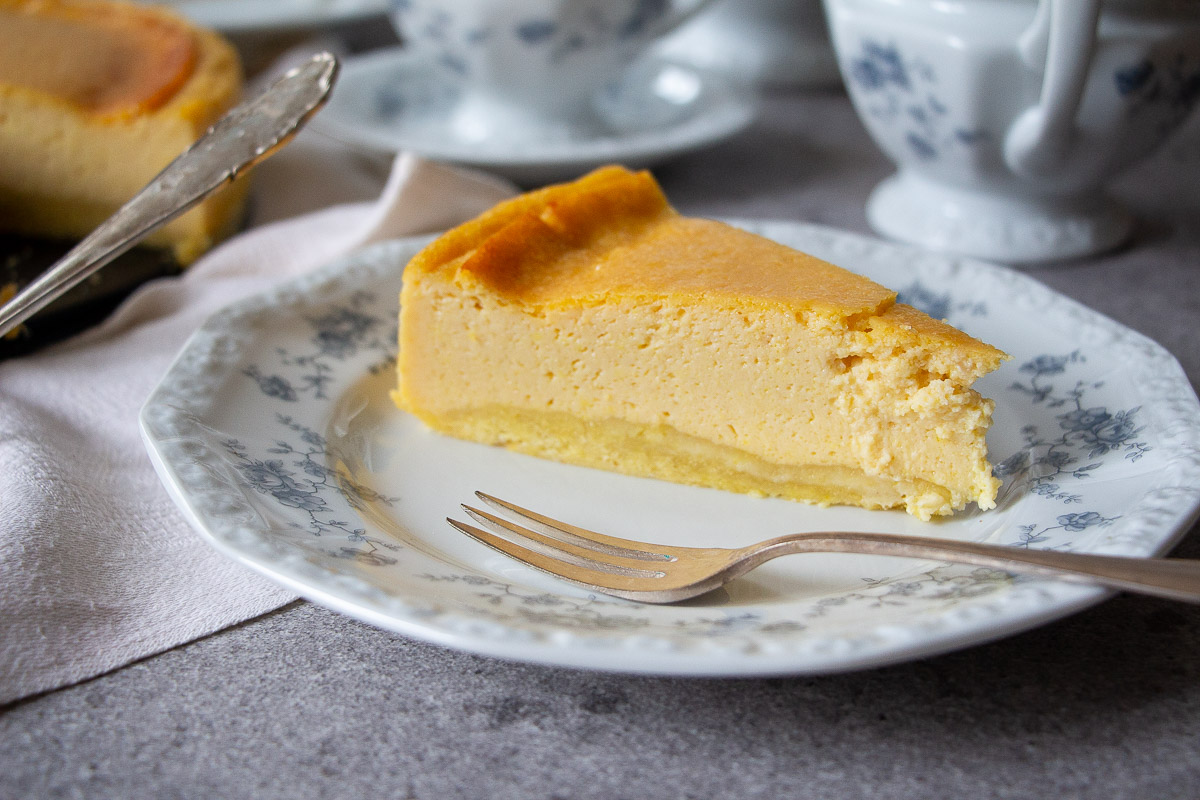 Vegan German Cheesecake – Grandma Style
Ingredients
Shortcrust pastry
200

g

flour

1

pinch

baking powder

70

g

vegan butter

,

at room temperature

50

g

sugar

1

vegan egg substitute

,

e.g. 1 tbsp VegEgg with 30 ml water
Cheesecake mixture
190

g

vegan butter

4

vegan egg substitutes

,

e.g. 4 tbsp VegEgg with 120 ml water

200

g

sugar

1

kg

soya curd

2

drops

bitter almond oil

1/2

lemon

,

juice + zest

2

packets

vanilla custard powder

150

ml

soy milk
Preparation
Knead the ingredients for the shortcrust pastry in a large bowl with your hands until you have a homogeneous dough. Pour the dough into a greased cake tin (we used a 29 cm diameter). Spread evenly over the base with your hands. Put the cake base in the fridge.

In a bowl, beat the sugar, egg replacer and vegan butter together until "fluffy" (or creamy). It's best to use an electronic hand mixer for this, so that the ingredients mix really well together and the sugar dissolves a little.

Mix the soy milk and vanilla custard powder together well. When everything has dissolved well, add to the creamy mixture together with the soy curd, bitter almond oil and lemon (juice + grated). Stir everything together well.

Preheat the oven to 180 degrees Celsius top and bottom heat. Remove the cake tin with the base from the fridge and spread the cheesecake mixture over it. Bake the cake for 60 minutes. Make sure that the cake does not get too dark. If necessary, cover the cake with some aluminium foil. Leave the cheesecake to cool completely. Only then remove it from the tin and cut it.
Song of the recipe:

Lisa dedicates the song to her parents, from whom she has been living apart for a long time but whom she loves so much. They are also loyal blog readers.
(Would you like to listen to all the songs for the recipe? Find them collected in one playlist here)