After backpacking 6 weeks through South Eastern Asia it's good to be back in my own kitchen. I don't want to denigrate the delicacies of the Vietnamese and Cambodian cook shops because I enjoyed awesome food for little money. But it's something different to prepare your own food quietly and just how you want it to be. I never want to give up this luxury.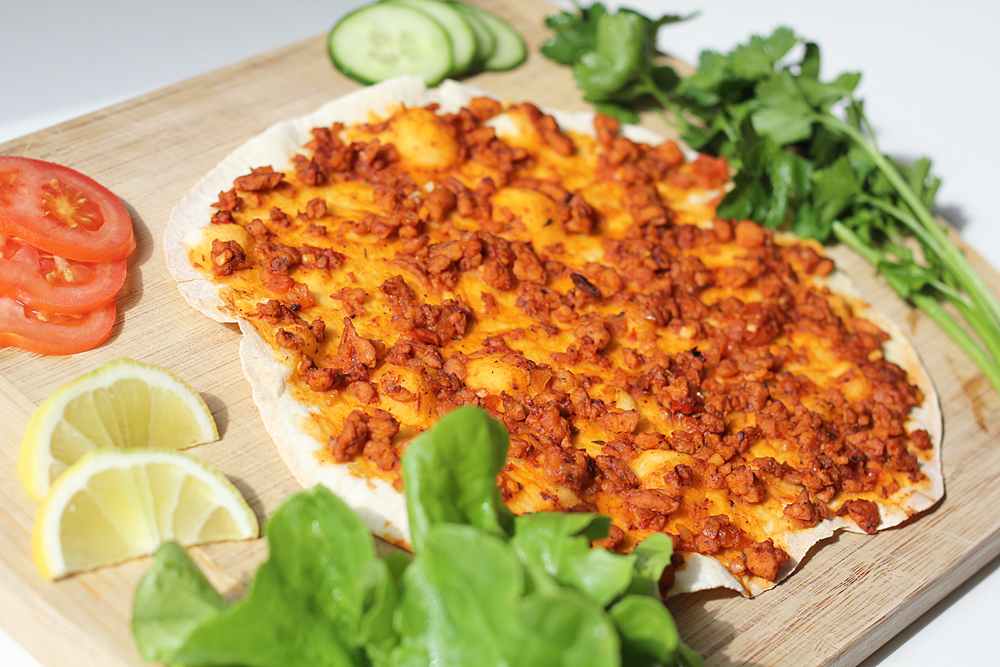 So I prepared this plant based version of the Turkish pizza called lahmacun. The homemade yeast flat breads are coated with a soya-mince-tomato-mixture, put into the oven and afterwards topped at one's pleasure. The preparation of the dough and the minced soya takes some time but the final preparation is pretty fast. Therefore this dish is perfect for a evening with friends if they enjoy to assemble their own lahmacun rolls.
Ingredients for 4 lahmacun (about 0,75 euros each):
Dough
250 g wheat flour
1 tbsp olive oil
1/4 dice fresh yeast
1 tsp salt
1/2 tsp sugar
ca. 150 ml lukewarm water
Topping
100 g dried soya mince
1 onion
1-2 garlic cloves
1 heaped tbsp tomato purée
1 tsp hot paprika purée
2 tomatoes
1 tsp dried thyme
1/2 tsp dried sumak (or a splash of citron juice)
1 pinch of sugar
neutral vegetable oil (e.g. sunflower oil)
sea salt and freshly ground black pepper
Optional toppings
flat leaf parsley
citron
tomato
lettuce / cabbage
cucumber
onion
soya yoghurt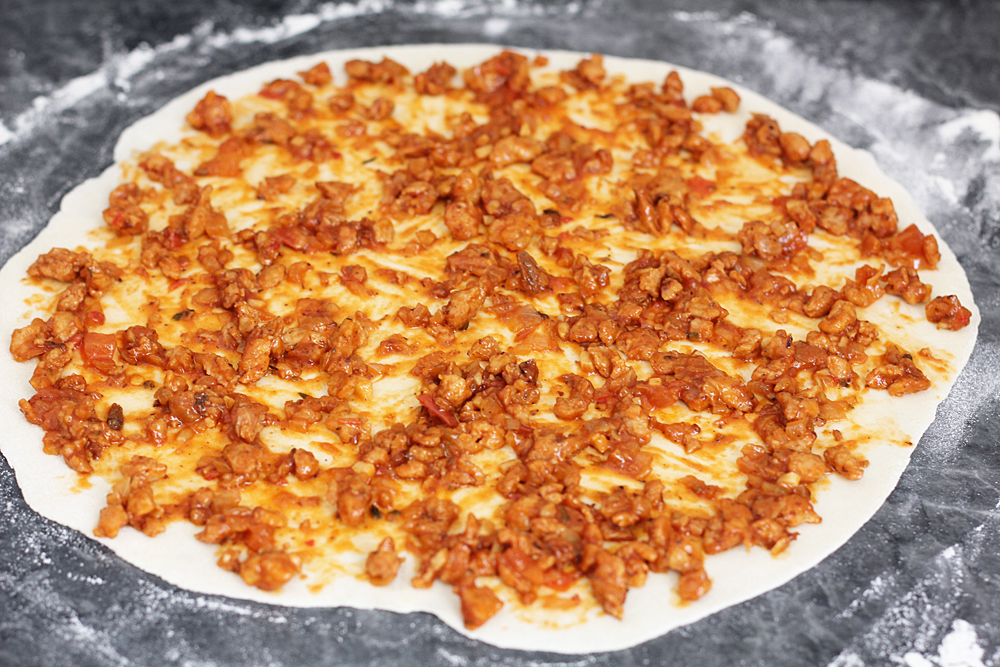 Preparations
Dissolve the fresh yeast in about 50 ml lukewarm water by stirring constantly. Combine flour, olive oil, salt, sugar and the yeast in a large bowl. Knead until smooth, while adding another 100 ml water. Cover the bowl with a wet cloth and let the dough rise for about 45 to 60 minutes.
Pour enough boiling water over the dried soya mince. Leave to soak for at least 5 minutes. Meanwhile finely dice onion, garlic and tomatoes. Drain the soya mince, rinse with cold water and squeeze out any excess water. Heat a large pan over high heat.  Fry the soya mince with a good splash of vegetable oil for a couple of minutes until golden brown. Lower the heat. Add diced onion and garlic and fry for a couple more minutes. Finally add tomatoes, tomato purée, paprika purée and spices and stir thoroughly. If the mixture seems to be too dry, add a little bit of water. Take the pan from the heat and season with salt and pepper.
The dough should have doubled in size now. Knead again carefully and divide into 4 balls. Let them rise covered for about 15 more minutes. Heat the oven (with a baking tray in it) to 200 degrees Celsius. Roll the dough on a flour-dusted surface very thinly. Spread the topping onto it, transfer with some baking paper to the pre-heated baking tray and bake for about 5-7 minutes. Time can vary depending on your oven. Just make sure the dough is well done but not too crispy, so you can still roll it.
You can serve the Turkish pizza just as it is topped with parsley and citron juice or you use it as a wrap filled with parsley, citron juice and e.g. tomato, cabbage / lettuce, cucumber, onion and soya yoghurt.