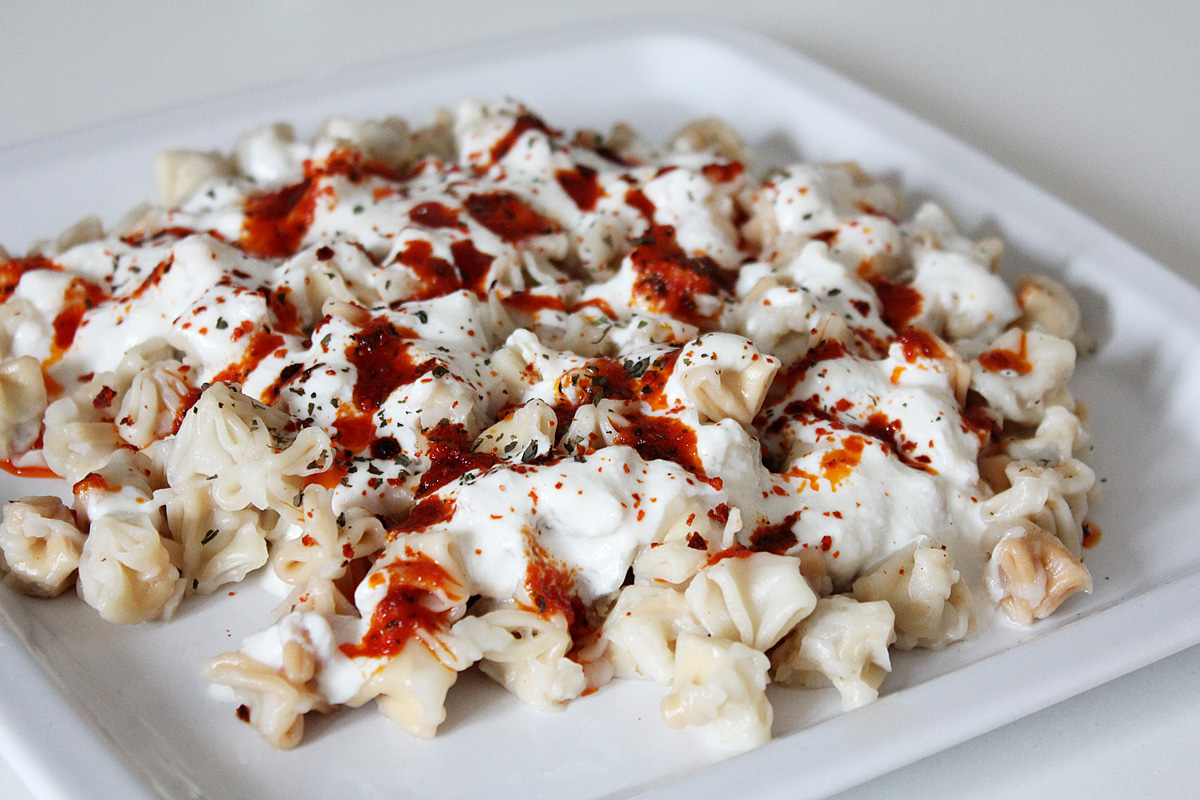 When time is short pasta with a simple sauce always is a good choice. Tomato sauce, carbonara and pesto are the classics. But it doesn't have to be Italian cuisine because in other countries there are quick and tasty pasta dishes as well. Manti are small Turkish dumplings that are served with a yogurt garlic sauce and a paprika sauce. Here in Neukölln we have lots of Turkish supermarkets just round the corner, where you can find vegan manti with soy filling. The two sauces are quickly prepared and only need a few ingredients. Vegan manti with yogurt sauce therefore is perfectly suited for express cooking. You could also use tortellini or ravioli instead of manti if you don't have any well-stocked Turkish stores nearby.  It's less authentic but will surely taste good as well.
A little hint: when buying the vegan manti you should read the ingredients carefully. Many products are filled with soy, but contain egg.
VEGAN MANTI WITH YOGURT SAUCE
Ingredients for 2 servings (about 1,50 Euros each):
400 g vegan manti (e.g. by BAKTAT)
optionally: some dried mint and pul biber (spicy paprika flakes) to sprinkle on the dish
YOGURT SAUCE
200 g soy yogurt
1 garlic clove
salt
PAPRIKA SAUCE
3 tbsp vegan butter or olive oil
1 tbsp paprika puree (spicy) or 1 tsp tomato puree + 1 tsp paprika powder + some chili flakes
1/2 tsp dried mint
Preparation
1. Crush the garlic and mix with soy yogurt and a good pinch of salt. Add 2-3 tbsp water to thin down the sauce a bit.
2. Warm the vegan butter or olive oil in a small saucepan. Add paprika puree and dried mint and cook for 3-4 minutes on medium heat stirring occasionally.
3. Meanwhile cook the manti according to packaging instructions in boiling salt water until al dente. Drain the water and serve the manti with yogurt sauce and paprika sauce. Optionally sprinkle some more dried mint and pul biber on the dish.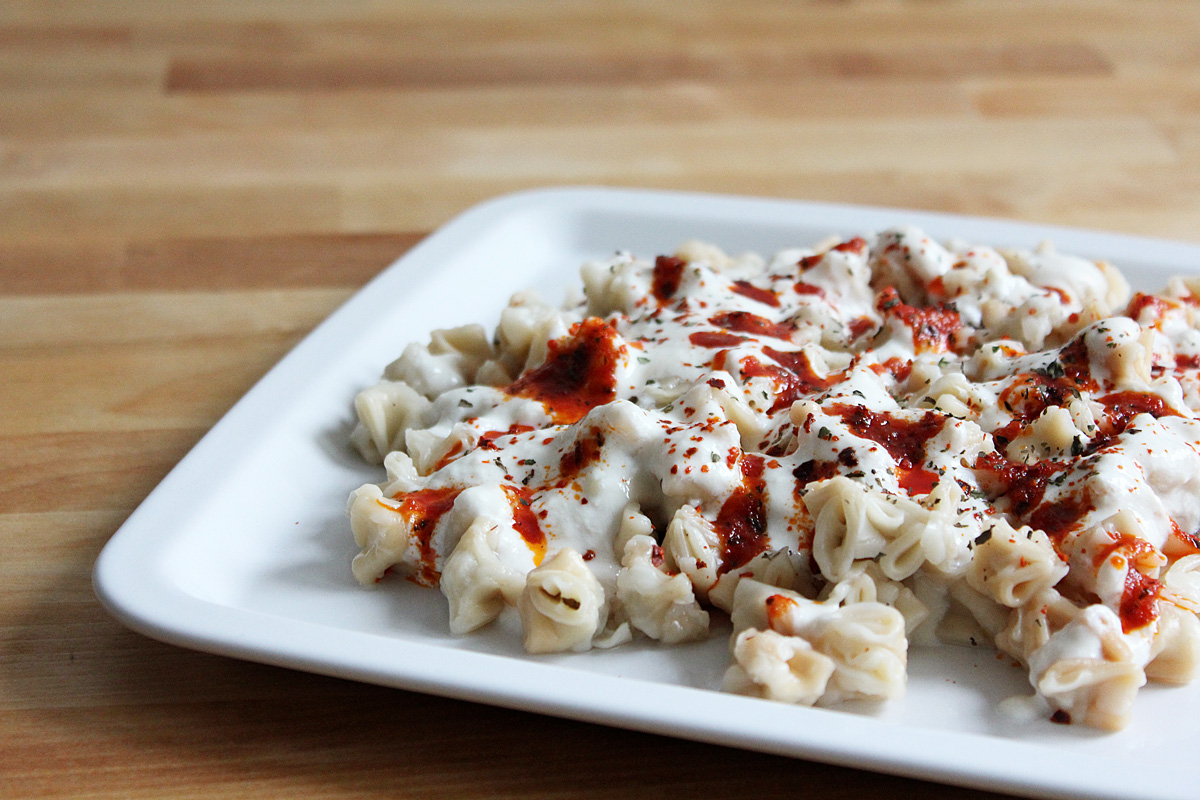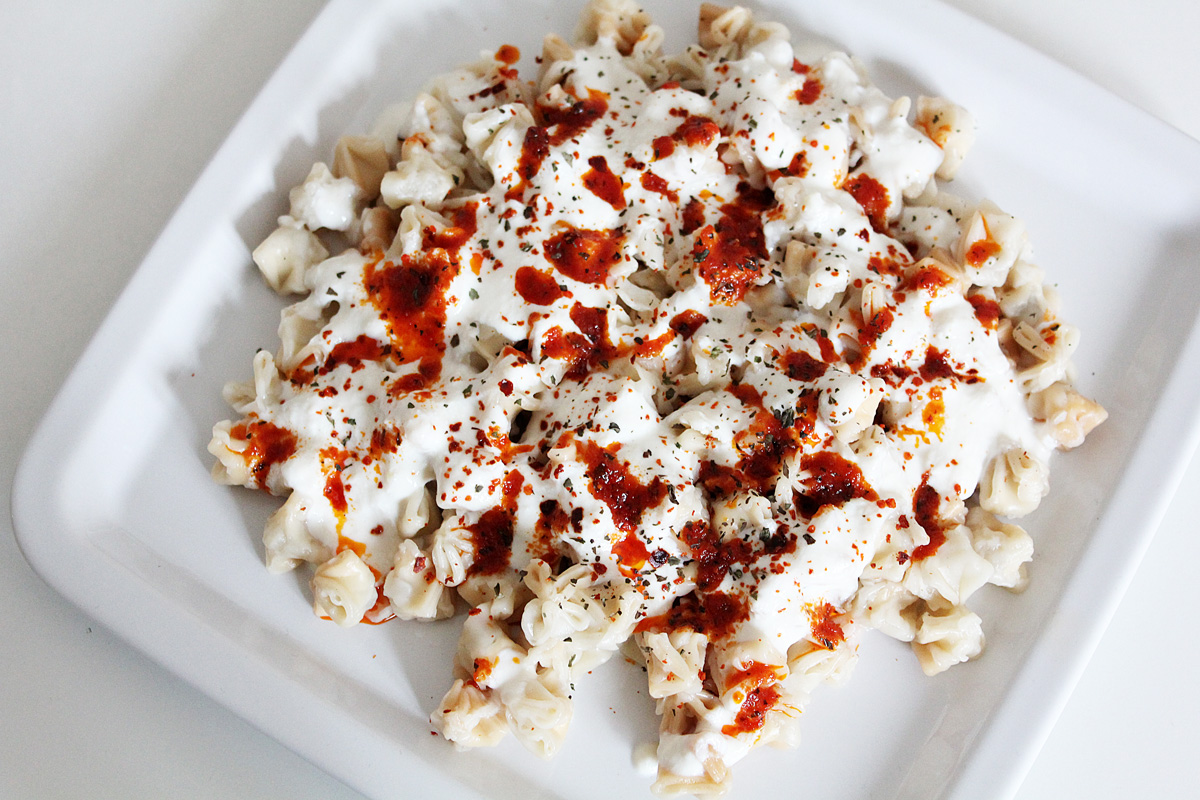 MerkenMerken
MerkenMerken
MerkenMerken