Asparagus season is still going and I definitely have to make the most out of it. I especially love the green asparagus which has more flavour than the white one and I of course love pizza. I mean, who doesn't like pizza?! Anyway, that's how I came up with the idea of creating an asparagus pizza to combine both affections. The vegan sauce hollandaise gratinates wonderfully and therefore replaces the cheese. So you don't need any cheese substitute for this dish, which makes it quite affordable even though asparagus is not one of the cheapest vegetables to buy. The corn adds a yummy sweetness to the pizza and also makes it more colourful. The rest is just basic pizza magic. Just make sure to preheat the oven long enough to create that super thin and crispy pizza crust.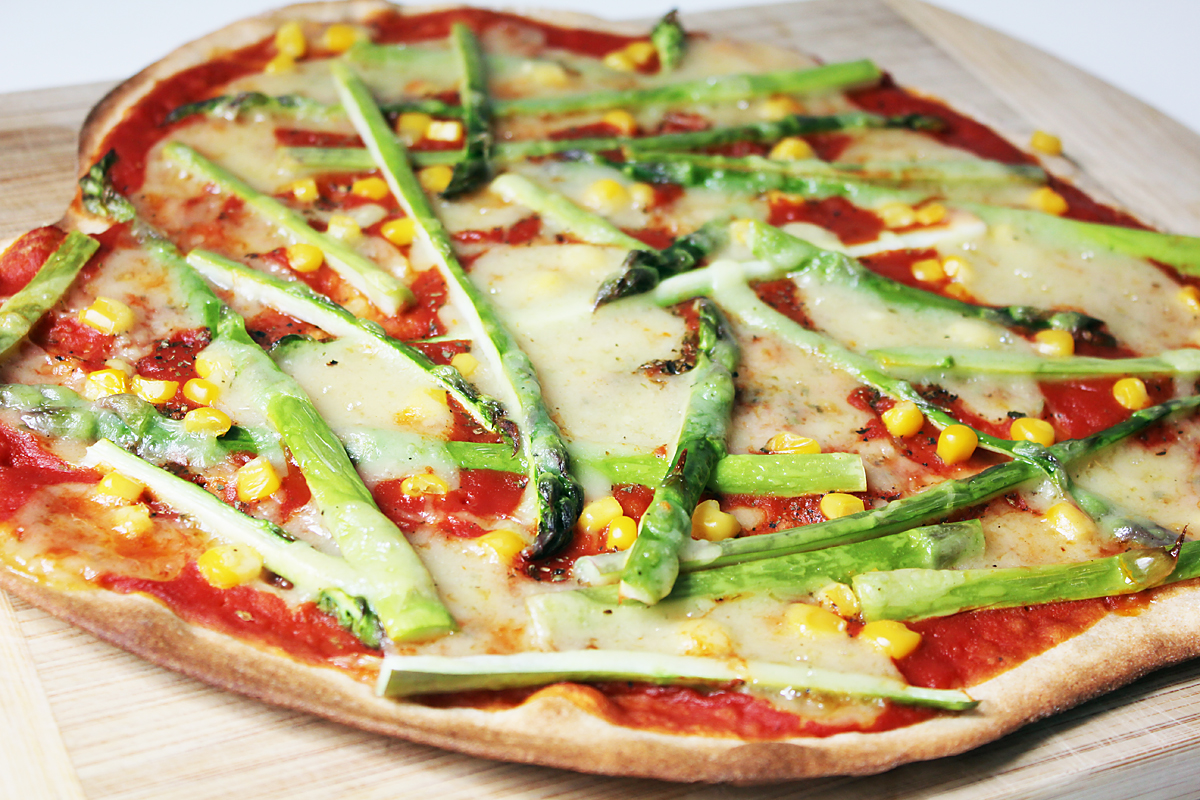 Ingredients for 2 pizzas (about 2,50 euros each):
300 g green asparagus
1 tbsp olive oil
50 g vegan butter
2 tbsp (about 30 g) flour
2 cl dry white wine
125 ml vegetable stock
1/2 tsp mustard
juice of 1/4 lemon
a pinch of turmeric powder
3 tbsp canned corn
10 tbsp passata (= tomato puree)
1 tsp dried basil
1 tsp dried oregano
sea salt & freshly ground black pepper
Preparation
Start with preparing your pizza dough. While the dough rises you have enough time to prepare your green asparagus and the vegan sauce hollandaise.
For the sauce let the vegan butter melt in a small pot over medium heat. Whisk in the flour and let it cook for a minute. Slowly whisk in white wine and vegetable stock and let it all cook for a couple of minutes, stirring occasionally, until it thickens. Add the mustard and lemon juice for the taste and a pinch of turmeric for the colour. Season with salt and pepper.
Green asparagus usually doesn't have to be peeled. Just trim off the last few centimeters of the stalks (the woody parts) and you'll be fine. Quarter the asparagus lenghtwise (and maybe even halve the quarters one more time if you have very thick asparagus). Coat it with 1 tbsp olive oil so it doesn't dry out on the pizza.
Preheat the oven and the baking sheet to full whack. Roll out the dough on a floured baking parchment so you can later on easily transfer the pizza (with the baking parchment) onto the hot baking sheet. Top with desired amount of tomato puree. I used 5 tablespoons for each pizza here. Season the pizza with dried basil, dried oregano, salt and pepper. Top with green asparagus, corn and sauce hollandaise. Use the baking parchment to transfer the pizza to the hot baking sheet. Bake for about 5-10 minutes until crisp and golden brown.