Due to the big burger trend in recent years, the attention for burger buns has increased rapidly. Because a really good burger needs a really good bun. These are available at street food stalls and in burger restaurants in all sorts and colours. The most popular is definitely the brioche bread roll, which tastes slightly sweet and perfectly harmonises with a hearty burger.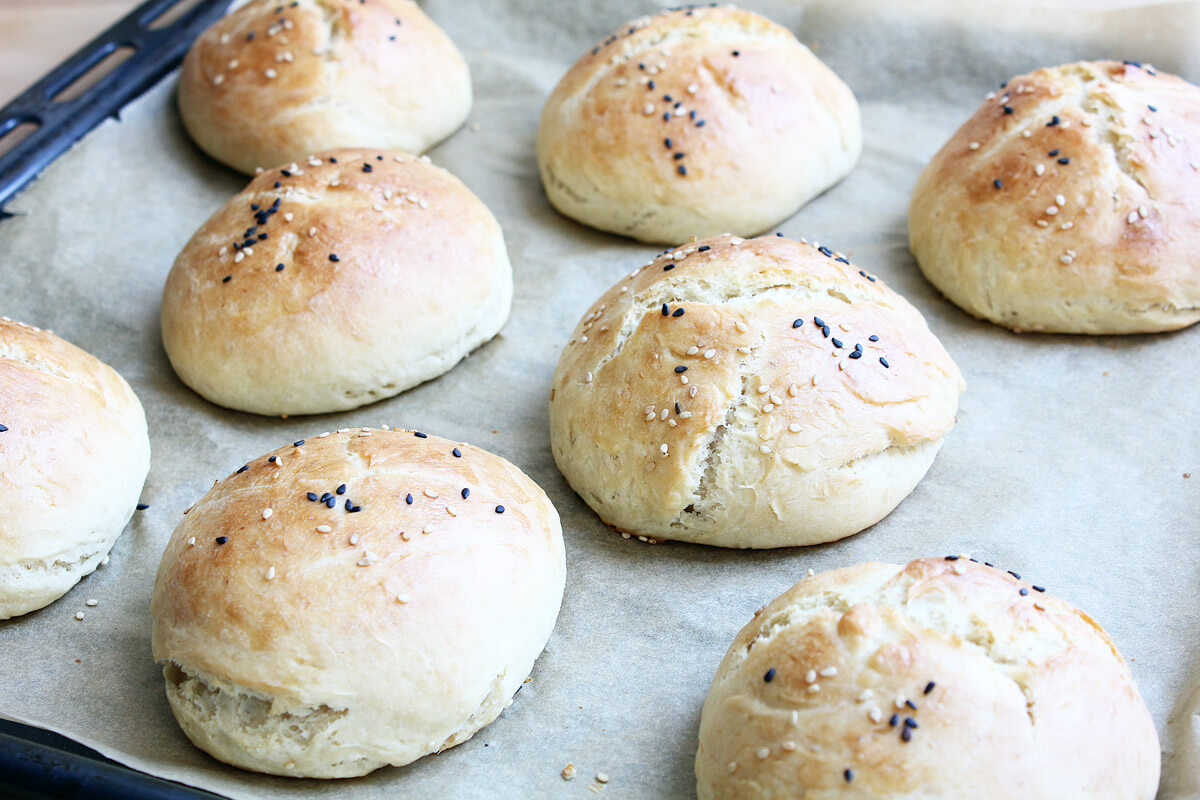 The brioche burger buns can be prepared with only a few ingredients that you can actually buy in any supermarket. The preparation takes a little longer, but only because the buns have to rise twice before they are baked. However, the waiting time can be used to prepare the burger patties and other toppings. Or to continue binging your favourite series on Netflix.
By the way, brioche originating from France is originally quite unvegan. A lot of egg, milk and butter go in the dough. Fortunately, brioche can also be prepared egg-free and with plant based milk and butter alternatives. So here's our recipe for fluffy vegan brioche burger buns that will take your next burger party to a whole new level.
VEGAN BRIOCHE BURGER BUNS
Ingredients for 8 buns (about  0,25 Euros each):
525 g wheat flour
1 tsp salt
1 pack active dry yeast (7 g)
2 tbsp sugar
150 ml soy milk + some more to brush the buns
150 ml water, warm
100 g vegan butter, room temperature
optional: sesame seeds to sprinkle on top
Preparation
1. Mix flour, salt, active dry yeast and sugar. Add soy milk, water and vegan butter and knead well to a smooth dough. If the dough is still too sticky, knead in a little more flour. Cover the dough and let it rise at room temperature for approximately 1 hour until it has grown to about double the amount.
2. Divide the dough into 6 large or 8 regular sized burger buns, that should alle have about the same size. Place on a baking tray covered with baking paper with enough space in between each other and cut an X in the top of every bun. Cover again and let them rise for another 30 minutes.
3. Preheat the oven to 200 degrees with static upper and lower heat. Brush the vegan brioche burger buns with a little soy milk, sprinkle with sesame seeds and bake for about 20-25 minutes.