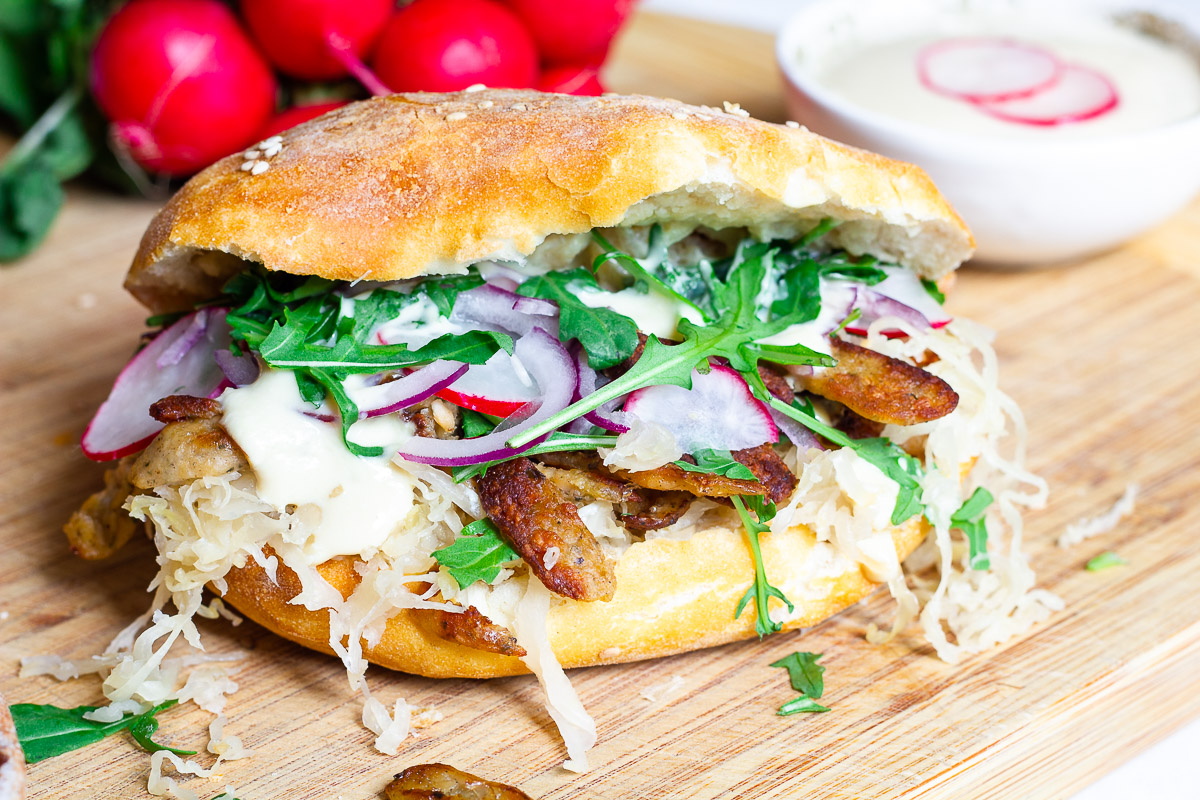 Today we're serving the very best crossover food straight to your hand. We have interpreted the German-Turkish invention of the Doner Kebab with a Bavarian twist and invented the vegan Bavarian bratwurst doner.
But what makes the Bavarian bratwurst doner so special? It of course contains vegan bratwurst instead of kebab meat, sauerkraut instead of raw sliced cabbage, a sweet mustard yoghurt sauce instead of the usual herbs dip and radishes as well as arugula instead of the usual salad mix. And of course, all this is not simply packed into a normal pita or kebab bread, but we conjure up a pretzel kebab roll from frozen pretzel sticks in a few quick steps. It's crispy on the outside and fluffy on the inside, making it the perfect base for our Bavarian doner dream. Enjoy!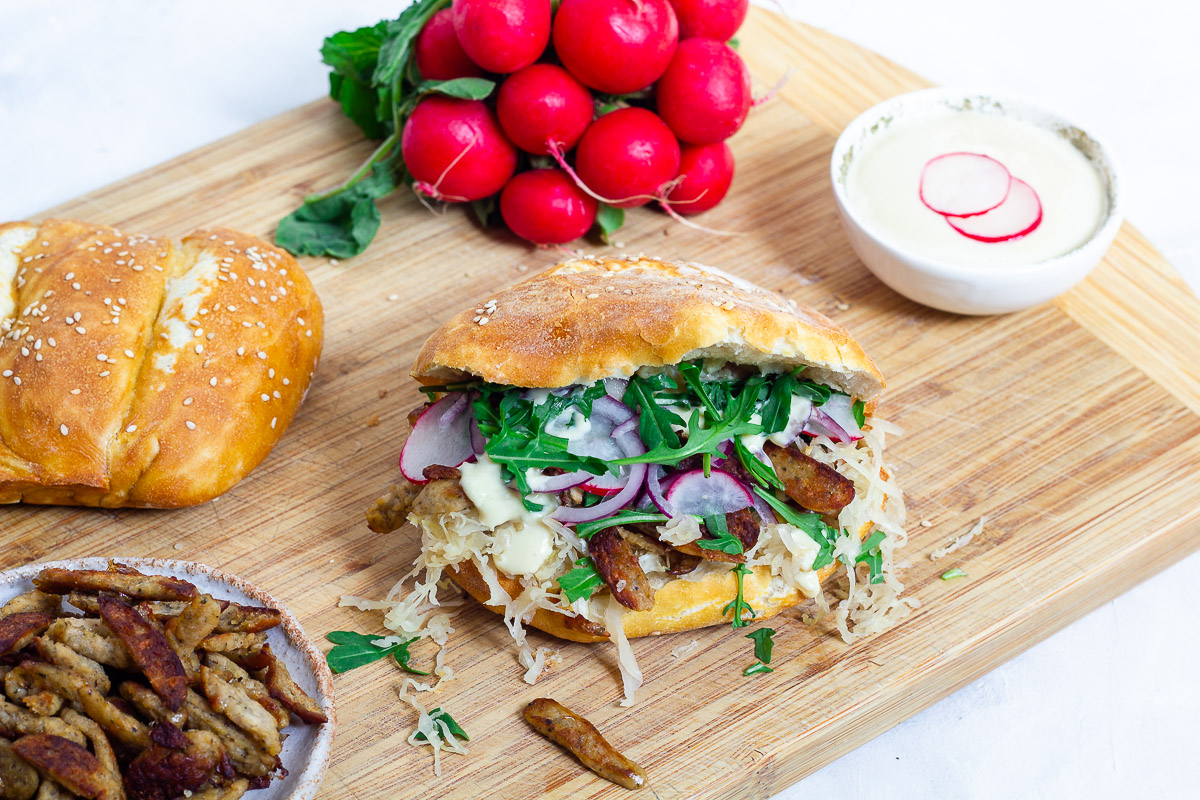 Vegan Bavarian Bratwurst Doner
Ingredients
Pretzel Roll
3

frozen pretzel sticks

1

tsp

sesame seeds
Kebab Topping
150

g

vegan bratwurst sausage

4

tbsp

sauerkraut

2

radishes

20

g

arugula

1/4

red onion

Vegetable oil
Mustard Yoghurt Sauce
3

tbsp

yoghurt

2

tsp

mustard

2

tsp

agave syrup

salt + pepper
Preparation
Place the pretzel sticks on a lightly floured baking paper and allow to defrost.

In the meantime, cut the sausage into very thin slices at an angle. Cut the onion into fine half-rings. Roughly chop the arugula. Finely slice the radishes. Mix the ingredients for the sauce until smooth and season with salt and pepper.

Cut the pretzel sticks in half. Place 3 halves next to each other, dust lightly with flour and flatten with a rolling pin to form a large flatbread (see picture below). Sprinkle both loaves with sesame seeds and bake in an oven preheated to 200 degrees Celsius for about 12-15 minutes. Remove the pretzel rolls from the oven and leave to cool slightly.

Meanwhile, fry the sausage in a pan with a dash of vegetable oil at high temperature until crispy. Cut open the buns and put some sauce in first. Then top with sauerkraut, arugula, bratwurst sausage, onions and radishes. Finally, top with some more sauce.
Song of the recipe:

Stay a little longer (that's what "Bleib doch noch" means), at least for a homemade Bavarian bratwurst kebab.
(Would you like to listen to all the songs for the recipe? Find them collected in one playlist here)