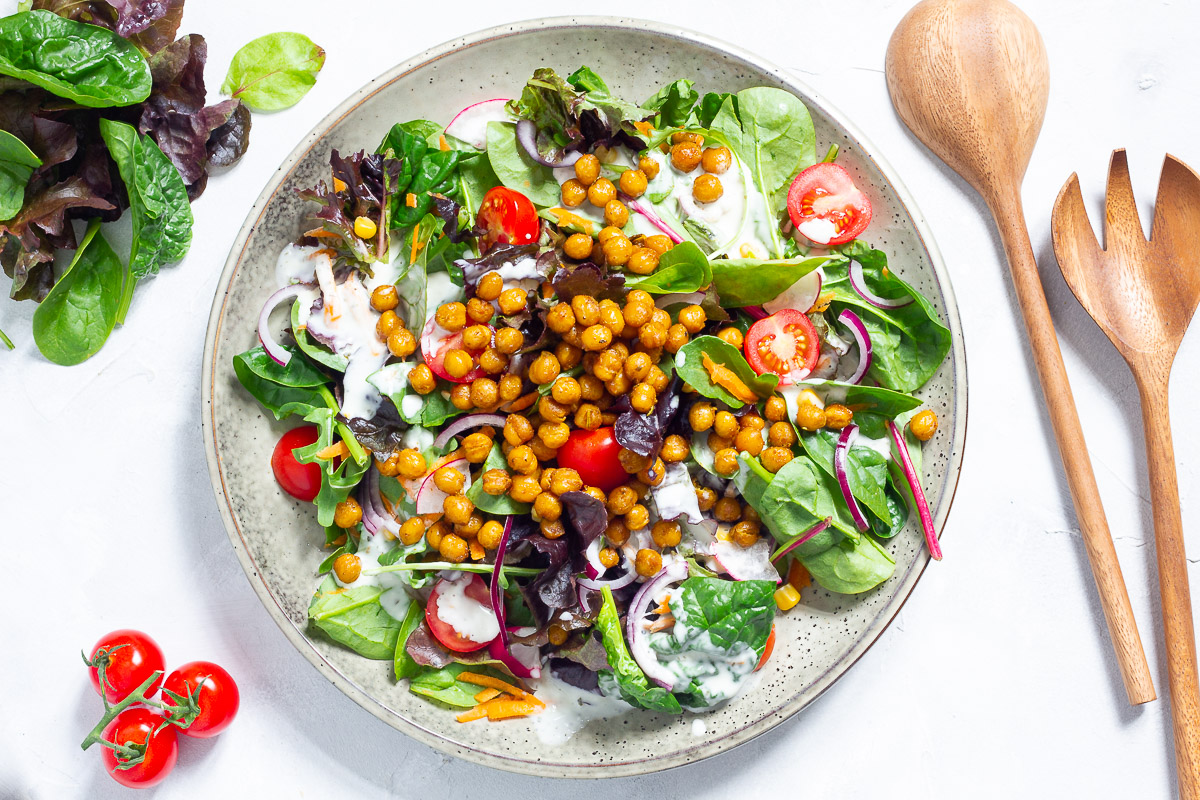 Perfect for the next barbecue, picnic in nature or just as a light meal: our summer salad with chickpeas & ranch dressing. On a colourful mixed salad, crispy roasted chickpeas not only provide flavour, but also essential proteins. It's all rounded off with a quick ranch dressing, for which you don't need umpteen herbs and spices thanks to a simple trick.
But first things first: The basis of the salad is a mixture of lettuce (of different varieties), radishes, corn, carrot, red onion and cherry tomatoes.
Of course, the chickpeas are not just added plain. We marinate them with a little oil and ras el hanout, a spice mixture from the Maghreb, so from Northwest Africa. Ras el hanout spice mixtures vary depending on the recipe and region, but they actually always contain cumin, coriander, turmeric and ginger. Just as a rough guide as to which direction it goes in terms of flavour. We then roast the spiced chickpeas in the oven. If you are pressed for time, you can roast them in a pan instead. However, experience shows that the result is more consistent and better in the oven.
For the salad dressing, we chose a creamy ranch dressing. The main ingredient of the American classic is usually a mixture of mayo and buttermilk / sour cream / yoghurt, seasoned with several herbs and spices. We resort to a little trick. Because fortunately, you can buy vegan remoulade in a jar in the big supermarket chains in Germany for a while now, which contains most of the ranch dressing ingredients. With a bit of plant milk, apple cider vinegar and maple syrup, you can make an amazingly good ranch dressing in just a few seconds.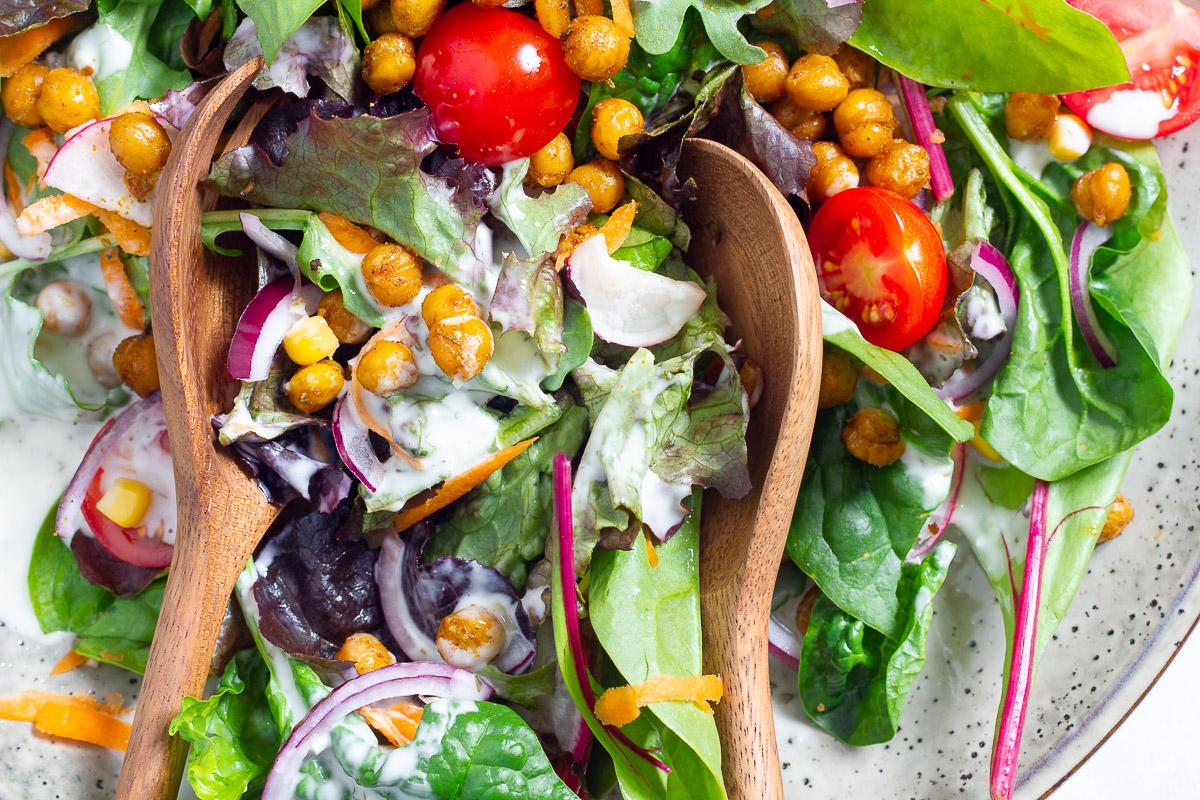 Summer Salad with Chickpeas & Ranch Dressing
Ingredients
150

g

mixed lettuce

4

radishes

1

carrot

,

small

1/2

red onion

75

g

cherry tomatoes

75

g

sweet corn
Roasted Chickpeas
240

g

chickpeas

1

tbsp

vegetable oil

1

tsp

ras el hanout
Quick Ranch Dressing
5

tbsp

vegan remoulade

,

or tartar sauce

4

tbsp

vegetable milk

1

tbsp

apple vinegar

1

tsp

maple syrup

salt + pepper
Preparation
Drain the chickpeas well. Mix well with oil and Ras el Hanout in a bowl. Place on baking paper and bake in the oven at 180 degrees Celsius for about 30 minutes.

Prepare the ingredients for the salad: Halve or quarter the radishes depending on their size and cut into thin slices. Grate the carrot. Halve the onion again and cut into thin slices. Halve or quarter the cherry tomatoes depending on their size. Drain the sweetcorn. Wash the lettuce, spin dry and shred into bite-sized pieces.

Mix the ingredients for the dressing. Season with salt and pepper and pour over the salad. Serve everything sprinkled with the cooled down chickpeas.
Song of the recipe:

I love the contrast of the happy summery Roosevelt sound with the rather serious and dark lyrics of Taylor Swift. "It's me, hi, I'm the problem, it's me"
(Would you like to listen to all the songs for the recipe? Find them collected in one playlist here)