Being vegan in Lisbon isn't very hard. This is due to the mere fact that the rise of tourism brought more and more young Europeans to Lisbon. So besides traditional Portuguese cuisine with lots of fish, sea food and meat you'll find a broad range of vegetarian and vegan offerings. We want to show you some of the interesting food spots we have visited. Since strolling around the gorgeous – but often very steep – streets of the Old Town makes you hungry and thirsty.
Lisbon definitely made an impression. Not only culinary but also culturally. And it was a positive impression even though we got our backpack stolen with our DSLR camera, GoPro, travel diary and some other stuff stolen here. So please be indulgent that our photos are not the best. We only have some iPhone snapshots left. Anyway, in Lisbon there's a lot to see and you can feel the contrast of old and new as well as tradition and modernism almost everywhere. You can easily stay longer than just a weekend here because there is constantly something new waiting to be discovered. Here are our recommendations:
MISS SAIGON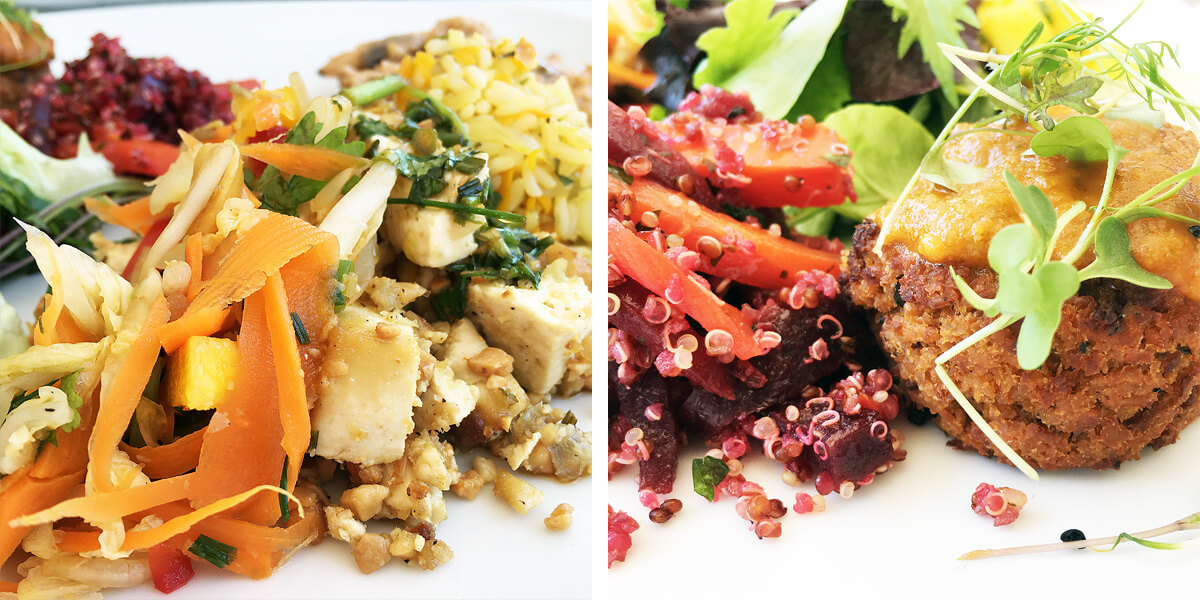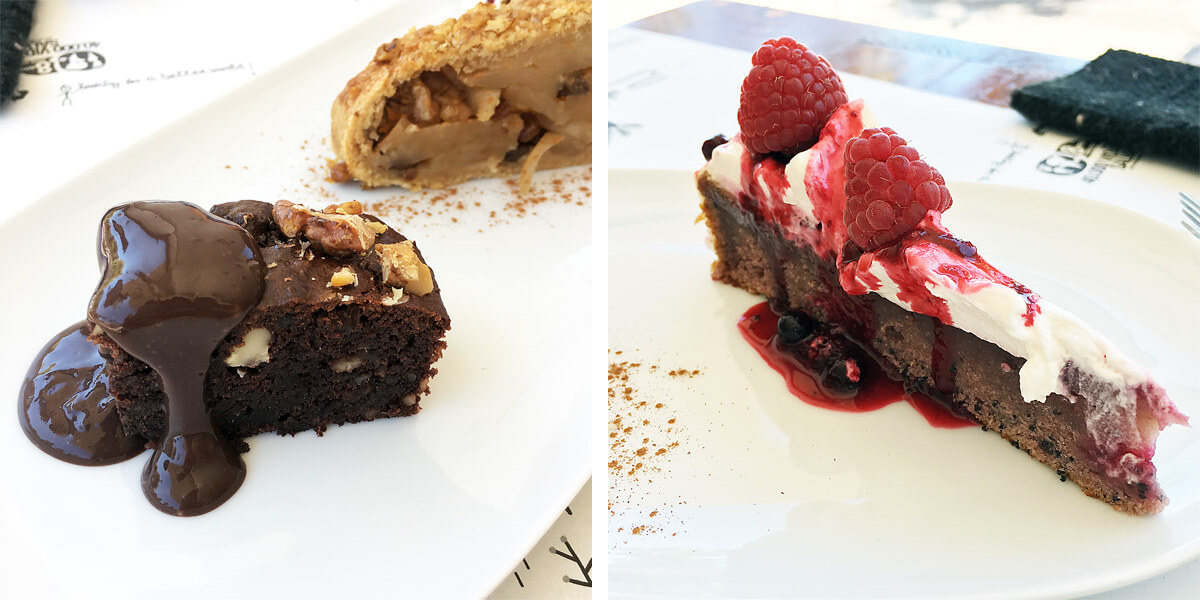 At Miss Saigon, which is a completely vegan restaurant now, we had the best food in Lisbon or even in Portugal. Although the name suggests Vietnamese cuisine, they offer far more than that. They have a daily changing menu with three different international main dishes, which you can luckily also try all together on a mixed plate. When we visited they had soy meatballs with rosemary sauce & quinoa salad with vegetables, seitan stroganoff with vegetable rice as well as soy satay skewers with peanut sauce and Vietnamese salad on the menu. They call it World Vegan Cuisine. And everything tasted fabulous! The desserts – you can also order smaller portions of different desserts on one plate – were outstanding too. The Daily Meal listed Miss Saigon as one of the 25 best vegetarian restaurants in the world in 2015. Quite rightly! Especially since certified organic ingredients are mainly used and sustainability plays a big role. Even though Miss Saigon is not expensive at all. We paid about 30 Euros for 2 mixed main dish plates, 1 mixed dessert plate and 2 homemade drinks. In Germany you would have to invest twice as much into so much creativity and quality although the portions are big (we only ordered the desserts because the great taste of the main course forced us to do so).
Miss Saigon is located a little bit outside of the city centre. But you can easily go there by metro (Oriente station) and you should explore the surrounding  modern area of the 1998 World Exposition (Expo '98), which is a huge contrast to the historic alleys of Lisbon.
MISS SAIGON
Address: Google Maps
Contact: Website, Facebook
Vegan? Yes, 100 % vegan
Cheapness: 3,5 out of 5
Cheerfulness: 5 out of 5
PRIMO BASÍLICO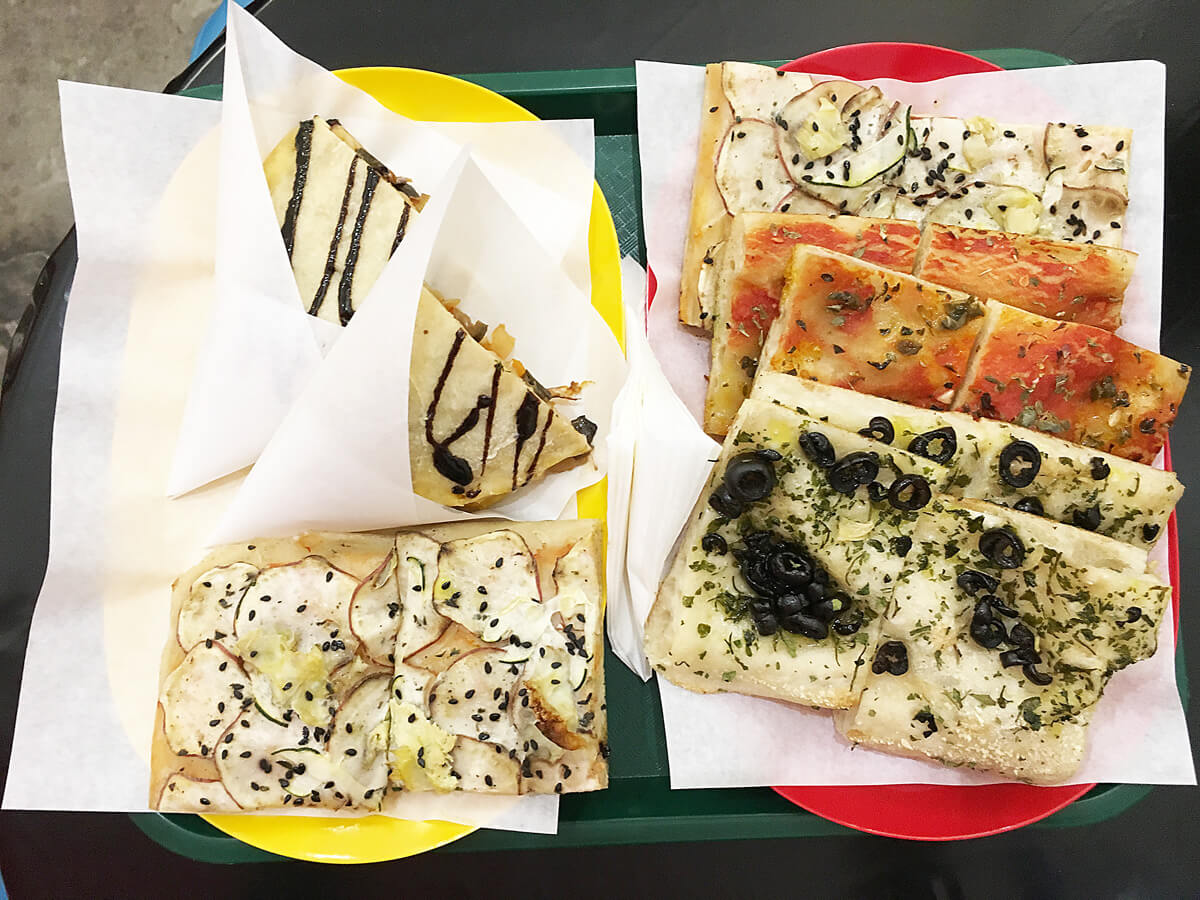 Pizza by the slice like in bella italia? Works in Portugal as well! Primo Basílico is a small pizza place located in the district of Alfama serving pizza, focaccia and calzone. They also have a wide range of vegan options with different toppings. They don't have vegan cheese but three totally different kinds of pizza based on tomato sauce, olive oil (pizza bread style) and tofu creme. The slices tend to be more doughy than luscious but therefore are pretty filling and actually super cheap. The perfect snack for in between meals. Or you just order the whole vegan range and have plenty of food for the next two days. We speak from experience. 😉
PRIMO BASÍLICO
Address: Google Maps
Contact: Website, Facebook
Vegan? omnivore with vegan options
Cheapness: 4,5 out of 5
Cheerfulness: 4 out of 5
COPENHAGEN COFFEE LAB LISBON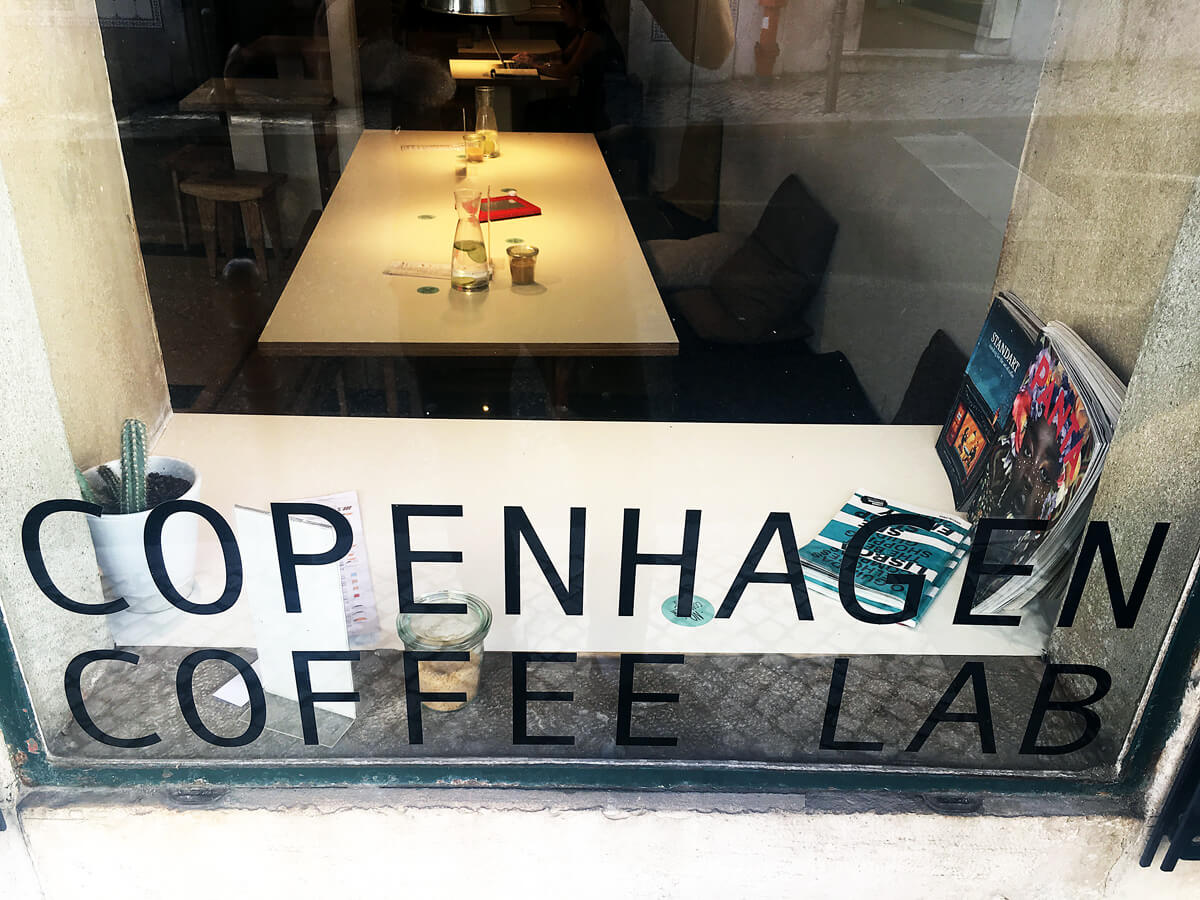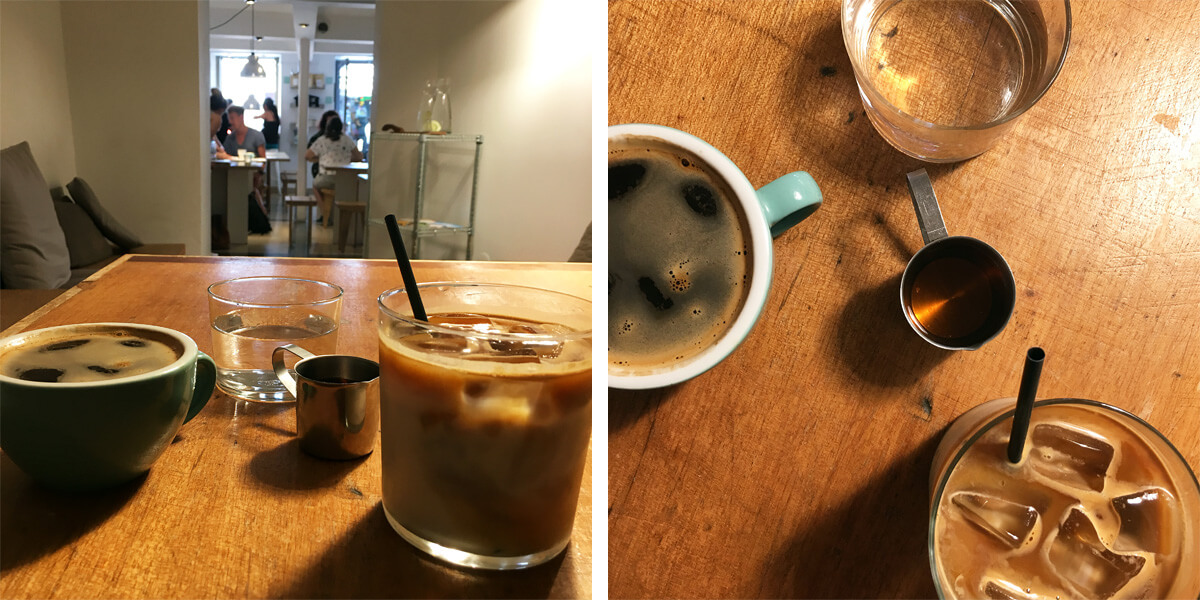 If you are in Bairro Alta and feel a craving for coffee, you should pay Copenhagen Coffee Lab a visit. If you are into Scandinavian style, you should come here one way or another. This coffee shop is definitely a mecca for hip and creative people sipping a coffee while working on their macbooks. The name Copenhagen Coffee Lab speaks for itself: the roasting house with it's own coffee shop is from Copenhagen but opened a second shop in Lisbon. Besides plant milk you can find vegan flavours on the menu, so you can have all drinks fully plant-based. The only shortcoming: the food offering is not vegan friendly.
COPENHAGEN COFFEE LAB
Address: Google Maps
Contact: Website, Facebook
Vegan? omnivore with vegan options
Cheapness: 3,5 out of 5
Cheerfulness: 3,5 out of 5
AO 26 – VEGAN FOOD PROJECT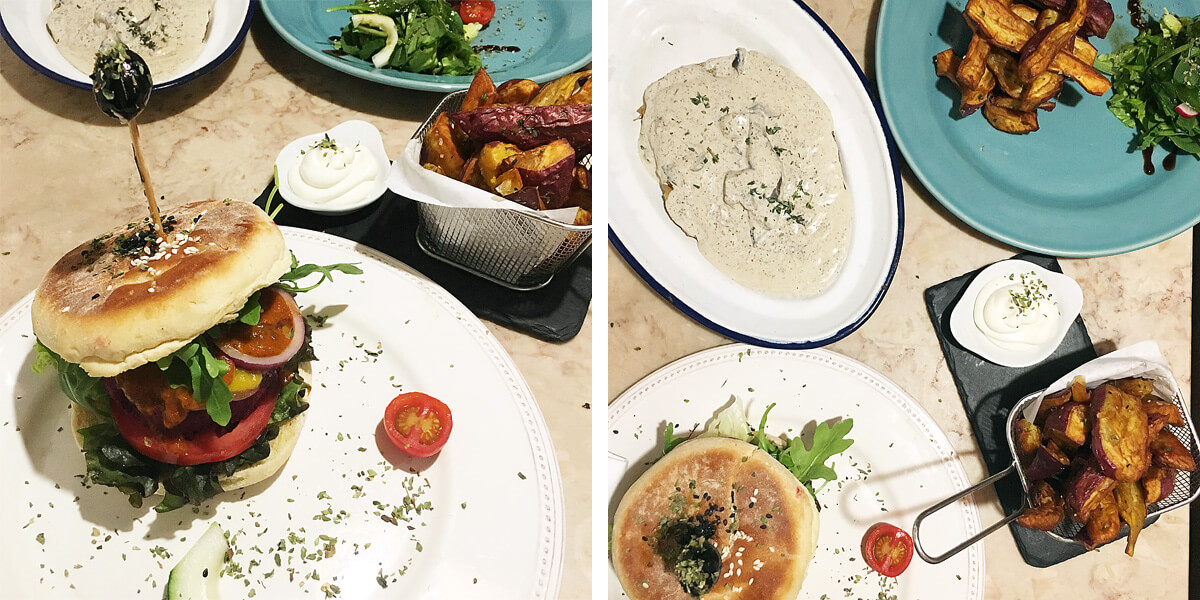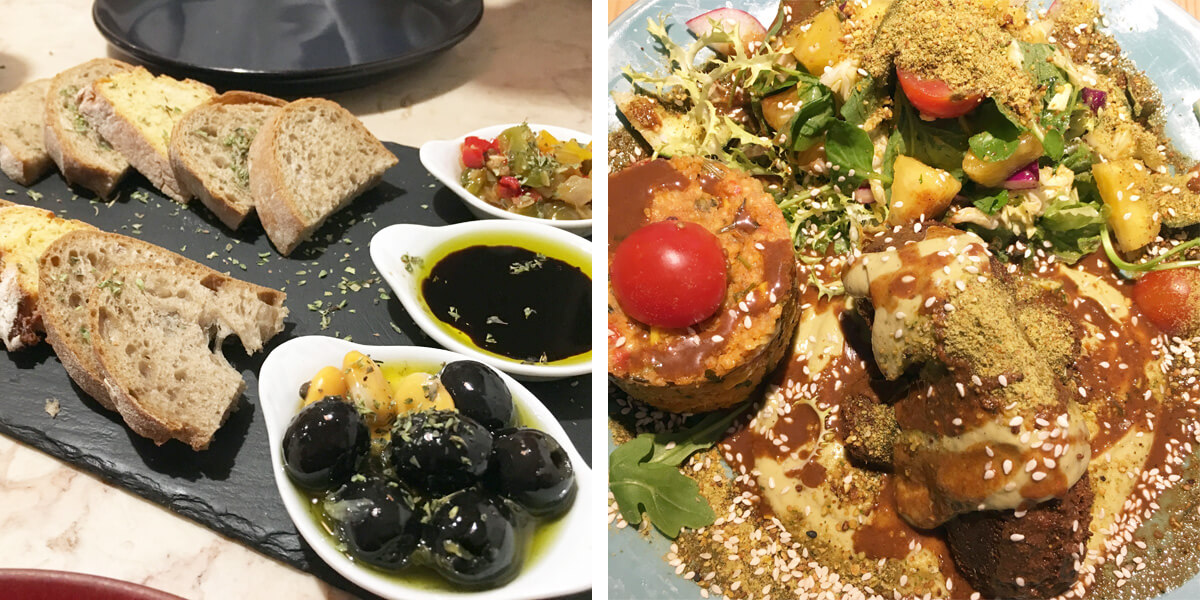 The Ao 26 is so trendy that you have to wait for at least 30 minutes to get a dinner table without having a reservation. In terms of price this restaurant is almost on a German standard. The menu has burgers, seitan steak, salads, desserts amongst other things but also daily special dishes like curry, lasagne or couscous. The food (we've been here for lunch and dinner on different days) was really good but not as good as Miss Saigon's. Maybe the Ao26 is actually a bit overhyped. But still you're not doing wrong eating here!
Our advice: usually it's not as crowded during lunch hours as for dinner and the smaller lunch menu is cheaper too.
AO 26 – VEGAN FOOD PROJECT
Address: Google Maps
Contact: Facebook
Vegan? yes, 100 % vegan
Cheapness: 3 out of 5
Cheerfulness: 4,5 out of 5
JARDIM DAS CEREJAS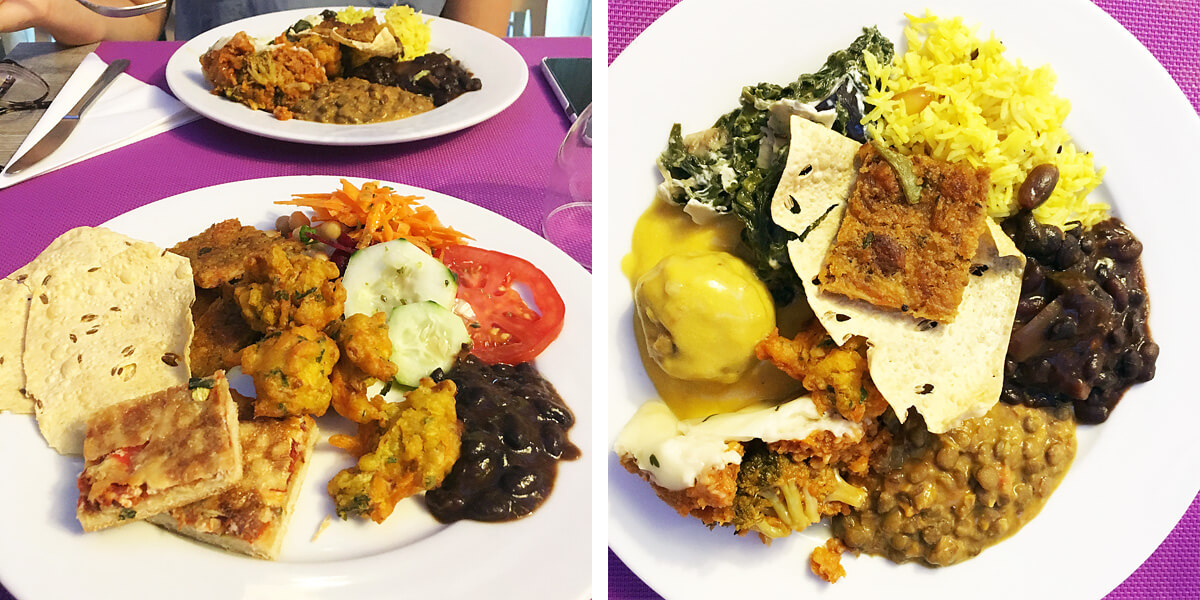 Here you can eat until you burst for only 7,50 Euros (lunch) or 9,50 Euros (dinner)! The all-you-can-eat buffet includes salads, a variety of starters and main courses. You only have to pay extra for desserts and drinks although prices are very moderate. The cuisine has an Indian touch. So we had e.g. pakora, papadum, lentil curry and indian rice. But there were also lasagna and pizza slices. The food quality wasn't excellent and the place isn't fancy either. Jardim das Cerejas clearly points with it's good price-performance ratio. And everyone can take whatever and how much he or she wants.
JARDIM DAS CEREJAS
Address: Google Maps
Contact: Website, Facebook
Vegan? yes, 100 % vegan
Cheapness: 4 out of 5
Cheerfulness: 3 out of 5
MerkenMerken
MerkenMerken
MerkenMerken
MerkenMerkenMerkenMerken
MerkenMerkenMerkenMerkenMerkenMerken
MerkenMerkenMerkenMerkenMerkenMerken